What to do after a brainstorming session
Reading time: about 10 min
Gathering thoughts to put into action. Creating new ways to solve old problems. Coming up with bold names for yet-to-be-released products. Whatever the area of focus is, or the cause behind it, a brainstorm is a powerful and effective collaborative tool that can be used in virtually any industry.
Now, picture this: You've just ended a highly engaging brainstorming session with your team and you're left with a huge pile of sticky notes. While you've seemingly explored every possible solution, it's after the brainstorming session when the real work begins. Quickly, you realize that most of the group's concepts will never come to fruition. So which solution is the one you'll run with? 
Knowing what to do after a brainstorming session is often more important than getting together to ideate in the first place. So, what is the next step after brainstorming? If you want to turn a brainstorm into workable ideas, here are some great ways to get started. 
Agree on how to rank, prioritize, or categorize ideas
Before you can really begin to take ownership of action items after brainstorming, you need to set aside time to decide on how best to organize your ideas. When attempting to rank, prioritize, and categorize everyone's input, look at how each brainstorming result could potentially impact the bottom line.
For one, what resources are required to bring the idea to life? How much development will it take to make it successful? Will it need months or years of research and testing to become a reality? Is the concept so different that it must rely on a big advertising spend to successfully launch?
[image]
Risk is another factor to keep in mind. For example, if your team was tasked with brainstorming ideas for a new product or service for your company, do a quick analysis of each concept. Will it comprise a change in technology, supply chain, or manufacturing? Does the risk seem worth it? 
Cost can be a deal-breaker even for the best ideas that remain after brainstorming. How much is budgeted for the project? Will you need additional approval from executive leadership to go from concept and into production? Are there shareholders who expect some profitability right away?
Value is still another lens in which to turn a brainstorm into workable ideas. Weighing resources, risk, and cost to measure the merit of various options against each other is one thing. But value is more subjective. Will this idea revolutionize an entire industry? Will it transform people's lives?
For example, in the race to get a vaccine to market, the value of the right solution defies the conventional limitations of resources, risk, and cost. Its societal value is too great to ignore.
Whether ranking, prioritizing, and categorizing ideas by these standards or alternative measures, getting a consensus from the team will prove helpful. Everyone brings their own subject-matter expertise, working knowledge, and unique perspective to the table. 
Allow people the opportunity to justify their ideas
During the ideation phase, everyone in the brainstorming session spent time generating their own concepts and solutions. Before breaking into groups to consolidate ideas, it's likely that the most productive team members came up with several ideas they felt quite strongly about. This is especially the case if you chose people for the brainstorm who are the most affected by the problem at hand or involved employees whose responsibility to find solutions are connected to their roles.
After brainstorming, let each participant take a turn explaining their idea to the team at large. For context, encourage them to explain the current problem or situation and how the very concept or solution they propose corrects or improves upon it. What future state of being do they describe?
When justifying their ideas, each team member should outline how the option they propose will improve the company's standing or current market share.
Again, this is where consensus comes into play. Observe which ideas seem to grab the most interest or attention. Pose questions to the presenters and let them counter objections if needed.
Once they've made their case, participants can then write their idea on a white board or put it on a sticky note and stick it to the wall. (Of course, groups can also work on an online whiteboard like Lucidspark). If someone else's idea is similar to one already presented, have them place theirs right next to the existing idea.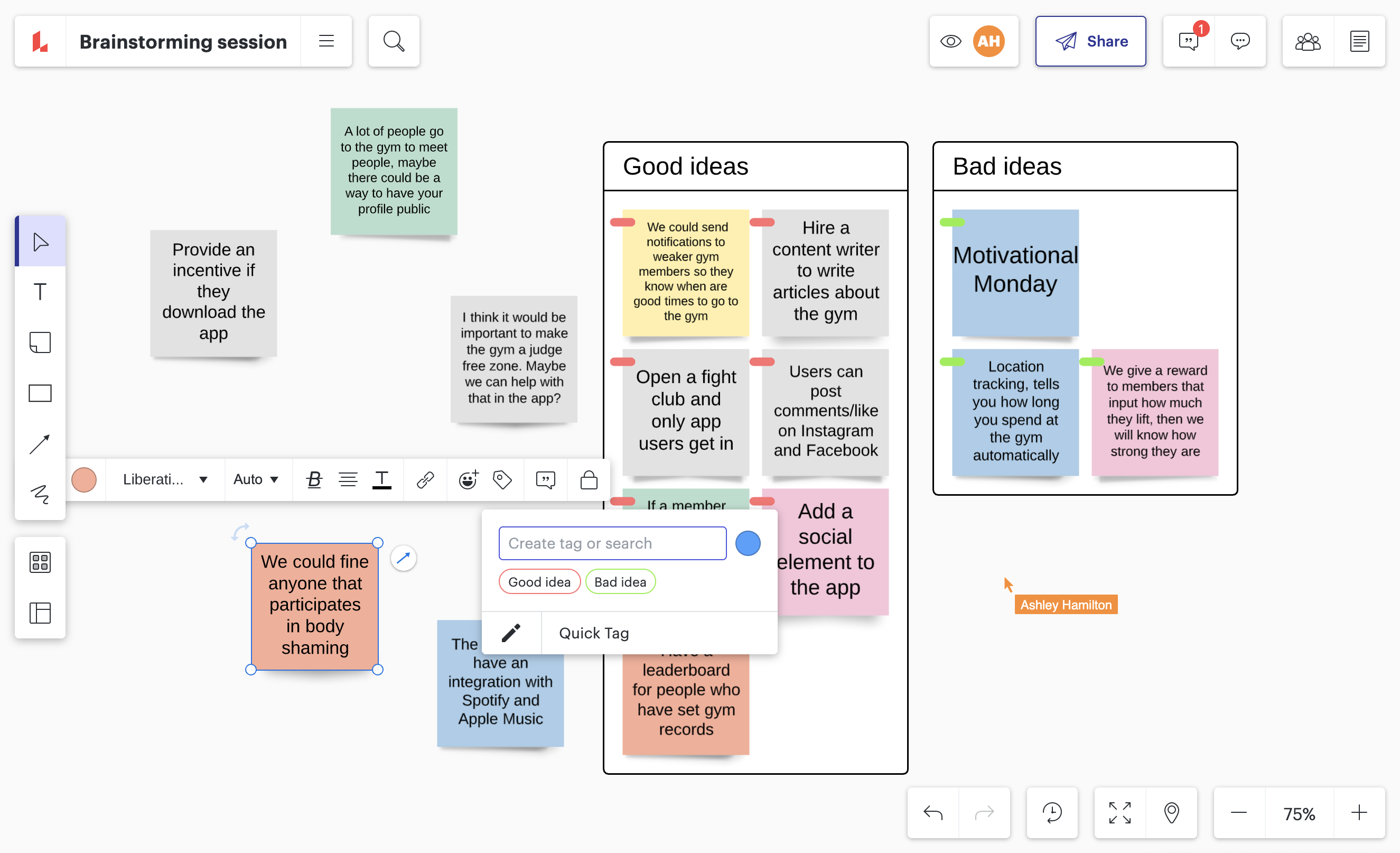 Organize the ideas you've brainstormed
After brainstorming, you've already done your share of ranking, prioritizing, and categorizing ideas. But now it's time to group the remaining concepts according to how much interest they evoke or the impression they make.
Which ideas capture your attention right away? Are there ones with immediate stopping power, others that might warrant further review, and some that just fall by the wayside?
You may already notice that a few of the options being considered seem somewhat related (i.e. the ones you placed together as people were justifying their ideas to the group). Look closely at what makes them alike. Sometimes those similarities actually work to complement one another. Adding the best parts of similar concepts together might lead to one great breakthrough.
At this point, start organizing ideas based on if they evoke a love, like, or a lukewarm reaction. Others should begin doing so as well. But resist getting too attached to any particular idea. This is the time to sort and organize, not to decide on a detailed course of action.
Now, create a matrix or grid to place your ideas under the love, like, or lukewarm category.
As you organize, also remember to evaluate things based on criteria of the initial brainstorming session. What was the problem or concern you were attempting to solve. Look again and try to determine how closely each solution fits and will actually turn a brainstorm into a workable idea.
In addition to love, like, or lukewarm feelings for each idea, bring back any criteria used earlier to rank, prioritize, and categorize your concepts earlier---including resources, risk, cost, and value.
These factors can be used in a checklist to go along with your matrix or grid. A well-loved idea may seem less realistic if it doesn't get marks for being a reasonable cost or risk. Likewise, an idea that was once lukewarm might gain more approval if proven to be a good value.
Vote on ideas and make a decision 
At this stage, the team's ideas have been streamlined, scrutinized, and sorted. Everyone's got a feeling about which ideas are the most realistic and feasible and which ones are too expensive or far-out to pursue any further given the current budget or timeline. 
If things are going really well, there may be early signs already pointing toward the winning idea.
This could be the perfect time to solidify your decision as a group and vote for the concept that makes the best sense for your organization. Some tips to consider before choosing the winner:
Do any patterns emerge between the best-loved ideas versus those everyone just liked? 
Was the team too quick to overlook any of the ideas pushed to the lukewarm category?
Did you forget any critical criteria in selecting ideas (e.g. launch ready by your deadline?) 
Look again at the options being voted on. If your company only has the budget, resources, and bandwidth to follow through on one idea at this time, don't vote with simply a favorite option in mind. Rather, rank each of those remaining in a descending order: 1 for their fave, 2 second best, and so on. Using this approach lets everyone agree on the two best ideas in a democratic way.
It becomes so much easier to choose between two options than several. If the rest of the ideas came about from an effective brainstorming session, save them for reconsideration for later on.
Before going into the final vote, ask that team members try to set emotions and personal biases aside. Better yet, attempt to identify any prejudices or outside influences which could potentially sway the vote in a wrong direction. After all, the goal is to turn a brainstorm into workable ideas.
Done correctly, this won't just inform this voting decision, but future discussions with the group too. 
Create a plan the team can act on
With a decision made, it's time to take ownership of action items after brainstorming. If you're not ready to commit all of your (or the team's) time and energy to the project plan, focus your efforts on keeping the momentum up. At the very least, plan to discuss next steps with your team.
Depending on the purpose of the initial brainstorm, next steps could take many forms, such as:
A product roadmap: great for helping individuals and teams navigate between the two points and guiding everyone in how to transform their idea into an actionable solution.
A project timeline: gives a view of the chronological sequence of events needed for an idea to become a reality and is limited to high-level conversations rather than complex details.
A Kanban board: ideal for those with a flexible workflow, it relies on the visual simplicity of moving cards to track progress from start to to finish and help keep teams informed.
A Scrum board: very flexible and easily customized, tasks are segmented into vertical or horizontal lanes by sprints, typically labeled "To Do," "In Progress," "In Test," and "Done."
A basic checklist: simple and to the point, this is something most people have used at work or home to break down projects or goals into specific tasks for future completion.
Wherever the team ultimately lands on what to do after brainstorming, the most important thing is to outline a plan that's clear and that makes sense to all involved and to then act on it. Commit to specific dates and times to complete each step and then all agree to a final deadline.
Give assignments to each team member
Determine who is responsible for each step or task. It's also helpful to clarify each individual's role throughout the course of a project's inception and its completion. People are more likely to be motivated if they feel responsible for (or are most impacted by) the problem being solved.
When assigning tasks, decide beforehand which ones are the most critical to complete first and then prioritize them accordingly. Those tasks are the ones that help to ensure the completion of the project and often need to be dealt with before subsequent tasks can even be considered.
Tasks can include making a working prototype, securing funding, or getting legal clearance. 
When overseeing the transformation of an idea into an actual solution after brainstorming, always remember to make sure that any task handoffs between people (and/or departments) are clear. Maintain communication with stakeholders (on and off the team) throughout the project.
Knowing how to follow up after a brainstorm doesn't come naturally for most people. Lucidspark's canvas provides an ideal space to rank, prioritize, and categorize ideas—along with the structure it takes to turn them into actionable steps. Sign up today to make the most out of your next team brainstorming session with all the convenience of remote access, cloud-based features and integrations to keep you connected with apps like G Suite, Slack, and Lucidchart.
About Lucidspark
Lucidspark is a virtual whiteboard that helps you and your team collaborate to bring the best ideas to light. It comes packed with all of the sticky notes, freehand drawing tools, and infinite canvas space you need to capture that next big idea. And it's built for collaboration. Think of it like a sandbox where your team can bounce ideas around and innovate together in real time.
Brought to you by the makers of Lucidchart, trusted by millions of users worldwide, including 99% of the Fortune 500.