How to organize group brainstorming with Lucidspark
Reading time: about 8 min
If you're looking for fresh ideas and new perspectives, group brainstorming is a great place to start. Brainstorming is a tried and true way to generate lots of ideas quickly and work through problems and decision making together. 
But when you get everyone together in a group setting, it can be difficult to keep the meeting focused and productive. With multiple voices competing for attention, it's easy for some ideas to get lost in the mix.
So how can you make sure your group brainstorming sessions are successful?
With the right tools for the job.
That's where Lucidspark comes in. Lucidspark is a virtual whiteboard that gives teams the tools they need to brainstorm in real time.
Use the following tips to level up your next group brainstorming session and make sure the "next great idea" never falls through the cracks.
Pros and cons of group brainstorming
Group brainstorming requires teams to collaborate and communicate effectively without drowning out quieter voices or falling prey to the dreaded groupthink. 
When it's done right, group brainstorming can be a powerful tool for engaging your team and generating creative and original ideas that you might not have considered on your own. When done...not so well...group brainstorming can lead to biased solutions and wasted time. 
Here are just a few pros and cons to look out for:
Pros
Group brainstorming:
Gathers multiple perspectives and ideas.
Generates more ideas in a short period of time.
Builds team connection. 
Creates ownership and buy-in for decisions.
Cons
Group brainstorming can also:
Lead to disorganized "free for alls."
Enable groupthink.
Make it easier for a few people not to participate. 
How to use Lucidspark to organize group brainstorming
Lucidspark helps teams harness the benefits of group brainstorming while solving many of its most common challenges. Lucidspark is an online whiteboard where teams can share ideas, add notes, and weigh options together—anytime, anywhere. 
Here's how to get started.
1. Prepare your board ahead of time.
Lay the foundation for a great brainstorming session with the right canvas. Start by opening up a new board in Lucidspark and naming the document. 
You can then either start from scratch with a blank canvas or choose from a variety of templates including:
Wireframes
Venn diagrams
Flowcharts
Pick a template or build a board based on the goals of your brainstorming session. 
Pro Tip: Drag and drop containers from the toolbar to quickly set up outlines for your ideas. 
Organizing and setting up your board first will help you kick off the brainstorming meeting effectively and keep everyone focused and clear on the objectives from the outset. 
2. Assign Collaborator Colors 
Once you have your board's layout prepared, share the board with your teammates. Lucidspark makes it easy to create shareable links that direct collaborators to the exact view of the canvas you want to work on. (Psst. Don't forget to set the right permissions for your collaborators so everyone can participate effectively.)
For another convenient and secure way to share your board, use the Join ID integration. Simply click the three person icon in the top right corner and turn on Join ID. Instantly invite other collaborators and start your session.
With your collaborators on board, you'll be able to see each person's cursors moving around the canvas. Keep things organized and tidy by assigning each contributor their own color. Whenever someone adds a sticky note or draws with the pen tool, the color of the notes will match their assigned color from the contributor settings. This will make it easy to visualize who is commenting so you can see everyone's ideas at-a-glance and work through ideas more efficiently.
3. Use the timer to keep everyone on track
Brainstorming sessions tend to work best when they are timebound. Putting a limit on how long participants can mull over options, generate new ideas, or problem solve helps keep everyone focused. Prevent wandering minds and boredom by setting a timer. 
Lucidspark's built-in timer feature helps teams stay focused even when they're working across offices or timezones. The timer shows the countdown on each person's screen to keep things moving.   
4. Keep track of agendas and resources in the Notes Panel
A wide-open canvas leaves room for a lot of big ideas, but that can also get messy. Take advantage of Lucidspark's Notes Panel to outline 
Project summaries
Meeting agendas
To-do lists
Assignments
Action items
Resources 
Plus any other notes and resources—all in one easy-to-find place. Quickly organize your thoughts by customizing font sizes, styles, and colors so you can highlight important tasks, make lists, and find what you need right away. You can also add links to reference outside resources and even other boards from Lucidspark or diagrams from Lucidchart.
5. Encourage participation with emojis 
Once you have ideas on the board, it's time to discuss your options and vote on favorite ideas. But don't take yourself or your brainstorming session too seriously. Slogging through a full whiteboard of notes and ideas can get tedious. So keep things fun and encourage participation with emojis.
Invite your collaborators to react to the ideas on the board with different emoji expressions. Lucidspark makes it easy for participants to quickly tag and react to ideas in realtime so you can get a sense of how the team feels and what direction they may want to go.  
6. Organize ideas with tags and containers
One of the problems teams face when brainstorming is that ideas can get jumbled and it can be difficult to visualize how different ideas or notes are related. If you can't keep your ideas organized, you risk missing important insights and wasting valuable time as you sort through the noise. 
Organize your ideas in Lucidspark with tags and containers so nothing gets lost in the shuffle. Tags and containers help you group similar ideas into themes, uncover patterns and take action on ideas.
For example, say you are brainstorming food ideas for an office party with the following suggestions from the team: 
Tacos
Pizza
Sushi bar
Pasta
Lasagna
Enchiladas
Burritos
BBQ
Sandwiches
You can tag each idea with the overarching cuisine each option falls under (e.g., tacos, enchiladas, and burritos are all Mexican food and pizza, pasta, and lasagna are Italian foods). Then use containers to move each group of sticky notes together under their respective themes. 
Visually grouping ideas like this helps you see what you're working with and move forward with a decision more efficiently.   
7. Sort and synthesize ideas 
After you've generated a bunch of ideas, it's time to review and sort through everything. And if you've been there before, you know how tedious a process this can be. Cut down the time it takes to organize the board using Lucidspark's Gather and Sort features. 
In the bottom left corner of the screen, click the Containers button. Here you will have the option to drag containers to the board where you can manually drop sticky notes into the boxes. This is a great way to start organizing your ideas—but if you have a ton of notes on the board, you may want a faster solution. 
That's where the Gather and Sort features come in. Under the Containers button, select Gather to collect only the shapes that meet your criteria. In other words, Gather lets you filter what ideas you want to bring together. For example, the dropdown menu will give you options such as reactions, tags, or keywords. If you wanted to gather all the ideas with "Heart" emojis, select "Reactions," highlight the heart emoji from the list, and then watch as all the ideas that have a Heart on them are gathered into one container together. 
Similarly, you can use the Sort feature to organize the entire board based on your selected criteria. Want to see everything grouped by Reaction? Select "Sort" and "Reactions" and you'll see all the notes gathered into groups of reactions. 
This is a fast and effective way to organize and synthesize the group's ideas so you can take action and move forward.
From idea generation to analysis and decision making, collaborative brainstorming can be overwhelming. But with Lucidspark, group brainstorming doesn't have to be a chore. Take your ideas to the next level today.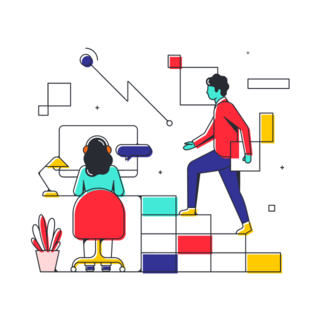 Put everyone's voice on equal footing and organize your next group brainstorm in Lucidspark today.
Get started
About Lucidspark
Lucidspark is a virtual whiteboard that helps you and your team collaborate to bring the best ideas to light. It comes packed with all of the sticky notes, freehand drawing tools, and infinite canvas space you need to capture that next big idea. And it's built for collaboration. Think of it like a sandbox where your team can bounce ideas around and innovate together in real time.
Brought to you by the makers of Lucidchart, trusted by millions of users worldwide, including 99% of the Fortune 500.