Online whiteboard
Lucidspark is a virtual whiteboard that helps you and your team collaborate to bring the best ideas to light. Sign up for a free trial today.
Bring brilliant ideas to the surface through online whiteboard collaboration
Upgrade your brainstorming session

It doesn't matter whether you're working individually or as part of a team—an online whiteboard can help you jot down and organize your ideas faster. With templates, freehand drawing, sticky notes, and other intuitive features, you can easily participate in a variety of creative brainstorming activities. Our infinite canvas lets you and your collaborators spread out over different areas of the board so everyone has enough space to present their ideas.


Work together as a team in real time, wherever you are

With Lucidspark, you and your team will feel like you're collaborating in the same room—even when you're working across time zones. Use chat to communicate directly with collaborators on your board and @mention stakeholders to quickly get their attention for feedback and approval. You can even follow a collaborator to see what updates they make to your whiteboard and drop an emoji reaction to let them know what you think.


Give shape to your ideas with assisted grouping and containers

Our digital whiteboard takes you a step beyond basic ideation by helping you organize and synthesize information. Use assisted grouping to gather similar ideas together or use tags to label and organize different items based on whatever identifier you choose. With containers for shapes and sticky notes, you can ensure that your ideas are as clearly visualized on your whiteboard as they are in your head.


Surface your team's best ideas and take action

No other whiteboard software lets you highlight your team's best ideas and reach consensus faster than Lucidspark. Decide which ideas to take action on by inviting participants to a group vote directly within your Lucidspark board. Switch to voting mode, time your vote, and provide your participants with a visualization of voting results so you and your team can make unified decisions based on what your group wants and needs most.


Integrate with popular apps to enhance your workflow

Our powerful integrations help you maximize your productivity and creativity by keeping your online whiteboard connected to the apps you already know and love. Use our Slack integration to share your board in the channel of your choice, or take advantage of our Google Drive integration to access, edit, and share your boards. Lucidspark is also completely integrated with Lucidchart, creating a complete, fully-functional suite of products to help you visualize, plan, collaborate, and more.

5 reasons to use Lucidspark as your online whiteboard
Work with remote teams effortlessly

Lucidspark offers all the benefits of an in-person brainstorming session, even when you and your team are working remotely. With real-time updates, in-editor chat, and @mention notifications, you can stay in contact with your team and highlight your best ideas.

Effectively facilitate meetings

Easily hold meetings within your digital whiteboard. Simply invite your group to view a specific part of your whiteboard and lock the view in place. Lucidspark comes complete with a timer and voting mode to add structure to your brainstorming session.

Create a unified vision before building

Reach consensus before you put your ideas into action. Create visuals such as wireframes and customer journey maps that capture your product or process. Then export your visual to Lucidchart to finalize your vision and take action.

Store ideas, visuals, and plans in a single location

Our virtual whiteboard offers an infinite canvas to hold all your information in one central location. Organize your ideas in seconds using sticky notes, the Note Panel, and customizable tags.

Analyze your business from every angle

Dive deeper into key business strategies by creating a SWOT analysis, product roadmap, or customer journey map directly within your online whiteboard. Invite collaborators to contribute ideas or export your board to Lucidchart for further enhancements and implementation.
Start your first board
Frequently asked questions about our online whiteboard
See Lucidspark in action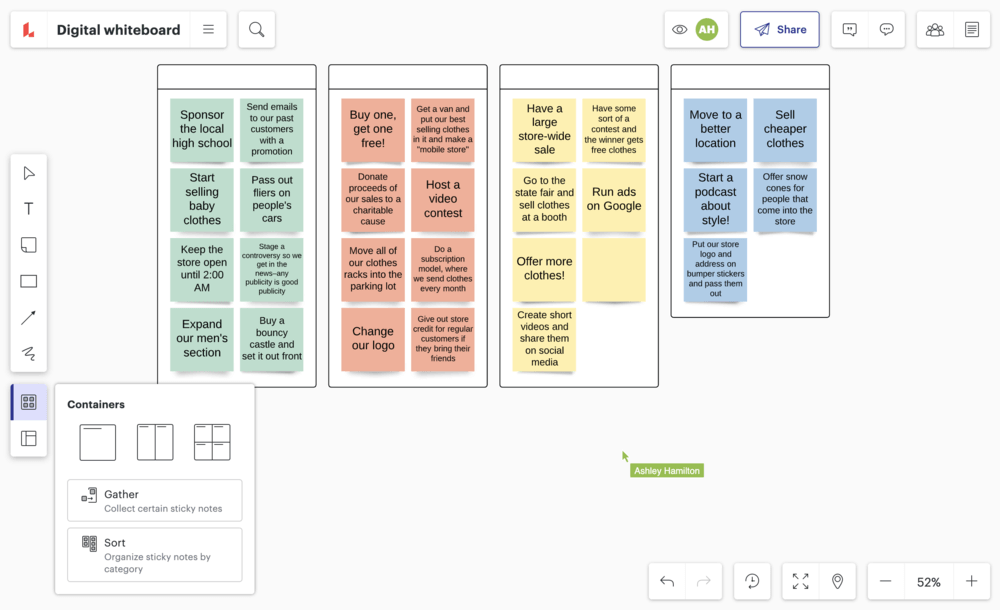 A demo of a sample Lucidspark brainstorming board is shown, with lots of active participation from the four participants across the entire board. Next, a rapid series of closeups demonstrating some Lucidspark features: Writing on a sticky note, drawing a circle around an idea, starting a 30-second timer, crossing an item off an agenda, adding emoji reactions to a sticky note, and sharing a board with collaborators in the share settings. The video then continues to demo features in line with the narrator's audio for the remainder of the video. The video ends with the Lucidspark logo and tagline "Where ideas ignite."
Get started with a Lucidspark template