How to make your virtual meeting icebreakers more effective
Reading time: about 8 min
When it comes to work, meetings get a bad rap. They're unnecessary, too long, or downright dull—and that's a fair criticism. Leaders often conduct meetings in a rigid, top-down way, marching from the top of the agenda to the bottom without much effort to engage attendees or tap into team members' expertise and creativity. 
However, a good meeting is about more than just communicating a message or checking to-do items off a list. A good meeting makes people feel comfortable and valued and builds social cohesion toward a common goal. 
One of the best ways to start a meeting off on the right foot is by introducing icebreakers. A good icebreaker sets the tone of a meeting from the very beginning, drawing people out in a way that invites openness, creativity, and trust. Here are several ways to incorporate good icebreakers into your virtual meetings and use technology to make everyone feel included and heard.
Why icebreakers?
Icebreakers can be fun, but why are they essential to a good meeting?
They build connections between team members
With so much to get done at work, it can be easy to work regularly with people and have no idea who they are outside of work, what drives them, or what unique skills and perspectives they bring to the job. This can be especially complicated with hybrid work where many people haven't even been to the physical office, and many of the traditional opportunities to connect are outmoded.
Opening a meeting with an icebreaker can give people a chance to share who they are on work time. Asking people questions about their hobbies or doing a quick team game together creates a container that allows people to feel comfortable expressing themselves in ways they might typically not at work. It also allows every type of person—outgoing or reserved, new or established—to feel included in the conversation. And, as a perk, it will enable team leaders to see team members' personalities, skills, and learning styles in a way that might not be obvious when doing daily tasks.
Most importantly, good icebreakers allow people to get to know each other and enjoy the work they're doing—which, in turn, makes it more likely that they will do great work. It also allows people to build up trust with each other, which helps them feel more comfortable sharing ideas, offering constructive criticism, and collaborating with others.
Start a meeting well before diving into a to-do list
Many people dread going to meetings. They see them as distractions from the actual work they're doing or fear they'll be lectured to and then released without making any real progress. Team leaders can help alleviate these fears by hosting meetings that are engaging, collaborative, purposeful, and even fun. 
The easiest way to ensure that a meeting ends well is to start it right. Instead of entering a meeting with a list of pre-planned directives and updates, try approaching it as a facilitator who helps draw out the best in others by encouraging their ideas, leadership, and initiative. Nothing helps foster this collaborative team spirit like a good meeting icebreaker. Taking a few minutes for everyone to learn about each other—or even just be silly—can work wonders on the mood of the meeting participants. It allows them to loosen up and bring more of themselves to their work and increases the likelihood that they'll be engaged and excited about the rest of the meeting agenda.
Take a small break during the day
People come to work to get things done. But if their day is one endless series of tasks, they'll likely check out, and productivity and engagement will plummet. That's why it's essential to bring some play into the workday, allowing people to switch gears and relax, socialize, or learn something new. Using icebreakers at the beginning of meetings can give people a moment to switch gears and bring their whole selves to the team. But it's also great to pepper some icebreakers throughout the day, bring people together to answer a fun question, play a quick game, or use technology to help team members (remote and in the office) post GIFs about their moods or goals for the day. 
Taking small breaks to have fun and deepen relationships helps people pace themselves, avoid burnout, and connect with team members in a meaningful way.
How to make icebreakers more effective 
You're convinced that good icebreakers would make work more enjoyable and meaningful for your team. But how do you choose the best icebreakers for your team or figure out the best games to play or questions to ask? Luckily, there are tools out there that can help you do just that.
Use templates 
Many companies have made it their business to help other companies run good meetings and engage their teams. Lucidspark has three templates that engage people on various levels, helping you start your meetings on the right foot.
Get to know your icebreaker template
At the beginning of the meeting, invite your team to open Lucidspark's easy-to-use "get to know you" template. You can provide a series of boxes with prompts at the top, and the sky's the limit with the questions. You can ask people what their superhero superpower would be, which famous person they'd most want to invite to dinner, or what skill they'd like to learn in an instant if they could. Allow people to add their own boxes with new questions if they think of any. Participants can use virtual sticky notes to write their answers and elaborate with pics and GIFs. Finally, encourage team members to respond to emoticons or text. In just a few minutes, your team will have learned something new about everybody they work with.
Zoom collab icebreaker template
With so many offices going hybrid and lots of employees working from home, the conversation around tech has often made it harder to connect. But team leaders can harness the power of tools like Zoom to help everyone feel engaged and included. In this Zoom-based this-or-that icebreaker, participants can log onto a common screen that asks them to choose between a list of opposites: mornings or evenings; dogs or cats; talking or listening. Team members can all engage in the same virtual space while watching their team members answer—getting to know a lot about each other in a short amount of time.
Show-and-tell icebreaker template
This icebreaker revives an elementary school classic to encourage team members to share their lives outside of work. Lucidspark's show-and-tell template allows participants to share something about themselves in various categories—from hobbies to travel to family and pets. Participants simply pick a category that speaks to them. Then they can add photos and text to share a bit about themselves. And, as always, people can react with text, emojis, and GIFs, making everyone feel part of a larger community.
Leverage software that allows everyone to participate
An icebreaker isn't a good icebreaker if people are motivated to engage with it. Here are some tools you can use to make participation as easy as possible:
Zoom
Platforms like Zoom saved many companies in the pandemic, allowing them to transition the bulk of office work online. But Zoom isn't just about digitizing meetings. It's also a way to help employees of all different backgrounds feel included, important, and up-to-date. Hosting meetings where everyone is on video whether in-office or remote can help people feel connected across distance. And its chat and small-group functions can help people who might usually not participate in meetings to contribute. Finally, it's a great platform to use in conjunction with other platforms, using apps that allow people to play games, take polls, or brainstorm visually—encouraging people to bond and participate in various ways. 
Lucidspark
Lucidspark has many templates to help you run great meetings, with a wide selection of team-building activities and icebreakers that bring people together in a compelling visual online space. Whether you're sharing what you're grateful for in virtual "gratitude jars" or racing your sticky note through a digital maze, these quick, fun activities will help build camaraderie and teamwork for new and veteran employees alike. 
Slack
Whether you're onboarding new employees, hosting a brief check-in, or building team connections and culture, Slack can help you do it digitally. With apps like Bored, teams can replace in-person water cooler conversations with fun icebreaker questions and games. Team members can compete one-on-one with their closest friends, play against the entire company on a shared leaderboard, or try out solo games on breaks. And, of course, there are the memes!   
Get creative 
There are many platforms and tools that make it easy to bring your team together. But the important thing is to do what makes your team feel excited and engaged. So don't let the templates hold you back. Poll your team about what sorts of activities they'd like to do or what they want others to know about them. Come up with your own ideas and experiment. The only rule is to have fun, stay engaged, and help others do the same.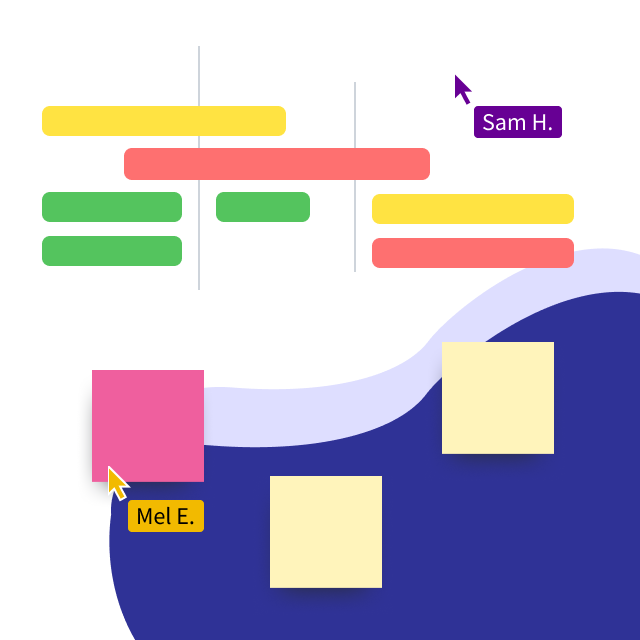 Explore all the fun icebreaker templates in Lucidspark, and never have a boring meeting again. 
Take me there
Explore all the fun icebreaker templates in Lucidspark, and never have a boring meeting again.
Take me there
About Lucidspark
Lucidspark is a virtual whiteboard that helps you and your team collaborate to bring the best ideas to light. It comes packed with all of the sticky notes, freehand drawing tools, and infinite canvas space you need to capture that next big idea. And it's built for collaboration. Think of it like a sandbox where your team can bounce ideas around and innovate together in real time.
Brought to you by the makers of Lucidchart, trusted by millions of users worldwide, including 99% of the Fortune 500.