Employee training plan template
Plan out each employee's preboarding and onboarding process with the Pyn new employee training plan. Use this template to easily get new hires up to speed.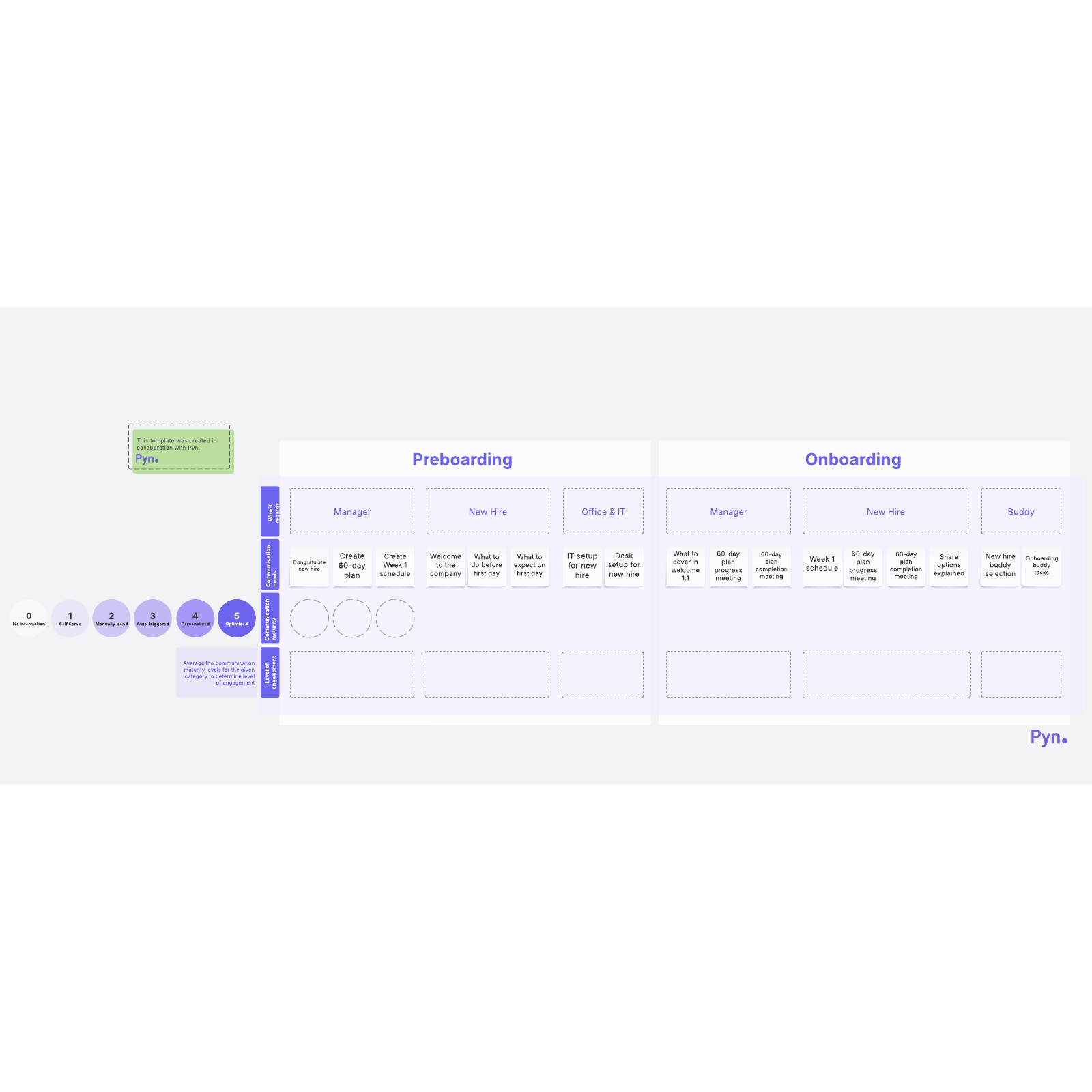 What is an employee training plan?
An employee training plan outlines the steps needed to prepare an employee for the next stage. In this particular case, the Pyn template shows the everything that needs to happen from when your new hire accepts their offer to 60 days after their initial start date. It helps you visualize the preboarding and onboarding process.
Additionally, you can use this template to rate each step by how involved it is and who needs to do it. Preboarding and onboarding is complicated, and you'll need help from managers, IT, your new hire's designated buddy, and the new hire themselves. Use this employee journey map to ensure that your new hire gets everything they need to succeed in their new role.
Benefits of using the Pyn employee preboarding and onboarding template
Streamline employee communications. From the initial "congrats, you got the job" email to technology setup to welcoming them to the company, you have to communicate constantly with your new hire. This new employee training plan helps you keep track of each piece of information and what department should give it to your new employee, ensuring your new hire gets the information they need at exactly the right time. You'll be communicating proactively instead of reactively, and your hire will see that their new employer communicates effectively and doesn't waste their time.
Customizable to each new hire's needs. The template is quick and easy to start using, but it's also flexible. We've included sample pieces of communication, but add tasks that you need or get rid of items that don't work for your team. You can also customize it for each new hire as different employees will grow in the company differently.
How to use the Pyn new employee training template
Start with the first time you need to communicate with your new hire. On the template, we've suggested that this will be when you email them to congratulate them on accepting the offer, but customize that or any sticky note to show the tasks that meet your needs.
Once you've written down all the times you'll need to communicate in the sticky notes, move them underneath the heading for the person who has to do that task. For example, put the sticky note for setting up the new hire's computer under "Office & IT."
Next, evaluate each task's level of maturity, i.e. how optimized it is for this specific new hire's needs. You can do this by copying the appropriate button to the left of the template and pasting it under the task.
Once you have each task evaluated for maturity, average the maturity numbers for each person or department. Place the result in the Level of Engagement row for that section. You can use these numbers to identify areas that you can improve and optimize for your new hires.
Once your new employee starts, check off tasks in the template by tagging the sticky notes or changing their color. You can also react to sticky notes with emojis, images, or GIFs. Congratulations on your new hire, and enjoy making their onboarding a better experience.
Pyn
Automated employee communications driven by HRIS data. Learn more about Pyn
here
.