AgileWalls planning wall
Plan and deliver value to your customers by prioritizing and communicating plans to stakeholders.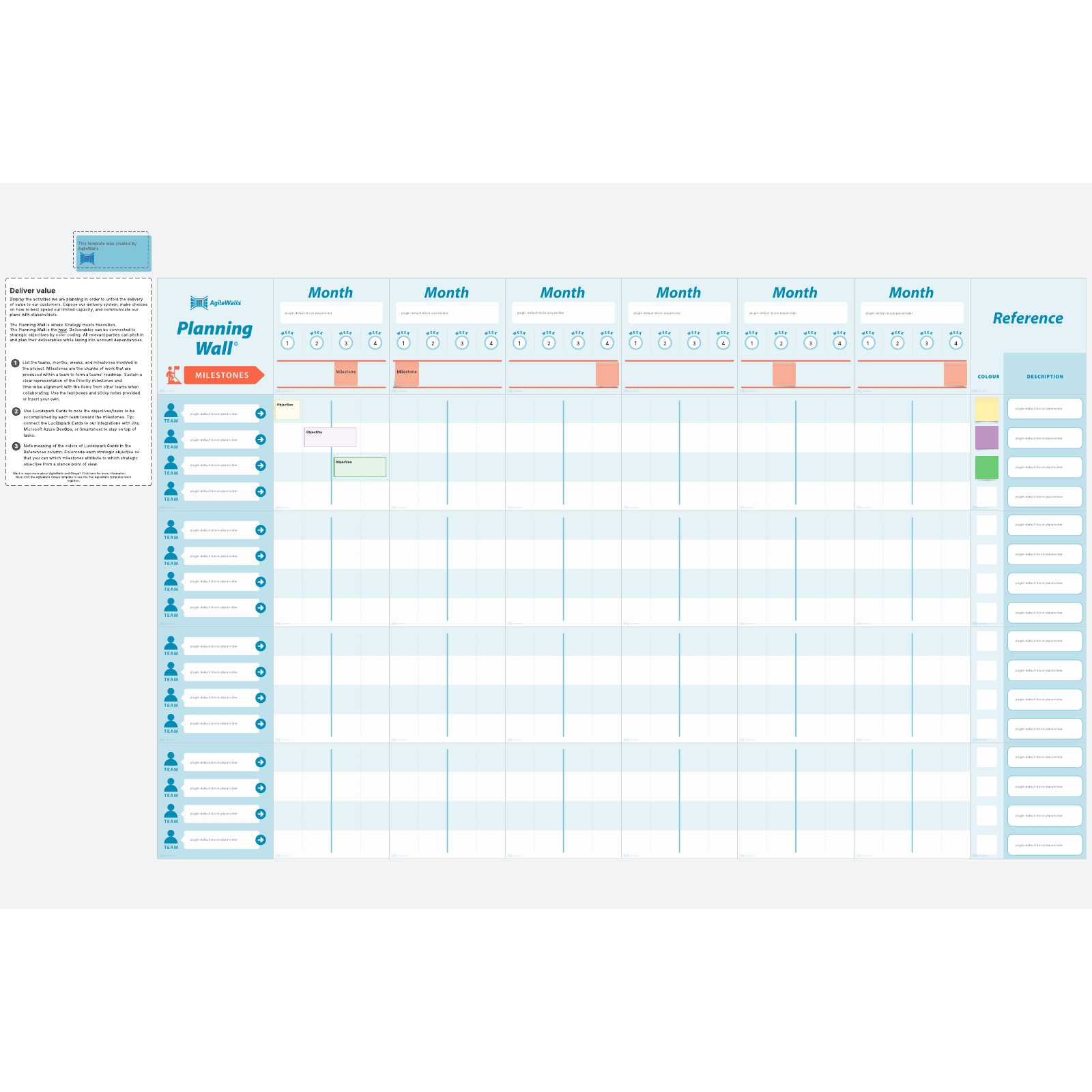 Connect strategy and results with the AgileWalls planning wall
If you're using an Obeya model to plan and execute your Agile projects, a planning wall should be included. Whether your Obeya room is a physical or digital space, your planning wall will display the activities that will need to be accomplished to achieve your goals. These activities can then be planned in a way that will demonstrate how your strategy will be executed.
A planning wall helps turn concepts into quantifiable deliverables. It will showcase how products and services will be delivered to consumers, help your team make decisions on where to spend resources, and neatly package your plans so that you can show them to stakeholders.
Benefits of the AgileWalls planning wall template
In collaboration with AgileWalls, Lucidspark has created a planning wall template that you can easily add to your digital Obeya. This template has the benefits of being easily customizable and easily shared with all relevant parties.
Best of all, the planning wall template makes collaboration a breeze. Individuals and team members with the most relevant and up-to-date information can add it to the planning wall, keeping everything accurate.
How to use the Obeya planning wall template in Lucidspark
To best use the planning wall template:
Add the relevant teams to the first column, and the project milestones, as well as the months and weeks of your project's duration, to the top row. You can use the text boxes and sticky notes provided or insert your own. Be sure to accurately represent where on the project timeline each milestone will fall.
Add team tasks and objectives that will contribute to each milestone to the board with Lucidspark Cards. You can use Lucidspark's integrations with Jira, Microsoft Azure DevOps, or Smartsheet to streamline all the information about tasks.
As you go, color code the Lucidspark Cards so that you can see which milestones contribute to each strategic objective. Note the meaning of each color in the "References" column.
You can take advantage of the planning wall template's ease of collaboration by having each team connect their own deliverables to strategic objectives via color-coding. When you finish with the planning wall, you'll then have a valuable resource that will help everyone stay on target as you move forward with your project.
AgileWalls
Backed by the tools and philosophy of Obeya, AgileWalls creates physical and digital walls to foster a strong connection between digital and analog/physical collaboration spaces.