Show-and-tell icebreaker template
This icebreaker template is a fun way to learn about your teammates through photo sharing.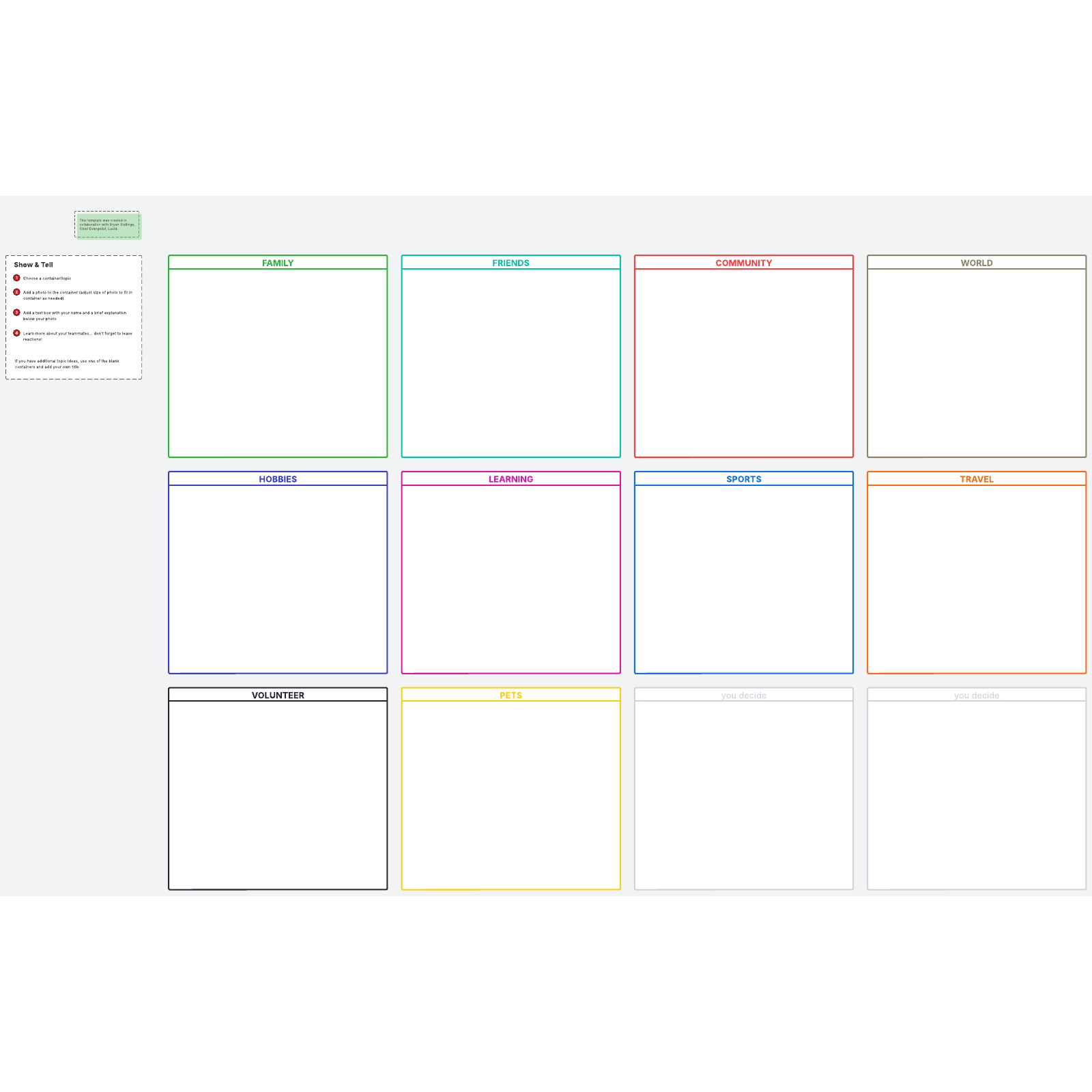 Break the ice with this simple show-and-tell game
When your team works remotely or within a hybrid team model, providing opportunities to connect and bond becomes even more important.
Use this icebreaker game at the beginning of remote meetings to promote camaraderie and help your team members get to know each other better. Using Lucidspark, you can easily create a show-and-tell game by sharing personal photos in real time.
Benefits of using icebreaker games for work
You may wonder why we're suggesting to start your meeting out with a game—that can't be the most effective use of time, can it? Icebreaker games during work meetings, including this show-and-tell game template, offer several benefits. They can:
Boost team morale and improve overall well-being.
Allow remote teams to take a break from the stress of the workday and reduce burnout.
Give team members a chance to learn more about each other in a casual, fun environment.
Allow managers and team leaders to demonstrate that they care about their direct reports outside of work and establish greater trust.
Virtual team activities and icebreaker games are just one of the practices that you should implement when working in a remote or hybrid team environment. See other tips from our Agile expert Bryan Stallings.
How to use this show-and-tell game template
To run this icebreaker game successfully, simply choose a container or topic ahead of time. Tell team members to select a personal photo to share based on that topic. The topic may be a family photo, pictures of a favorite vacation or significant event, a photo of themselves as a child, or pictures of pets, personal projects, achievements, or hobbies. You can even get creative and ask for pictures of favorite pieces of art or memes.
Once team members have selected an appropriate photo, encourage them to upload it to the container in Lucidspark, where they can adjust the size of the photo as needed. Then they can add a text box that includes their name and a short caption explaining their photo.
As you start your remote meeting, take a few minutes with Lucidspark to review each team member's photos. Be sure to leave comments and emoji reactions! You can even use the chat feature to ask questions about different photos and encourage team members to share more background. Everyone will enjoy the conversations that this simple show-and-tell game will spark.
Bryan Stallings
Chief Evangelist, Lucid
As Chief Evangelist at Lucid and Certified Scrum Trainer,
Bryan Stallings
has coached thousands of individuals and teams in Agile and Scrum techniques.