"This or that?" icebreaker in collaboration with Zoom
Start your meetings off with a fun icebreaker template, created in collaboration with Zoom.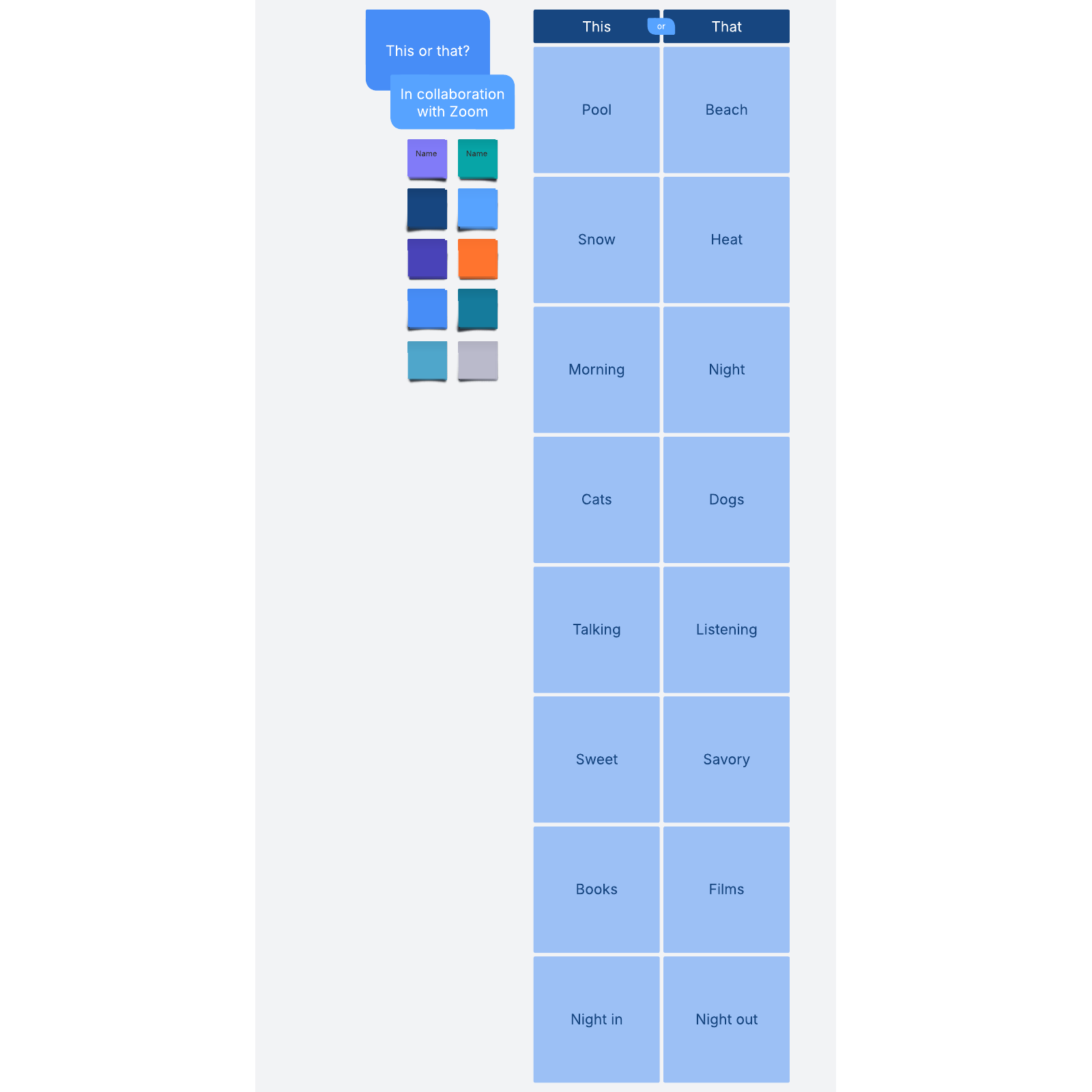 What is the "This or that?" icebreaker?
If you manage a team that mostly works remotely, you might find it difficult for your team to naturally connect and bond with each other. This is where virtual icebreaker games come into play. Icebreaker templates, such as the "This or that?" icebreaker, can be used in any Zoom meeting to foster a fun, relaxed environment that can be made a natural part of your work schedule.
The "This or that?" game is a simple game of preferences: players are given two choices—like "hamburgers or hot dogs?" or "vampires or werewolves?"—and then have to publicly express their preference between the two. It's fun to see which side of the fence people will fall on, and certain choices may give you some fun talking points for future conversations.
Benefits of icebreakers for teams
When you make icebreakers a regular part of your meeting routine, you'll be able to get your team members more comfortable with one another and start the creative juices flowing for great workshops and brainstorming sessions. You'll also be able to convey that you care about your team members as people, and give them a chance to relax and escape the pressures of work for a few minutes.
How to use Lucidspark's "This or that?" icebreaker template during your Zoom meeting
Lucidspark offers a customizable "This or that?" template that can be shared directly during a Zoom meeting. With Lucidspark's integration with Zoom, you don't even have to switch applications, and you'll have access to all of Lucidspark's fun collaboration tools to liven up the game even more.
To use the template for your icebreaker, simply:
Share the "This or that?" template in the Zoom meeting.
Have each person choose a stack of color-coded sticky notes and write their name on it.
Going one row at a time, prompt each participant to drag and drop one of their colored sticky notes onto which of the two choices they prefer.
Encourage the use of comments and emoji reactions to make participation even more fun.
At the end of the game, you'll know more fun things about your co-workers and they'll feel more like members of a team. Best of all, you can switch the template questions up at any time if you want to re-use the template for future icebreakers.
Zoom
Zoom helps people stay connected so they can get more done together. From meetings, chat, phone, and webinars to conference room systems and online events, Zoom powers all your communication needs.