Quick-draw game
Having a hard time helping the team stay connected? Play quick-draw to get creative and have fun together as a team. Try it free with Lucidspark.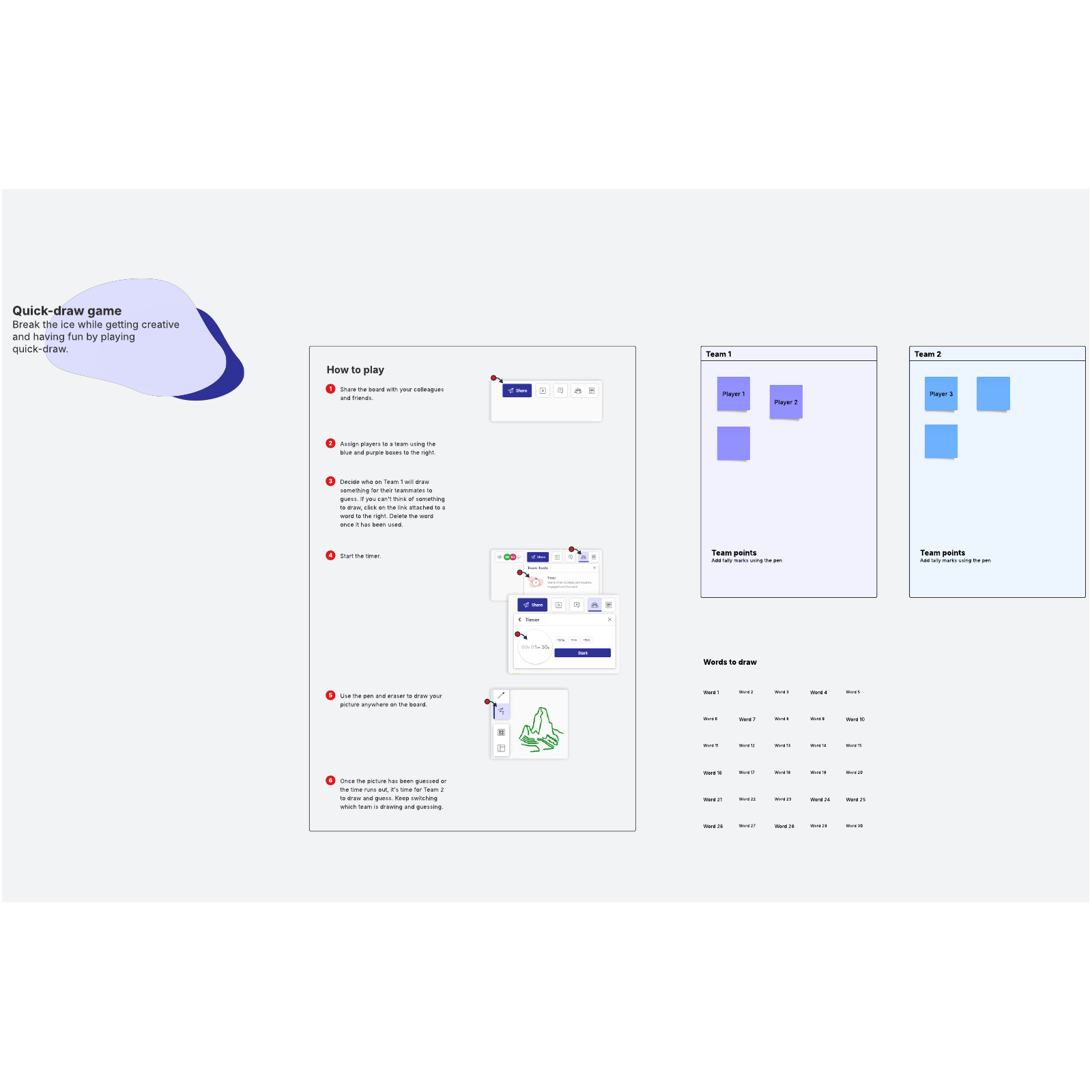 Break the ice in a virtual meeting with a quick-draw game
Virtual meetings are often plagued by disengagement and a lack of connection among the participants. If you'd like to enliven a virtual meeting or brainstorming session, invite everyone to play drawing games online with their team.
A quick pictionary game online is a great way to break the ice, get team members to engage with each other and the meeting format, and start your virtual meeting off on the right foot. Freehand drawing can also be a quick way to get the creative juices flowing right before a virtual brainstorming session.
Done on a regular basis, such icebreaker activities can help remote or hybrid team members bond with one another and feel more engaged with their work. They can be a great way to promote company unity and culture.
Use Lucidspark's easy quick-draw game template
Lucidspark offers an easy alternative to finding the most convenient pictionary game online with our quick-draw icebreaker template. You can enjoy a few quick games before your brainstorming session starts, and then have everyone stay right where they are when it's time to go to work. With our easy Zoom integration, you'll not even have to switch meetings.
At the beginning of your meeting, simply share the Lucidspark quick-draw game template to the whiteboard. Then:
Divide everyone into teams and post their names on sticky notes in the appropriate team box.
Have those on Team 1 decide who will draw a picture for the rest of the team to guess first. If that person can't think of something to draw, have them click on a link in the "Words to Draw" section. A link will open and reveal a word that only they will be able to see. Have them delete the word once it has been used.
Once your first artist has something in mind, start Lucidspark's timer at an appropriate countdown. We've found that one minute makes for a fun game.
As the minute counts down, the artist will use Lucidspark's pens and whiteboard space to draw a picture that their teammates will attempt to guess.
If the team guesses correctly before the minute is up, they get a tally point at the bottom of their team box. If they run out of time, they don't get a point.
Once Team 1's turn is over, switch to Team 2. Allow each team to take turns, switching up who the artist is, until your icebreaker time runs out. Whoever has the most points at the end wins!
As you employ this icebreaker, you'll be able to make meetings more fun, put your team members at ease with their colleagues, and enjoy more productive brainstorming sessions.