6 templates Lucidspark users love to collaborate on
Reading time: about 4 min
At Lucid, collaboration is the name of the game. It's what we're best at. 
Lucid improves the quality of meetings, promoting faster, more valuable collaboration. In fact, a 2023 commissioned Total Economic Impact(™) study conducted by Forrester Consulting on behalf of Lucid found that a composite organization using Lucid saved 344,000 hours due to streamlined synchronous collaboration, worth $4.1M in user efficiencies.
And even better—with hundreds of templates to kick-start your projects and tasks, Lucid doesn't only make collaboration better, it makes it easier, too. 
We recently asked users of Lucid Champions (an exclusive, customer-centered program built specifically for Lucid users) about their favorite Lucidspark templates. We're excited to share several team templates that Lucidspark users just like you use on a regular basis to collaborate and do their best work.
Mission alignment
Getting on the same page with your team is difficult enough anyway, and the addition of hybrid work can make it even trickier. That's why you can answer simple questions to align your organization or team with this mission alignment template.
Kristen W.,  a customer success operations analyst, uses this template with her team all the time. She feels that it's "such a great launching point when you are working with a group and need to pull ideas and thoughts into one master plan. Makes meetings go so much smoother!"
Thermometer end goal template
If you're a leader looking to keep your team motivated, this template is for you. Track your team's project progress and boost morale with this thermometer goal tracker. An anonymous Lucid Champion uses this template more than any other. 
"As a project manager, I often have to provide status reports on my projects. This template is a fun and unique way of getting everyone's attention to listen to my updates during a meeting when I'm presenting."
Sprint backlog
Looking for a good way to organize your sprints more efficiently so your entire team is aligned? Decide what to tackle with this sprint backlog template.
Karen C., a digital project manager, picked this as her favorite template for being colorful and easy to understand.
"I use this template to help facilitate with my development team what should go in and not in the next sprint. This gives me an understanding of how the product backlog will sit."
Impact effort matrix
In the impact effort matrix, you can organize and sort tasks to visually prioritize and align priorities by plotting them between two axes: effort and impact. 
An anonymous Lucid Champion who works in UX research explained why this is their very favorite Lucidspark template: "I love this template because it is so versatile. It is easy to change the…axis labels to fit whichever variables or metrics are most relevant to the project and make it into the 2x2 matrix that I need. It is also versatile in the way that it can be used in all phases of the design process from generating and deciding early-stage ideas to retrospection at the end of a project."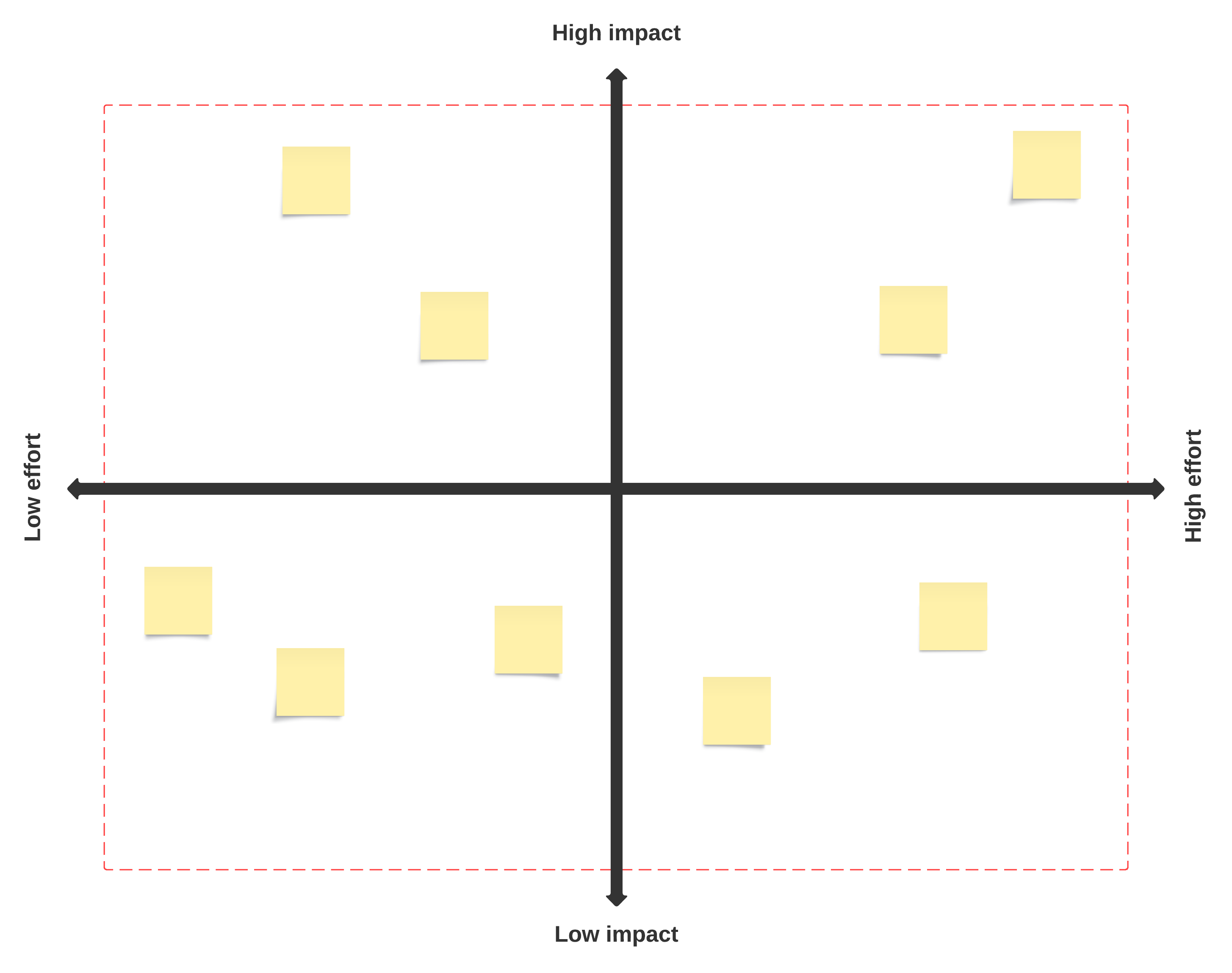 Hero's Journey framework
Transform your user experience by applying it to the Hero's Journey. Visualize users' paths through each phase (anticipation, participation, reflection) in this template.
Colby G. runs every new project he begins through this template first.
"As a senior business analyst, I am responsible for understanding our business model and making decisions on what data we have and how we might use it. I use the Hero's Journey framework…to help communicate where and why data is being used and also to help understand what data might be needed for projects to stakeholders."
This quick retrospective template  is a simple way to assess the effectiveness of processes, meetings, and initiatives. Give your team a chance to voice their opinions and contribute to improved work. 
Cory A. uses this template as an easy starting point to facilitate deep discussions on his team:
"Having this makes it easy to find and achieve my goals of facilitating a safe, inclusive discussion with all involved. I use this template to allow each user to add their thoughts in at once, and we can have the flexibility to push difficult questions or hard-to-talk-about topics."
Lucidspark levels up your collaboration
Regardless of what type of team you're on, we're confident that Lucidspark can boost both your synchronous and asynchronous collaboration and help you get more done—faster. Join these Lucid Champions who trust Lucidspark to help them engage, align, and build the future with their teams.
Explore all of our collaboration templates for every use case.
Go now
Lucidspark
Lucidspark, a cloud-based virtual whiteboard, is a core component of Lucid Software's Visual Collaboration Suite. This cutting-edge digital canvas brings teams together to brainstorm, collaborate, and consolidate collective thinking into actionable next steps—all in real time. Lucid is proud to serve top businesses around the world, including customers such as Google, GE, and NBC Universal, and 99% of the Fortune 500. Lucid partners with industry leaders, including Google, Atlassian, and Microsoft. Since its founding, Lucid has received numerous awards for its products, business, and workplace culture. For more information, visit lucidspark.com.
Bring your bright ideas to life.