Impact effort matrix
Organize and sort tasks to visually prioritize and align priorities by plotting them between two axes: effort and impact. Try this Lucidspark template!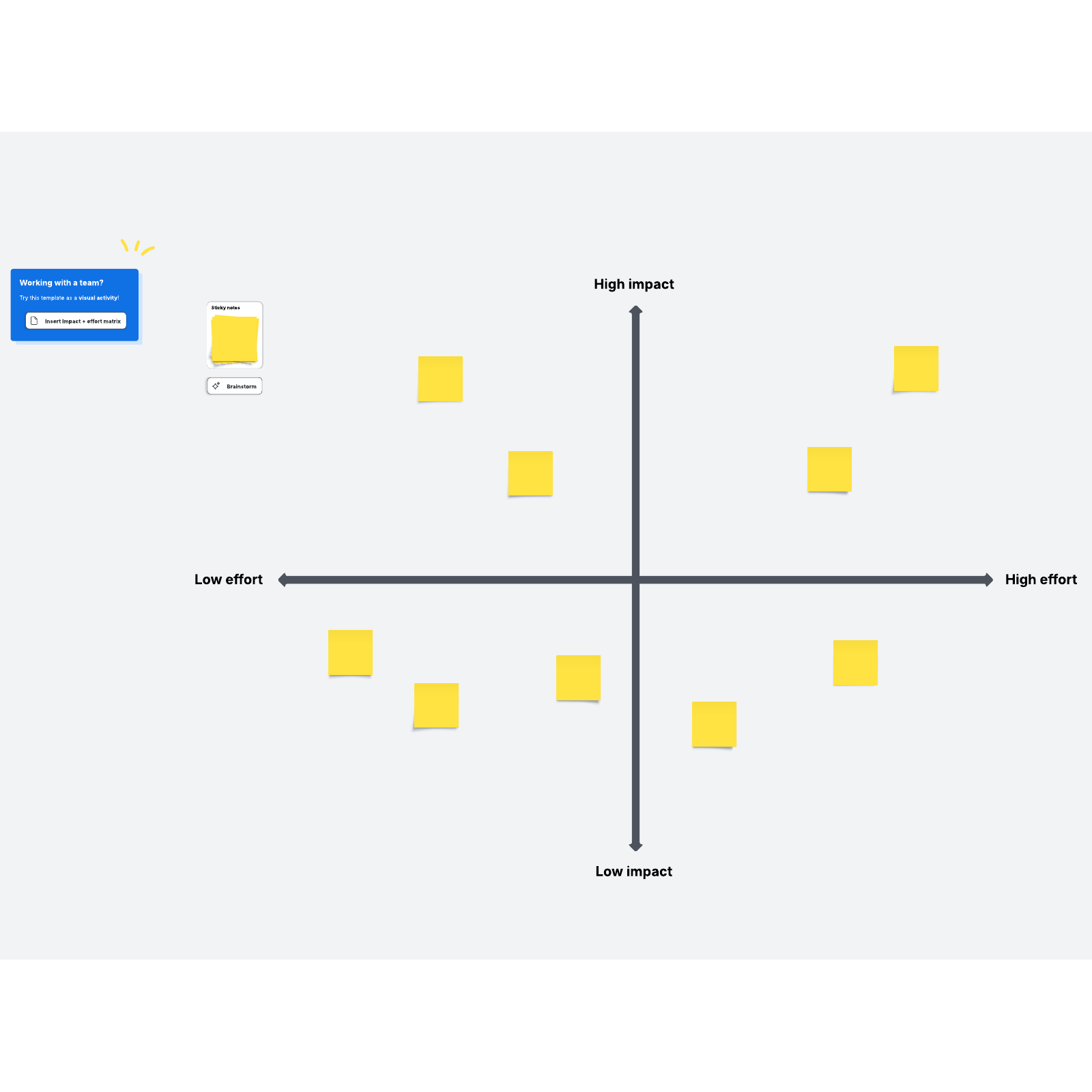 What is an impact effort matrix?
The impact effort matrix is a visual tool designed to help teams prioritize tasks and maximize their efficiency while ensuring that their goals are aligned. Set up as a four-quadrant grid, the matrix organizes tasks into four categories:
Quick wins: Projects with maximum impact that require minimal effort
Major projects: Projects with maximum impact that require maximum effort
Fill ins: Projects with minimum impact that require minimum effort
Time wasters: Projects with minimum impact that require minimum effort
Benefits of using an impact effort matrix template
The impact diagram can act as a powerful decision-making tool, especially when teams are faced with limited time and resources. This simple yet effective categorization can guide everything from overall project strategies to day-to-day to-do lists, allowing teams and stakeholders to align on project goals.
By prioritizing individual tasks by their impact and effort, teams can maximize their efficiency while also reducing waste. Teams can decide as a group which projects would drain their time and resources, and more importantly, which projects will ultimately help them accomplish their goals. The impact diagram can also be beneficial in helping teams evaluate how they currently spend their time and allocate resources–and where improvements can be made.
Lucidspark's impact effort matrix template is designed to give teams a clean, organized visual of project tasks to easily transition them into action items. With Lucidspark's templates and collaborative tools, teams can work together—remotely or in person—to create an effective impact effort grid that points to the most efficient path forward.
How to use the impact effort matrix template in Lucidspark
Here's a breakdown of how you can get started creating your impact effort matrix in Lucidspark:
Gather all relevant team members and stakeholders together to brainstorm team objectives and goals. Your objective is to begin working on your matrix feeling aligned on your overall mission.
Identify and list individual tasks that will need to be completed in order for your objectives or goals to be accomplished. You can use the Tagging feature to identify similar or related tasks.
With your Lucidspark impact effort matrix template in front of you, begin placing individual tasks in each quadrant according to their overall impact and required effort. Get everyone's input on matrix placements using our Voting feature, emoji reactions, or chat features.
Once each task is listed in your matrix, decide how you plan to carry out each task. Use Lucidspark Cards to create individual action items for each team member that can be followed up on as your project moves to next steps.