Synthesis template
Use this synthesis template to record patterns and insights during whiteboarding sessions. Sign up for Lucidspark and try this synthesis matrix template for free.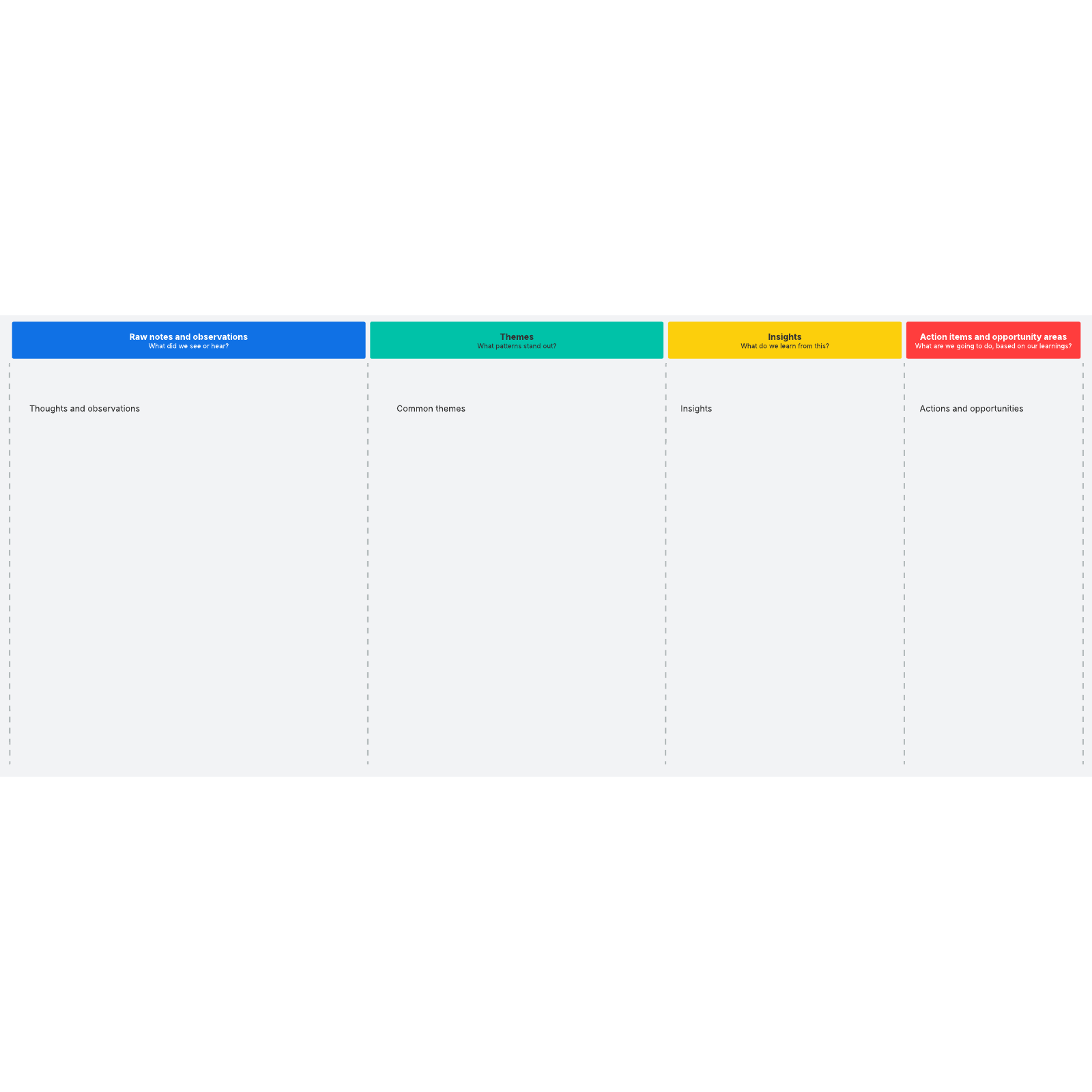 Turn your ideas into actionable next steps with idea synthesis
Brainstorming is crucial for creative innovation and problem solving, but the process can't end there. You'll need to analyze and evaluate the results to progress from brainstorming to active planning, and this process is called synthesis.
You can guide this process with our free Lucidspark idea synthesis template. This synthesis diagram template provides criteria that you can use to organize the ideas from brainstorming. You can use our existing template or use it as a starting point for your own customized synthesis template; in either case, you'll have a useful visual with which to begin the next phase of your planning.
Channel your team brainstorming session into viable next steps with our Synthesis matrix template.
How to use Lucidspark's synthesis format template
You can easily share our template in either an in-person or virtual setting. Whichever method you choose, encourage your team to volunteer their thoughts and observations from the brainstorming session, any common themes that they noticed, what insights they had, and any actions or opportunities they have already identified.
These contributions can be added to the synthesis matrix template in the form of sticky notes, which can then be easily categorized and analyzed as a group with the help of any of Lucidspark's synthesis features. You can tag, gather, and sort related information, identify themes, highlight or add emoji reactions to different pieces of data, and even add actionable items to other platforms with the help of Lucidspark Cards.
As your team discusses and distills the results of your brainstorming, you'll be able to determine which ideas are most valuable to you and where to go from there with this Lucidspark template.