Mission alignment
Answer simple questions to align your organization or team with this mission alignment template in Lucidspark.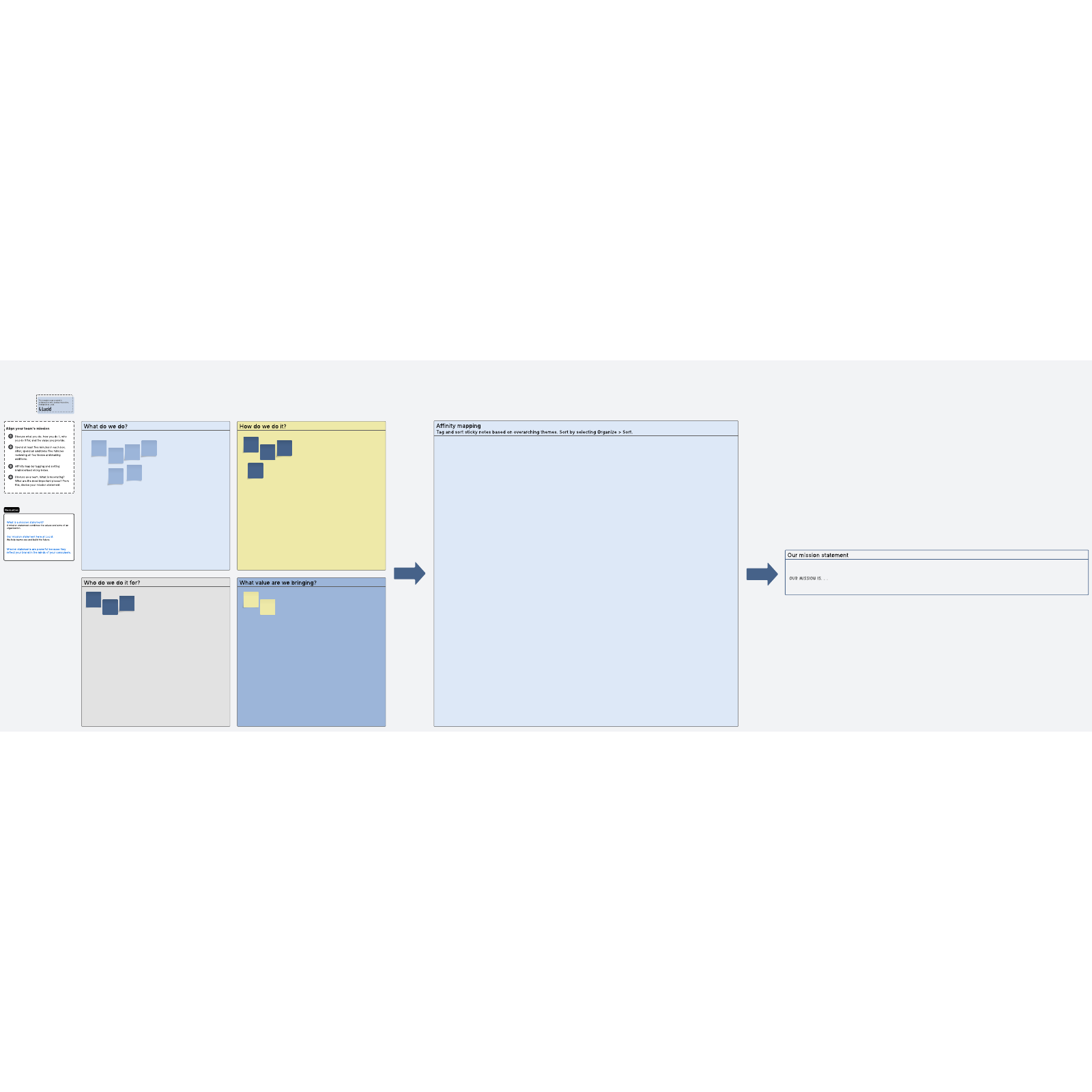 What is mission alignment?
Imagine you and your team were given building blocks without being told what to build. You assumed you'd be building a pirate ship, but when you look over, it's clear someone else is building a fire truck and another person is making a dinosaur. And no one has enough pieces to finish what they started. That's essentially what happens when a team has no mission: it has no shared goals and very little chance of success. Worse, the team doesn't understand what value it provides to the market.
The mission alignment template can fix that by defining your mission and then helping the team align with that mission for the greatest likelihood of success. Plus, the template helps each team member understand what the goal is so that it's clear to everyone what success should look like.
Benefits of using the mission alignment template
The mission alignment template is an easy, visual way to:
Determine what your team mission is based on how your team perceives what you do.
Align teams on what drives the entire group.
Assign prioritization and make new ideas easy to navigate.
Pinpoint areas that need clarification or further discussion.
How to use the mission alignment template in Lucidspark
Begin by having your team answer the four questions quadrant by quadrant in the template using sticky notes. Set a timer to encourage creativity.
Use an affinity map to find overarching themes from the sticky notes placed in the four quadrants. Dynamic Matrix, Sort and Gather, tagging, and emojis are perfect for a task like this.
Step back and analyze the affinity map. What really resonates with your team? Use the voting tool to help. Eliminate sticky notes that have the fewest votes.
Craft your mission statement based on the themes determined in the affinity mapping bucket.
Share the final mission statement with your broader team.
Jessica Guistolise
Evangelist, Lucid
As Evangelist at Lucid, Jessica Guistolise is a Certified Scrum Trainer who has coached thousands of individuals and teams in Agile and Scrum techniques.