Writing project objectives is a critical part of organizing your project and getting your team's buy-in. Investing the time in creating effective project objectives before you begin will have a huge payoff as you plan and complete your project—and skipping this step can create confusion and frustration down the road.
What are project objectives and why are they important
Project objectives give your project direction and clarity. Without focused project objectives, teams often struggle to achieve their goals and enlist the support of stakeholders. 
Any journey undertaken without a roadmap is susceptible to disruption or distraction when the driver gets lost or misreads the road signs. In the context of your project, having strong project objectives prevents many of the mishaps that can show up in the course of your work together as a team. 
As you work with others, having clear project objectives clears up misunderstandings and justifies to your stakeholders why particular actions at particular times are essential to the success of your project. 
Without project objectives, teams risk introducing: 
Misdirection: Project stakeholders follow the wrong goals, or operate under a different understanding of the goals than other stakeholders
 
Distraction: The team gets hyper-focused on unhelpful irrelevant aspects of the project, ultimately missing the big picture and not hitting KPIs
 
Uncertainty: A lack of meaningful objectives can introduce additional uncertainty into the project, slowing the project down to a crawl and dampening creative thinking and innovation
 
Resource overrun: Without objectives to help prioritize project activities, you may go over budget or waste man-hours
 
Misallocation: Resources, time, and attention could be spent in the wrong amounts, for the wrong reasons, or on the wrong aspects of the project
Getting the meeting started off on the right foot
Project objectives should be set early before project work begins. Your objectives will drive your project plan, which will set out specific tactics designed to help your team achieve project objectives. 
A kickoff meeting brings valuable context and helps set the tone for working effectively together. This is a great time to review your project's goals, go over timelines, and talk through possible challenges.
Consider these as core touchpoints to include in your kickoff meeting:
Team and department introductions: Unless everyone already knows everyone else and is familiar with their project roles, using the start of the kickoff meeting for short introductions may be helpful.
 
Background and need-to-know information: Briefly reviewing the project's background information allows everyone to get on the same page. You can offer detailed background information for them to review afterward if they're interested or need specifics.
 
Goal setting and high-level goals: Overarching goals for the project allow your team to set more specific goals that define the project scope, so it's helpful to review them briefly during the kickoff. You can also talk about measuring success.
 
Milestones, deliverables, and timeline: Set your most significant milestones, determine which deliverables will be created as part of the project, and what timelines you'll be following.
 
Logistics and reporting: If you're using tracking software or systems, review how these fit into your project. From there, talk about how reporting will occur and what stakeholders will have access to.
 
Challenges and risks: If there are potential risks and challenges associated with your project, be sure to review them with your team and discuss mitigation strategies.
 
Questions: Don't forget to plan enough time during and at the end of the kickoff meeting for questions! Making sure to leave space for people to discuss anything they're unclear or confused about can help you uncover some blind spots in your project scope.
Without a clear goal and purpose for your project, you will probably struggle to create project objectives. A straightforward project purpose statement is helpful as you document your project goals and begin creating project objectives. 
How to write project objectives
Project objectives map your tasks to goals and outcomes—writing them and tying them to outcomes shows your team what all of you want to achieve and eliminates any uncertainty that could interfere with developing your project plan. 
SMART objectives
Specific, measurable, attainable, realistic, and time-bound (SMART) objectives are concrete enough that your team can reliably use them for guidance towards results. 
Following the SMART acronym can help you avoid the pitfalls associated with poorly-written objectives. Teams want to avoid objectives that are nonspecific and don't provide a target to achieve. Furthermore, unmeasurable goals make identifying success or failure more challenging. Unrealistic objectives may be altogether impossible. If your objectives aren't time-bound, there isn't a pressing reason why they should be achieved now instead of, say, one year from now. 
Principles and practical tips
How you approach your project objectives is key to your success as a team. Here are a few ideas to keep in mind: 
Involve your stakeholders: Creating the project objectives isn't just a management or project manager task—strong leadership involves team members directly in project objectives. Do what you can to share relevant information and data with your team so they know what to do. Using visual collaboration is one helpful way to keep a group aligned and on the same page.
What to do: Bring in different departments and stakeholders from management, as applicable. 
What not to do: Begin the project without input from internal customers and buy-in from stakeholders. 
Drive engagement: Project objectives show specific aspects of the project and how they are linked to the group's success and final results. With objectives in view, team members can better understand how their work contributes to the organization's goals. This in turn helps them to be better engaged in the overall project. 
What to do: Encourage team members to see their roles in the project. 
What not to do: Leave individual contributors in the dark. 
Write your project objectives as statements: When you craft your project objectives use short, focused statements. Keep in mind that your project plan will include further detail, so there's no need to pack all your project information into the project objectives. 
What to do: Write SMART objectives. For instance, "Reduce wasted productive hours by 10% in the fourth quarter by implementing a new automation system within the third quarter" or "increase online customer satisfaction ratings to 8 out of 10 average by September." 
What not to do: Write vague, unachievable, or unmeasurable objective statements, such as "Get customers excited about new product line" or "reduce inefficiency by 15%"
Using Lucidspark to manage your project kickoff 
Take advantage of a virtual whiteboard to guide your team through the project objective planning process. Lucidspark helps you keep your team members on the same page with dynamic brainstorming functionality to help you elevate your best ideas. Collaborate directly with virtual meeting attendees and ensure that everyone can provide input on the project—all in real time.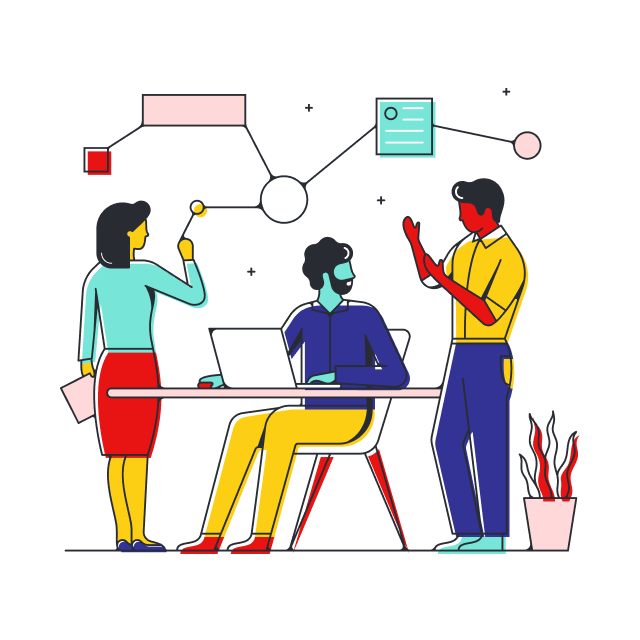 Get a free project kickoff template. 
Open now
Lucidspark
Lucidspark, a cloud-based virtual whiteboard, is a core component of Lucid Software's Visual Collaboration Suite. This cutting-edge digital canvas brings teams together to brainstorm, collaborate, and consolidate collective thinking into actionable next steps—all in real time. Lucid is proud to serve top businesses around the world, including customers such as Google, GE, and NBC Universal, and 99% of the Fortune 500. Lucid partners with industry leaders, including Google, Atlassian, and Microsoft. Since its founding, Lucid has received numerous awards for its products, business, and workplace culture. For more information, visit lucidspark.com.
Bring your bright ideas to life.