Project kick-off
Get your next project off on the right foot with this project kick-off board. Present project details and keep your team aligned.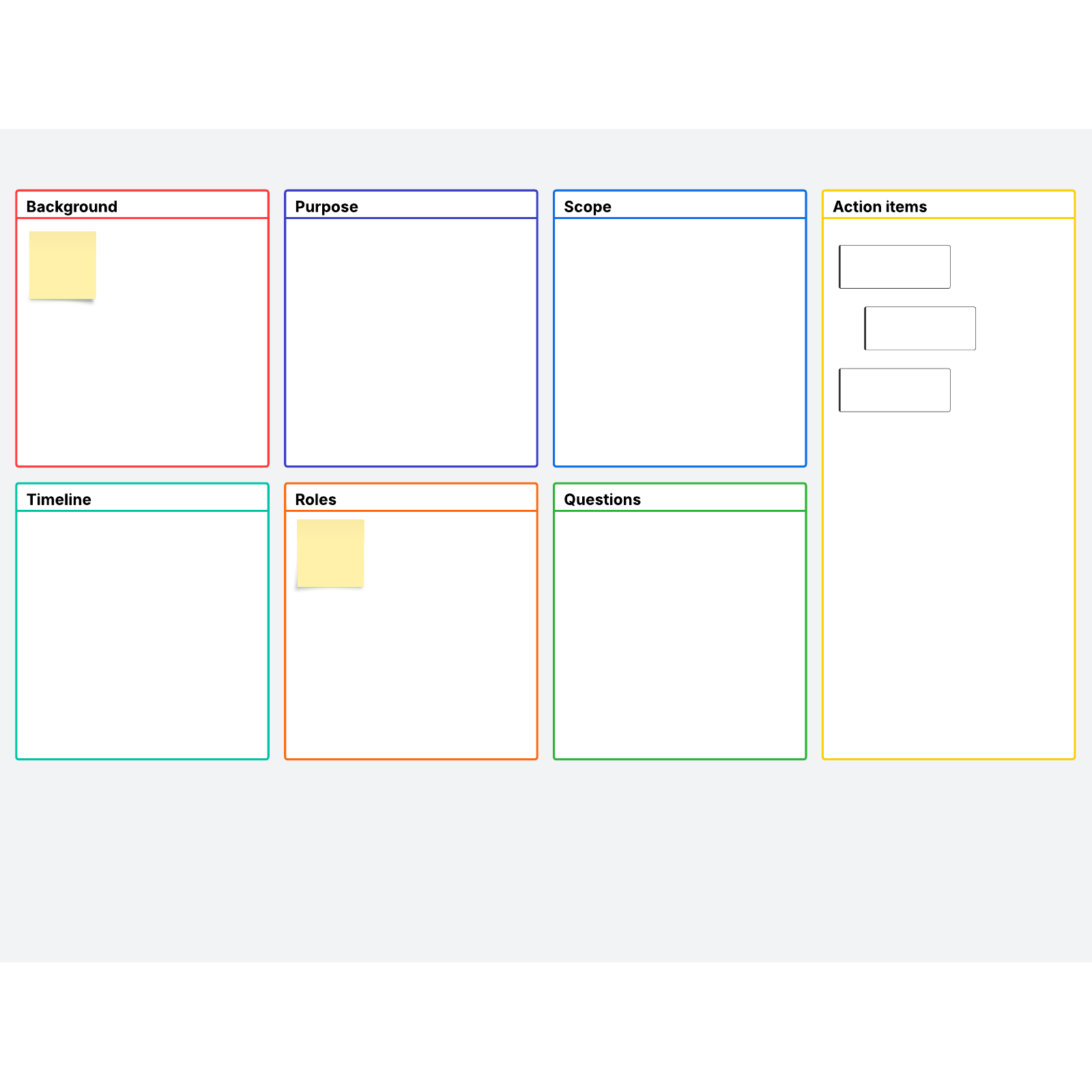 What is the project kick-off template?
When you're about to start a large project that involves multiple individuals or even teams, it's a good idea to make sure that everyone starts on the same path and plans to get to the same destination. This simple concept can be surprisingly complicated when everyone is doing different kinds of work and will contribute to different parts of the project, but you can mitigate any confusion with a project kick-off meeting and a project kick-off template.
Benefits of using a project kick-off meeting template
Utilized properly, a project kick-off meeting and template can unite the members of your team right from the beginning of your project. Everyone involved can have an immediate idea of the goals, scope, and timeline early on, and the visual nature of the template means that you can also quickly identify any problems or roadblocks.
You can use a project kick-off meeting to great effect for remote or hybrid teams. If you need support from shareholders, you can also invite them to the kick-off meeting—or share your completed Lucidspark project kick-off board—and convince them to buy into your project.
Collaborate and launch your project with Lucidspark's project kick-off template
Lucidspark offers an intuitive, customizable project kick-off template that can be used for asynchronous feedback or in a real time meeting. Simply share the template in your Lucidspark whiteboard and fill in each section with sticky notes, while seeking feedback and input from the rest of the project participants. Use Lucidspark's full potential with some of the following tips:
As you involve your team in your project kick-off planning, you'll quickly unify the group and ensure everyone's understanding and goals are aligned before you start the work.