SMART goals template
SMART is an acronym for Specific, Measurable, Attainable, Relevant, and Timely. Create SMART goals to help your team stay on track and make progress.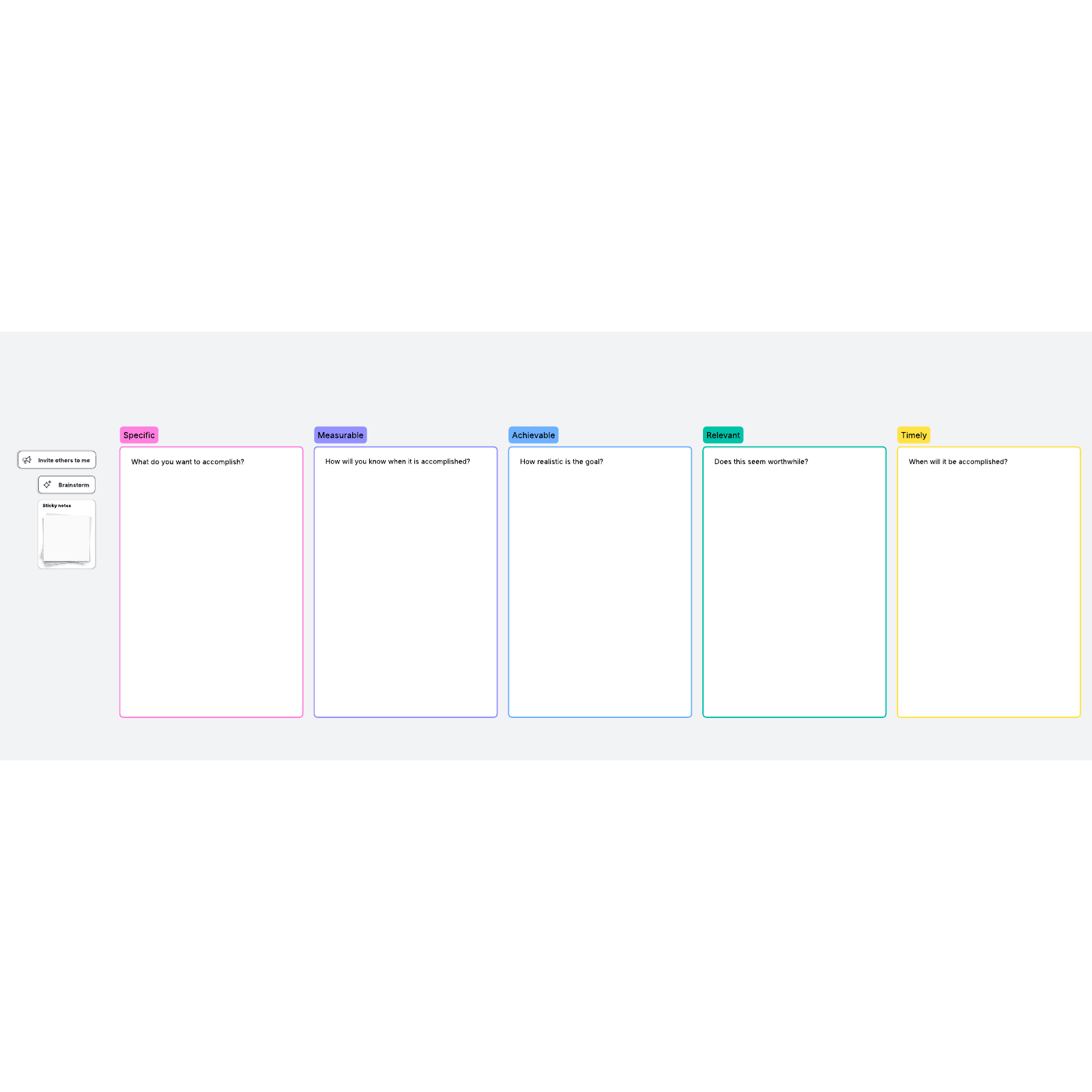 Plan real improvements with a SMART goals template
If you've set goals for your team or organization before, you've probably also failed to meet some of those goals at one time or another. Oftentimes, this happens when goals are too vague or it's unclear how you can accomplish them. Luckily, you can improve your chances of actually achieving your goals with a SMART goals template.
SMART goals are goals that are specific, measurable, achievable, relevant, and timely. Goals that have each of these qualities are inherently easier to plan for and achieve. Lucidspark's editable SMART goals template can help you check for these qualities in your goals and revise them as necessary.
How to use the SMART goals template in Lucidspark
Our SMART goal template is ideal for setting goals for a group. You can simply share the template on your customizable whiteboard space and work on it with your team in real-time. As you do, use each category on the template as a guide.
As you proceed, add color-coded sticky notes to the appropriate sections of the template. You may find it best to restrict yourself to discussing one goal per template, but you can easily customize the template to fit your needs.
Specific: Add sticky notes that answer the question "What do you want to accomplish?" as specifically as possible. You may also want to add details about who will be working on this goal and what steps it will require.
Measurable: How will you know when your goal is accomplished? How will it be quantified and reported on?
Achievable: How realistic is the goal in question? What resources will you need, and are they readily available?
Relevant: Is the goal worthwhile? What returns will you see if you achieve it?
Timely: When do you expect your goal to be accomplished? What kind of time frame are you working with? You might use a timeline within Lucidspark to create a visual representation of how you will achieve your goals over time.
As everyone contributes to the template, you can use Lucidspark's shapes or Tagging features to group related goals and goal characteristics together.
Turn to a smarter goal setting template with the SMART goals template in Lucidspark. As you collaborate with your team, you'll find that your objectives are within reach.