Fishbone diagram
A fishbone diagram template helps teams brainstorm solutions as they identify the cause and effect of current problems. Join Lucidspark to use this template.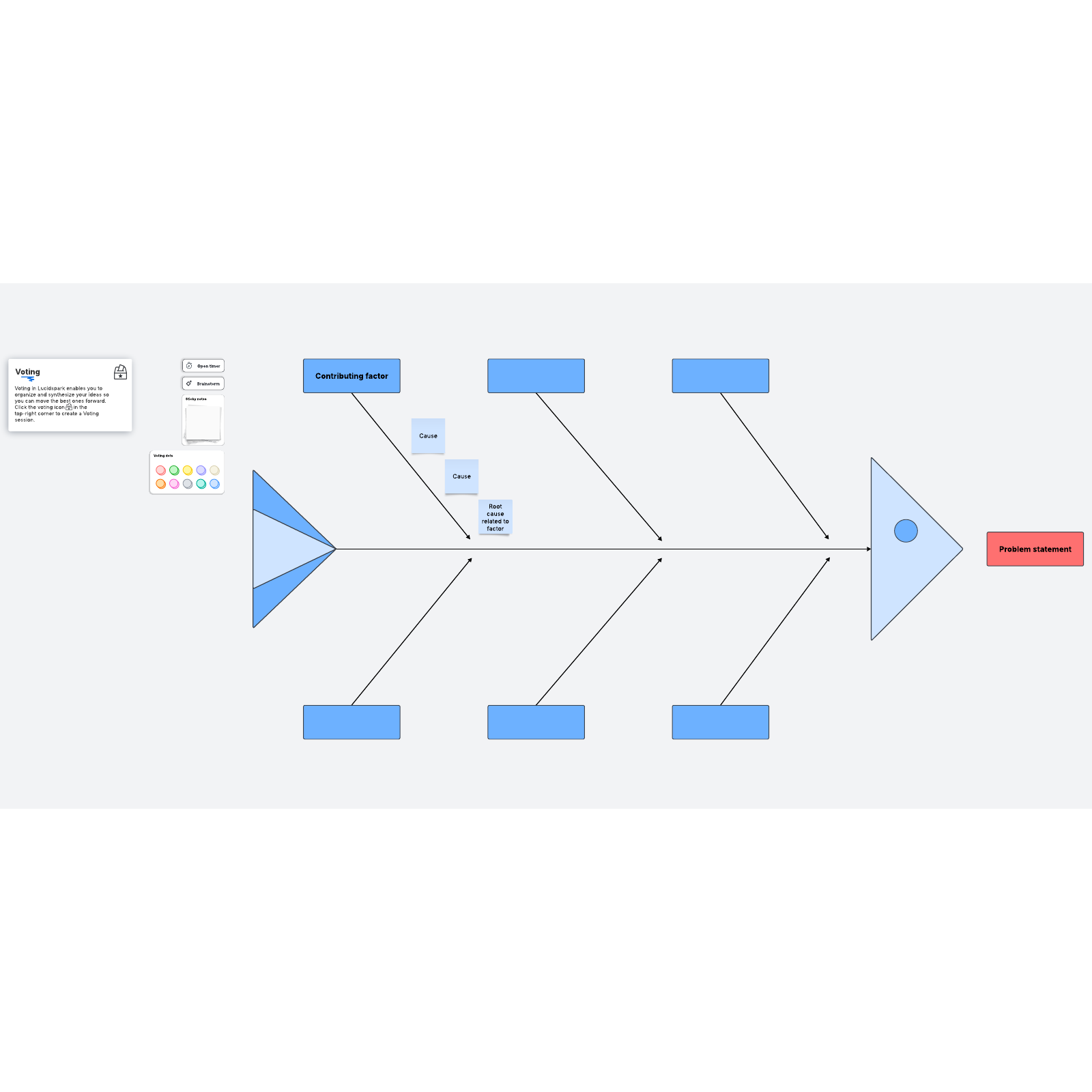 What is a fishbone diagram?
When something isn't working right, you need to dig deep and find the root causes before you can find the right solution. A fishbone diagram can help.
This diagram is also called an Ishikawa diagram, and it gives you space to consider all the possible factors that cause your particular issue.
Benefits of using a fishbone diagram template
When you're discussing the problem with a group, you may find the discussion wandering off-track or getting fixated on one possible cause. This fishbone diagram template keeps you focused and helps you consider different possibilities.
This template is easy to share with remote or distributed team members as well. You can do a root cause analysis in real time or asynchronously using this template—and with all your analysis in one place, you can refer back to it at any time.
As you fill out the template, you'll be able to dive into the specifics of different causes, but the diagram still helps you visualize all the root causes at once. This will help you gather all the pertinent information when you search for a solution.
How to use our fishbone diagram template in Lucidspark
Share and collaborate. First, make sure that you have the right people to collaborate with. You'll get a richer, more complete look at the causes of the problem if you work with people with different perspectives.
Define the problem and brainstorm root causes. When you're ready to get started, write the particular problem you're facing next to the box labeled "Problem." Next, you can start brainstorming causes. We've labeled the arms of the diagram with suggested categories, like materials, management, and process, but customize the template to fit your needs. Add possible causes to the lines on the appropriate section of the diagram.
Prioritize action items. When you're done brainstorming, it's time to figure out how to use your insights to solve the problem. Try voting on which root causes are most likely to have the biggest impact or are easiest to address, and use Lucidspark Cards to follow up on any action items you discuss. After you collaborate on this template, your team will be ready to start working on solutions.