Strategy diamond
Determine the strategic direction of your organization by looking at five key elements: arenas, differentiators, vehicles, staging and pacing, and economic logic with this Strategy Diamond Template. When you have aligned these five elements, your business will be ready to take advantage of any opportunity.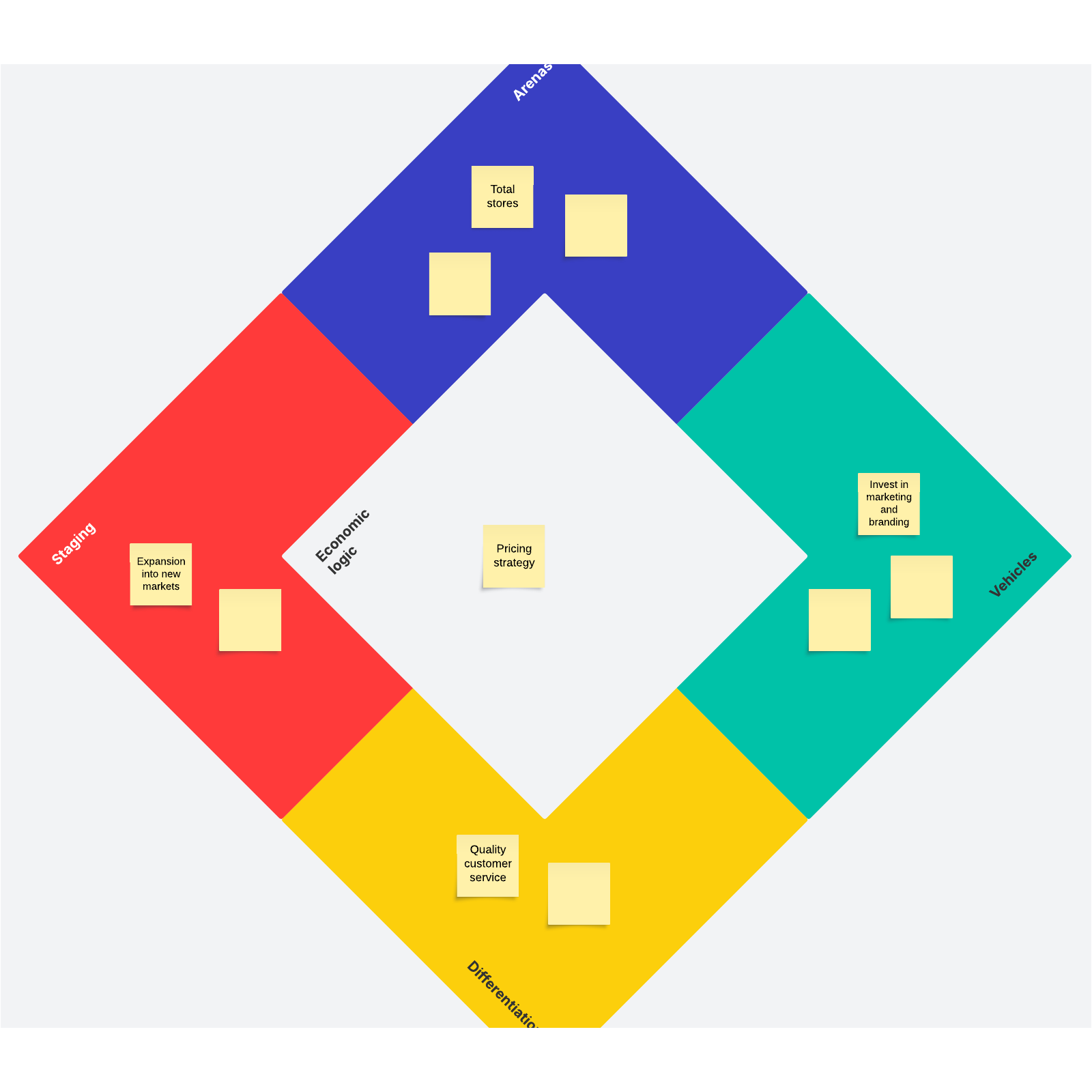 What is the strategy diamond model?
When you craft your business's strategy, you can't afford to overlook important factors. The strategy diamond model helps you consider multiple elements so you can take your business in the right direction.
The strategy diamond model covers five areas:
Arenas—where your business will be active
Vehicles—how your business will get off the ground and into the market
Differentiators—what sets you apart from your competition
Staging—what needs to happen and on what timeline
Economic logic—how you will make money and what your costs will be
When you carefully consider all these elements together, you can plan a comprehensive business strategy.
Benefits of a strategy diamond template
When planning out your business's strategy, you may be tempted to only focus on a couple areas that you feel strongly about, such as differentiating yourself from your competition or turning a profit. However, if you skip one of the elements in the strategy diamond, your plan will not be complete—and you may miss opportunities or make mistakes accordingly.
This template helps you see the big picture so you have a better chance of success.
How to use the strategy diamond template in Lucidspark
Work through each section of the template with your team, and add your insights to the board with sticky notes. To keep things organized, assign collaborator colors to show who contributed each idea, and use Facilitator Tools to keep the meeting on track or to present the finished template to stakeholders.
Lucidspark also makes it easy to collaborate on this template. If you're working remotely with your team, use the Zoom integration. Your team can also use emoji reactions, GIFs, and freehand drawing to add all their thoughts to the template. This gives you more detailed feedback and helps you improve your business's strategy with the group's insight.