Why visuals are critical to adaptive strategy
Reading time: about 7 min
No matter what the industry or type of business, every organization needs a sustainable advantage to continually thrive (or simply survive) in a hyper-competitive market.
In a fast-paced commercial environment, it's difficult to predict or plan for the shifting tastes of a consumer or B2B audience. Additionally, you never know when new challengers will appear on your turf.
So why get stuck with a short-lived advantage? With all the constant changes in emerging technology, customer needs, and market trends, an adaptive approach gives you the freedom to adjust your tactics at a moment's notice. 
What is an adaptive strategy?
In many ways, an adaptive strategy can be defined taking advantage of a series of fleeting advantages that hold sway until a changing environment calls for a new marketing approach. Adaptive strategies are both dependent on and defined by these three traits:
Readiness: This is where a company anticipates shifts in the industry or begins to sense changes in the market. Five years after pioneering the streaming service revolution in 2007, Netflix started creating original content. And don't forget, before Netflix jumped into streaming, their business model was based on shipping DVDs to your doorstep. Their adaptive approach helped them endure the arrival of competing services from studios that once licensed television shows and movies to Netflix.
Responsiveness: Agility is key to any adaptive strategy. Whereas a traditional approach to maintaining a competitive advantage is often static and predictable, an adaptive approach relies on fast turnarounds. This requires a decentralized approval process that lets different teams within an organization operate independently and react promptly.
Resiliency: Variation in strategy alone isn't enough. The ability to quickly recover and shift gears is essential to an adaptive approach. At the beginning of the Covid-19 pandemic, many retailers simply lacked the resources to survive a shutdown. Those that ultimately thrived made comebacks with curbside service, at-home delivery, and other solutions.
Extreme weather, power-grid outages, resource scarcity, and other catastrophic events demonstrate the viability and necessity for an adaptive strategy in today's world. When introducing an adaptive approach to your business, visuals often play an important role.
The role of visuals in adaptive strategy
Even though an adaptive strategy is based on the premise of continuous experimentation and real-time adjustment, there is a certain level of analysis and planning involved in the adaptive approach. Graphs, charts, diagrams, and other visuals can be used to interpret adaptive strategy.  
Adaptive planning
Charting out an adaptive strategy sounds counterintuitive. However, visuals allow you to outline a plan, make decisions on resource allocation, and guide its implementation so that you can remain nimble and responsive in the moment. 
Built into our strategic planning template are prompts and questions to help guide your adaptive strategy planning and encourage team collaboration.
Problems/opportunities to solve: What solutions do we seek? What challenges need to be overcome? Is there an opportunity you're now ready for (or must) pursue to advance?
Goals and objectives: What goals must be met to address or solve the problems you've identified? What's the most important goal or objective that everyone should focus on?
Capabilities: What are we capable of doing now to reach our goals? Do our capabilities allow us to meet our current objectives? Will those capabilities change anytime soon?
Actions: What actions are required to meet our objectives? Which individuals or teams will be responsible for the actions needed? How will we prioritize each of the actions?
Initiatives: What initiatives do we need to work on to meet our actions? What initiatives do we think are a priority? Will any initiatives require approval before moving forward?
Using Lucidspark makes it quick, easy, and intuitive to iterate throughout the adaptive planning process. And if conditions, team members, or priorities change, your plans can also change accordingly.
Progress visibility
Planning, putting together, and launching an adaptive strategy is only the beginning. Once the adaptive strategy is in place, it's important to understand how it's tracking in relation to your original objectives. This is where visuals such as Gantt charts prove beneficial.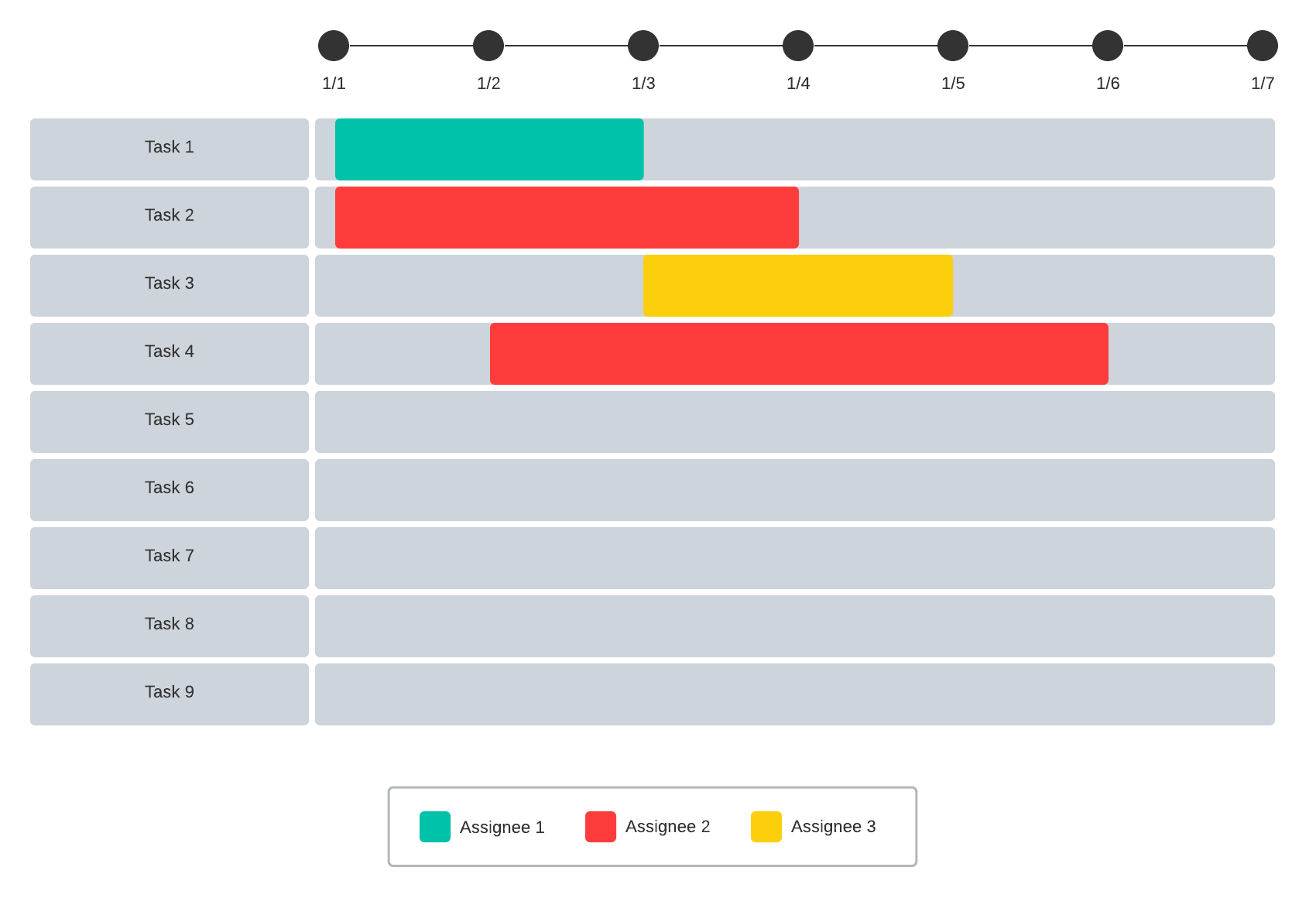 As a visual tool, Gantt charts allow you to determine how long your project will take to complete, estimate the different resources required, and figure out which tasks should be addressed first.
They're also great for managing the other things that must happen between tasks in a project. 
Even with an adaptive approach, unmanaged dependencies can cause blocks to task execution.
Clear representation of strategy and initiatives
Nothing combines the elements of strategy and initiatives in one visual package quite like a product roadmap. A comprehensive roadmap not only defines and communicates your organization's long-term strategy, but also its short-term plans for execution. Making them ideal for representing an adaptive strategy.
The role of visuals, such as roadmaps, in an adaptive approach is multifaceted. They can help dev teams better prioritize projects and establish release dates or provide sales and marketing departments with proper context to manage customer expectations and keep messaging aligned.
As an accurate visualization of your adaptive strategy, a roadmap should capture the activities you plan to complete within a given timeframe, showing all upcoming work in one view. Best of all, they're not static. As a visual, roadmaps are adaptable, capable of representing incremental progress, and even customizable when situations call for different views for different audiences. 
Awareness of risks, assumptions, issues, and dependencies
Getting everything that needs to be accomplished done within the short, time-boxed period of a sprint can be daunting. Part of any good Agile strategy is its capacity to inform the dev team of any risks, assumptions, issues, or dependencies and to ensure everyone knows the difference.
As a visual, a RAID log offers an effective, organized way for a team to continuously record and track risks, assumptions, issues, and dependencies throughout the project lifecycle.
Risks: Events that haven't happened yet, but if they do, could have a negative impact. For example, a key partner in the supply chain could raise prices on a part or discontinue it.
Assumptions: These are things you assume are happening that contribute to a project's success. Like retaining your same dev team or getting a 10% budget increase every year.
Issues: These are the risks that have occurred and must be considered or addressed by the group, such as a client who canceled a contract or an upcoming release date delay.
Dependencies: Other projects, triggers your project depends on, or are the beneficiary of your project's outcome, like hitting sales numbers before work begins on a new release.
A RAID log visual provides a means to refer to those four focus areas quickly and conveniently during group audits and update meetings to keep communication flowing at your organization.   
Continuous improvement
The benefit of visuals in an adaptive strategy doesn't end after the project is completed. In fact, an adaptive approach to strategy requires a concise and efficient way to unpack any potential learnings and apply them to the company's near-future efforts. It's what an adaptive strategy is.
Visually, this drive for continuous improvement is readily expressed in a retrospective template.
It poses the four critical "what" questions for everyone to contribute to and share their answers:
What did we do well? Celebrate all the wins, whether big or small, realized by your team.
What have we learned? What were the takeaways? Did you learn anything unexpected?
What should we do differently? In retrospect, what adaptive approach might you apply?
What do we not understand? Take inventory of the things you still haven't figured out. 
Because of the collaborative, open-share nature of Lucidchart, everyone involved in the project can add to the conversation. 
For future-minded businesses in today's competitive landscape, releasing innovative products or introducing a revolutionary new service is no longer enough. Organizations stand to benefit from a more adaptive approach to audience engagement and product development.
About Lucidspark
Lucidspark is a virtual whiteboard that helps you and your team collaborate to bring the best ideas to light. It comes packed with all of the sticky notes, freehand drawing tools, and infinite canvas space you need to capture that next big idea. And it's built for collaboration. Think of it like a sandbox where your team can bounce ideas around and innovate together in real time.
Brought to you by the makers of Lucidchart, trusted by millions of users worldwide, including 99% of the Fortune 500.