ADKAR change model
Create lasting change in a behavior or process by utilizing the ADKAR (awareness, desire, knowledge, ability and reinforcement) change management model.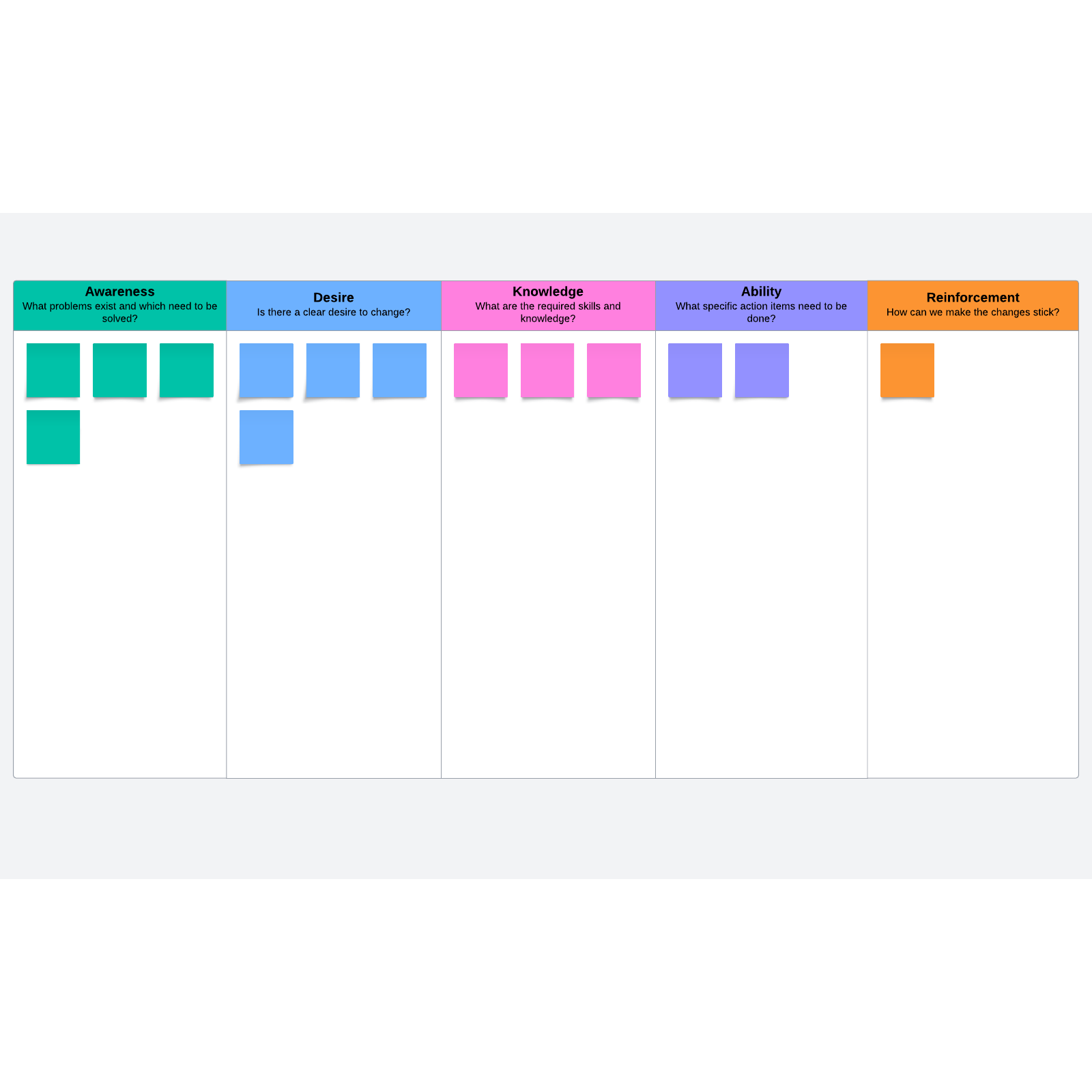 What is the ADKAR change management model?
Change is hard, but it's also essential for growth. If you manage a company or a team and are contemplating making some changes to the way you do things, make the transition as easy as possible for your employees with an ADKAR change management plan template.
Created in the 90s by Jeff Hiatt, the founder of Prosci, Inc., the ADKAR change management model provides the building blocks for any successful transition: Awareness, Desire, Knowledge, Ability, and Reinforcement.
Whether you're making significant changes to your business model, phasing out an outdated procedure, or switching to new software, following the ADKAR model can help you prepare your employees for the change, enable them to make the change, and then ensure the change accomplishes what it should.
How to use the ADKAR change management plan template in Lucidspark
There are many ADKAR templates, but Lucidspark's template makes it easy to collaborate with and obtain feedback from relevant employees and stakeholders. To use the ADKAR template in Lucidspark, first share the template to your whiteboard. Then add applicable items to each section as follows:
Awareness: What problems currently need to be solved? Outside of the template, take steps to make your employees aware of these problems and what you plan to do to solve them. For instance, if you plan to switch to a different company-wide messaging system due to bugs and poor technology integration, make sure everyone knows that this is the plan well in advance.
Desire: Do your employees currently have a desire to change? Here you might list specific complaints you have received or sentiments you are aware of. These may include arguments for and against the change. For example, while some employees may be sick of the bugs in your current messaging system, others may be reluctant to change to a system they know little about.
Knowledge: What skills and knowledge do employees need to make the change? Continuing with the messaging system example, you may need to make employees aware of certain advantages the new messaging system will have and ensure they know how to use the new technology.
Ability: What needs to be done to enact the change? Will your IT department need more resources and time to get the messaging system up and running? When will employees need to start using the new system?
Reinforcement: What can you do to ensure the change sticks? Should you run incentives and contests to encourage employees to fully utilize the new messaging system?
As you fill out each section of the template, try using Lucidspark's comments and @mentions to get feedback on specific items. You can then use this feedback to further refine your plan before you share it with your company or team at large. As you make everyone aware of the change and your plan to enact it, there will be less confusion and chaos and more of the kind of preparation you need to be successful.