If you've never experienced a disorganized brainstorming session, here's what it's like: the team shows up with different understandings of the purpose for the session. When the brainstorm starts, one person tends to contribute the majority of the ideas. Another team member is completely checked out and secretly placing a lunch order. The ideas the team generates are difficult to make sense of and not as creative as they could be.
Enter the brilliance of the affinity diagram. Using the affinity diagramming method, your entire team is involved with generating ideas, categorizing thoughts, and prioritizing topics. The best part is that affinity diagrams are especially useful for sorting and organizing large amounts of ideas, which makes them great for big teams, difficult issues, and complex ideas. 
We'll walk you through how to use a cloud-based affinity diagram to make the most out of your team's time together.
What is an affinity diagram?
The affinity diagram was invented by a Japanese anthropologist named Jiro Kawakita in the 1960s. In fact, affinity diagrams were originally referred to as "KJ" diagrams in his honor. Kawakita was influenced by philosophers such as Kant, Hegel, and Bergson and was interested in solving complex problems, such as addressing the disintegrating environmental equilibrium of Nepal's Sikha Valley. These days, affinity diagrams are commonly used across myriad business settings.
When to use an affinity diagram
There are two ideal times to use an affinity diagram:
To solve a complex problem—These inherently require sorting through a large amount of data. For instance, if you're overhauling your UX, you'll want to gather ideas from your team about all aspects of UX, from font size to dropdown menus. 
To gather unique viewpoints—The beginning of the affinity diagram process is largely self-led, and that's conducive to inspiring unique ideas and suggestions. 
How to create an affinity diagram
The traditional method of affinity diagramming requires a reckless amount of sticky notes. While sticky notes are fun, they're difficult to track and share. It's a much better idea to use cloud-based affinity diagrams that can be shared in a matter of clicks and can be referenced instantly. 
To conduct your own affinity diagramming session with Lucidspark:
1. Choose a leader–It's probably going to be you, but if it's not, make sure the designated leader understands how to conduct an affinity diagramming session, how long the brainstorm should be, how to set up the Lucidspark board, and how to coordinate each step of the session. 
2. Prepare your board–Set up a brainstorming board in Lucidspark and share the link to this collaborative space when you set up your brainstorming calendar invite. Invite a wide variety of personalities and roles to the brainstorm: it's difficult to have too many people involved, and the wider the variety of thinking, the better and more unique the solutions.
3. Present the problem–Define the problem needing to be solved and make that the label of your affinity diagram or simply make it a highlighted box at the top of your diagram. This helps keep everyone aligned throughout the session. If the problem is raising $10 million within a week, put "How we should raise $10 million by Friday" at the top of the collaborative space to keep everyone on topic.
4. Start the brainstorm–This part of the session is self-directed. Each member of your team should be assigned a color and encouraged to contribute as many ideas to the collaborative space as they wish. Unlike a typical brainstorm that involves the team talking and generating ideas together, affinity diagram brainstorms are usually done in silence. With Lucidspark, you can set a timer to encourage the team to contribute as many ideas as possible within the given time. 
5. Organize the ideas–At the end of your brainstorm, you'll have a large amount of ideas. This can seem overwhelming at first, but this next part is especially fun: clustering the data into topics. 
Use containers on your Lucidspark board to organize ideas by themes as they emerge from your brainstorm. If you notice that, for instance, some of your solutions involve using a different content management platform, you could group those together and label them as "content management solutions." It's important you involve the entire team, though the leader may offer container labeling suggestions. If there are duplicate ideas, simply delete one. Lucidspark makes this step easy, as virtual sticky notes can be infinitely dragged and dropped and easily organized.  
6. Step back–Once the ideas have been organized into containers, it's time to step back and look at your affinity diagram. There are normally some  interesting findings that can be seen off the bat (more ideas in some containers, for instance). These patterns will guide you to next steps, such as prioritizing ideas and determining the best solutions.
Extra tips:
Don't try to use an affinity diagram for a simple idea. These sessions work best when you'll have more than 15 contributions.
Don't get too specific with your containers. Keep the containers broad and the ideas specific.
Feel free to remove ideas as you work. Some of them will be wildly untenable, so you can delete them. Lucidspark allows for versioning, so if you regret deleting something down the road, you can always refer to an earlier version and bring the idea back. Try not to edit ideas as they're put on the board, however, as that can discourage team members from contributing.
Don't worry about next steps during the brainstorm. Next steps will emerge once the affinity diagram has been fully organized. 
How Lucidspark can help you build affinity diagrams
Lucidspark is a simple and efficient way to collaborate with teams, especially with remote teams or hybrid teams. Instead of trying to manage hundreds of sticky notes that demand in-person participation and wall space, Lucidspark offers infinite collaboration space and endless sticky notes—and none of them will fall off the wall and disappear beneath a chair.
Instead of trying to capture the sticky notes by taking a picture or assigning a scribe to copy them into an email, everything is automatically saved. Which means your team's work is never in danger of being lost.
To use Lucidspark to build an affinity diagram online, you can start with an affinity diagram template, but you can also use containers, tags, and Gather and Sort features to automatically group your ideas and start taking action.
Since it's likely some members of your team won't be able to attend the brainstorm, you can share the affinity diagram with those who weren't at the brainstorm and ask them to contribute their ideas or make comments on other people's contributions. You can also assign tasks directly from Lucidspark, export contributions to Lucidchart, and transform the affinity diagram into actionable tasks.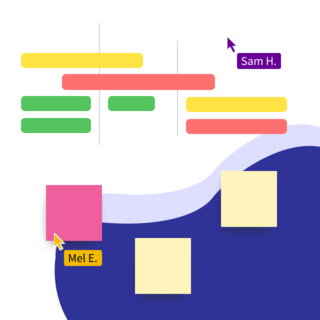 Create your own affinity diagrams in Lucidspark today!
Get started