Affinity diagram online
Lucidspark is a virtual whiteboard that helps you and your team collaborate to bring the best ideas to light. Sign up for a free trial today.
Turn any meeting or brainstorm into action

Your brainstorming session is only as good as the action you take from it. Turn the thoughts, ideas, and data from your brainstorming session and categorize them for actionable takeaways with an affinity diagram online. Give everyone in your group a chance to contribute ideas to form more effective solutions. Your affinity diagram can help you transform any project or brainstorming session into organized, logical, and inclusive tasks that make sense for your team.


Start with an affinity diagram template or build as you go

Affinity diagrams can be used by any user—for any project. Our affinity diagram tool makes it simple for project managers, product developers, and UX teams to visualize relationships between any number of ideas and data. Start with a blank board or drag and drop an affinity diagram template onto your canvas for inspiration. Use sticky notes, shapes, images, Magic Shape, and even freehand drawing to tailor the infinite canvas to your team's needs.


Brainstorm, analyze, and strategize as a team

Affinity diagrams are built for integrating information from a number of contributors, and Lucidspark is built to accommodate as many contributors as you need. Invite as many collaborators as you want to our affinity mapping tool, where you can all collaborate in real time. Follow individual collaborators or use Collaborator Colors to keep track of everyone's input. Every comment and @mention is updated in real time, so your entire team stays up to date on changes, even when working remotely.


Create new connections for better insights

Gain new insights from your information by finding new ways to group and analyze ideas. Use our affinity diagram maker to automate this process and zero in on new strategies with your team. Organize your affinity diagram with features like assisted grouping, customizable tags, and containers. Gain group consensus on your ideas by holding a voting session on specific areas of the board.


Keep your team aligned with powerful integrations

Extend the influence of your affinity diagram by including it within the apps your team already knows and loves. Export your diagram to Lucidchart to work with our entire suite and upgrade your boards to polished artifacts. Sync your board with Google Drive so you can create, edit, and share visuals without ever losing your work. Our Slack add-on lets you insert your board directly into your Slack channel for team members to view and stay aligned on your board.
How to create an affinity diagram with Lucidspark
Start from scratch or with an affinity diagram template

Start off your affinity diagram by building it from scratch on your blank board—or dragging and dropping an affinity diagram template onto your board. Then, share it with your team.

Brainstorm and ideate

Ask everyone on your team to contribute as many ideas as possible to your brainstorming session. Record your ideas using sticky notes.

Discuss and analyze ideas

Discuss ideas as a team and group like ideas into themes. Draw connections between them until they're all grouped, and then add titles and header names for each group.

Double-check your categorization

As a team, discuss the results of your categorization and grouping exercise. Hold a voting session to hone in on the ideas you like best.

Create a final affinity diagram online

Finalize your affinity diagram before presenting and sharing it with your team. You can also export your board to Lucidchart to continue strategy work with your collaborators.
Frequently asked questions about our affinity diagram software
See Lucidspark in action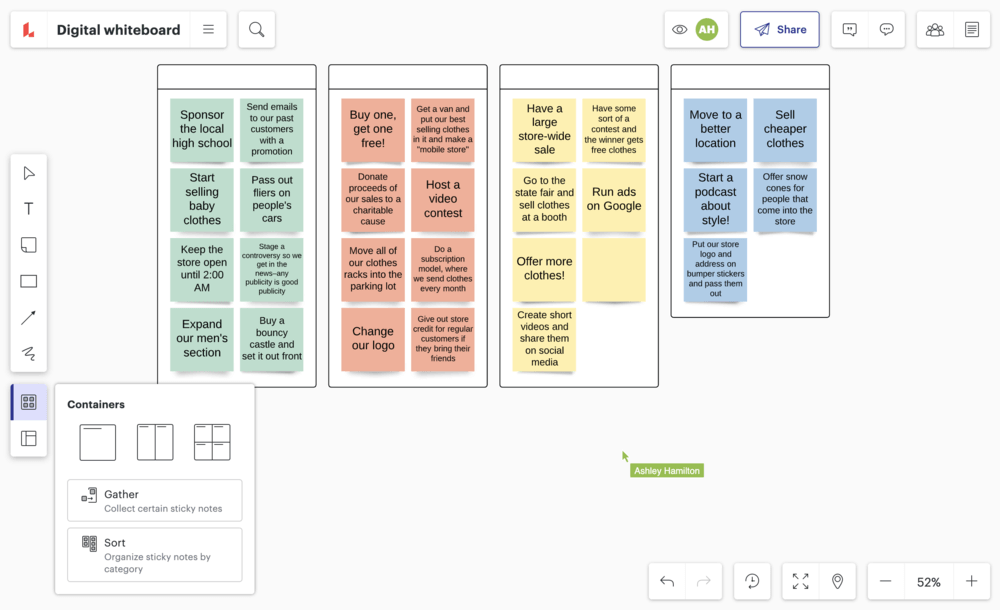 A demo of a sample Lucidspark brainstorming board is shown, with lots of active participation from the four participants across the entire board. Next, a rapid series of close ups demonstrating some Lucidspark features: Writing on a sticky note, drawing a circle around an idea, starting a 30-second timer, crossing an item off an agenda, adding emoji reactions to a sticky note, and sharing a board with collaborators in the share settings. The video then continues to demo features in line with the narrator's audio for the remainder of the video. The video ends with the Lucidspark logo and tagline Where ideas ignite.