How to create user personas (and why you need them)
Reading time: about 6 min
What is a user persona?
A user persona is a fictional representation of your actual users that helps guide the design process. The goal of creating user personas is to help designers create and build a product that users actually want to use while standardizing the creation process. 
One of the most beautiful things about humans is our ability to address each other's challenges. This innate drive leads us to invent profound solutions that better the lives of those around us—and often, these solutions impact the lives of people who haven't even been born yet. We routinely use inventions that were developed by complete strangers long ago. But many of the modern solutions you use were created by people who understood who you are.
Though software creators likely don't know you by name, they understand the challenges you face throughout your work day. They have an idea of the software you use and the apps you download. And that enables them to create better solutions. They arrive at those solutions and features by creating user personas. This article will help you create your own user personas so you can design better solutions for your users.
What is a user persona? 
A user persona typically includes a photo of your user along with:
Their job title
Age
Gender
Yearly income
Location
Marital status
Education
Goals and challenges
Needs
But this information isn't based on guesswork: it's based on patterns derived from data-driven research. 
This summary is nothing short of magical because, instead of having to make a design decision based on impersonal analytics, your team can refer to a user persona that engages a greater amount of empathy.
Would Jared the Janitor, a key user persona for your contractor platform, have the amount of technological skill needed to set up a database using your product? Would Jane—interior designer and mother of two—have the patience to input a password instead of using a FaceID (after all, all the research points to your users using iPhones instead of Android)? 
User personas draw upon our unique ability to empathize with other humans to create targeted solutions.
Here are some other benefits to using user personas:
They can inspire other products and new features
They can guide marketing decisions
They provide meaningful evidence to gain stakeholder buy-in
They provide motivation to create real solutions that impact actual people
How to create a user persona 
Now that we've sold you on the importance of having a user persona, it's time to get to work creating your own.
1. Start with data
You have more data to draw from than you probably realize. If you are truly lacking data, you won't be able to create an evidence-based user persona, so you'll need to go back and conduct real research. Data to reference includes:
User interviews
Website analytics (Google Analytics will be able to yield a tremendous amount of information about your users, down to the percentage of visitors using desktop vs. mobile versions of your site to the demographic info of your visitors)
Competitive analysis
Stakeholder insight
Keyword (SEO) analysis
2. Look for patterns
Once you've compiled your data, you may feel overwhelmed. How do you sort through it all? 
Start looking for patterns. You'll start seeing core components that can be grouped together. Your less technological users, for instance, may all be entering your site through Facebook.
Perhaps you notice that your male users all make above $70,000/year and most of them speak English. Or maybe your users are primarily urban dwellers who own dogs and work in marketing. These patterns will emerge on their own, but you'll also be able to pinpoint them once you know what to look for.
3. Include key user persona components
We briefly mentioned these above, but key components are great for guiding your pattern process and for informing the questions to ask during your user interviews. User personas need to include:
Photo
Name - Keep it simple and easy to remember. It's also nice to include a short one-word adjective along with the name (bonus points if you use alliteration).
Description - This refines the research into meaningful, actionable data. Descriptions should Include:

 Demographics

Age - Should be the average age of this particular pattern. Don't use the lower end or highest end, but rather the mean.
Work - The pattern of your research should point to common themes. Are most of your users in tech? Manufacturing? Fashion? Narrow it down to the most likely job.

Character - Every writer uses common archetypes to develop their characters. While some designers believe it comes down to archetypes vs. personas, it's not an either/or situation: your personas can include archetypes. Is your user an innocent or the hero? The explorer? The visionary? The artist? Archetypes reveal your users' tendencies and user journey. 
Personality - This is especially useful for informing marketing tone. Do your users tend to be more outgoing or introverted? More creative or analytical? Passive or active? 

Problems - What do your users say is their primary frustration? What are their triggers?
Goals/motivations of the user - What unmet need does your user have? What things would really upgrade the quality of their lives?
Daily routine - This is great for understanding when your user would most likely interact with your product. Do they sleep in? Do they work from home? When do they check their social media? All of these things can help inform your design. 
Tell the story - This is the key component for driving empathy with whomever utilizes your user personas. It's one thing to have facts about a user, but it's another thing to deeply understand them. The story of your user should include their feelings and hopes as well as their interactions with your product. 
4. Don't feel limited to one user persona
Most companies use at least two user personas to fit multiple patterns they notice throughout their research. For instance, maybe one of your user personas is an older man and another persona is a younger woman. They should have corresponding data. Use the minimum number of personas needed to encompass your research: don't create a persona for every data point. In general, you shouldn't have more than five user personas.
5. Use a template
Work smarter, not harder. User persona templates provide guidance to your user persona so you don't have to reinvent the process each time or keep referring back to your notes. They also prevent you from adding in too much information, which ultimately detracts from the usefulness of a persona. Templates also carry the same information over from persona to persona so you don't forget to include information as you add more user personas to your toolkit.
Once you've created user personas, don't forget to use them. They should be easily accessible by everyone in your business. Use them during internal meetings and consult them whenever you need to make a decision about your product. 
The more you use your user personas, the better acquainted you'll be with your users. That means fostering a greater empathy that ultimately yields more creativity and provides greater value to your users that, in turn, builds business value and keeps your solutions evolving along with the changing needs of your users.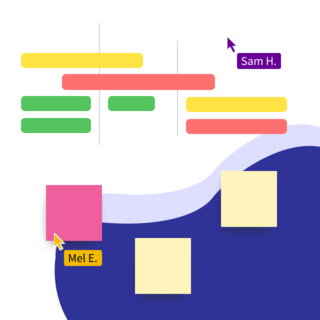 Better understand your customer's journey by learning how to use Lucidspark to map out your user story.
Read more
Use Lucidspark to better map out your user story.
Get started
About Lucidspark
Lucidspark is a virtual whiteboard that helps you and your team collaborate to bring the best ideas to light. It comes packed with all of the sticky notes, freehand drawing tools, and infinite canvas space you need to capture that next big idea. And it's built for collaboration. Think of it like a sandbox where your team can bounce ideas around and innovate together in real time.
Brought to you by the makers of Lucidchart, trusted by millions of users worldwide, including 99% of the Fortune 500.