Imagine if, instead of meeting with your therapist regularly, you submitted a survey about your thoughts, feelings, and struggles. That would be very ineffective. After all, humans are far more complex than a survey can communicate. Similarly, when designing a product, it's important to have a conversation with the people who are using it because valuable insights can't always be gleaned from just yes/no answers and a series of questions.
UX interviews are vital for seeing the full picture—feelings, motivations, and how/why users are engaging with your products. This kind of user research is a core component of thoughtful, purposeful design. But those valuable insights depend largely on how effective your user interviews are. Performed incorrectly, you'll be missing out on feedback that could alter your design for the better. 
Let's do a deep dive into why UX user interviews matter, how to find the right users to interview, and how to conduct the interviews correctly.
What are user interviews for UX?
User interviews for UX are most commonly conducted before the design begins, but they can occur at any stage of the development process. They're really most useful at the beginning of the development process to determine what kind of path your design should follow so you don't have to correct it down the road. 
If you decide to conduct user interviews further along in the development process, you'll be gathering feedback about what the user does or doesn't like and what kind of behaviors you observe with your users.
User interviews for UX are face-to-face interviews (either remotely or in person) that commonly occur between two UX designers and one target user. These formal conversations provide qualitative, self-reported data that help the product manager or user experience designer understand the user's pain points so you alleviate those pain points and improve their overall experience.
Here are the primary differences between user interviews and focus groups:
User interviews are one-on-one, while focus groups occur in a group setting.
Focus groups involve analyzing the group's interaction with a prototype of your design, while user interviews consist of verbal feedback.
Focus groups are a conversation among a group of users that allows for influence and consensus, while user interviews are really a series of questions and answers.
Tips for conducting user interviews for user research 
1. Determine the objective
It's important to talk to product stakeholders before the user interview to set clear objectives. For instance, if you're building a meditation app, you may want to learn what barriers users have to meditating every day so that you can build an app that efficiently encourages daily use. Don't attempt to conduct user interviews before you have this clear, specific goal in mind. 
2. Find the right participants
The ideal participants can be recruited through your current user base or through social media. For your meditation app, you may want to find users who currently practice yoga or mindfulness. If your participants would clearly never use your product, they're not your target users and will not provide the kind of useful feedback that will allow you to complete your objective.
3. Find the right location
If you're conducting an in-person interview, make sure you find a private, unbranded room with comfortable seating where your participant can be made to feel welcome and relaxed. It's useful to have this room in a neutral location away from your business. If your participant knows, for instance, you're designing a meditation app for a prominent sports manufacturer, they may begin providing the answers they think you want to hear instead of being fully honest.
If you're conducting the interview remotely, make sure your participant has equipment and a stable internet connection. Touch base at least once before the interview to ensure your interviewee knows which link to click and send out a calendar invite. You may even want to send a text reminder on the day of the interview so it's top-of-mind for your participant.
It's common to provide some form of compensation for your users' time. Consider a gift card, free product, or monetary compensation to make recruiting easier.
4. Record the interview
The person asking the questions should not be the same person who's recording the questions. The interviewer should be focused on the responses so they can ask follow-up questions. Either record the meeting if it's conducted remotely or have a separate person (preferably another UX designer) take notes during the in-person interview.
5. Ask the right questions
This is the most difficult part of the user interview. Your questions should be written ahead of the interview as a script. You should have a long list of questions, but you likely won't be able to ask all the questions in the time allotted, as you'll be asking clarifying questions to your interviewees' responses. It's very important to avoid asking leading questions and to avoid yes/no questions. You also need to remain as neutral and unbiased as possible, which is a difficult task, but vital for the integrity of your responses. 
There are four common categories of questions:
Icebreakers
These questions help you better understand your target user. They also help make your user feel comfortable. These icebreakers can help you understand more real-life stories, too. Here are some examples:
What does your day look like?
What kind of hobbies do you have?
How many apps do you use on any given day?
How many hours are you on your phone?
What's your role at your company like?
Dive into the product
Here's your chance to really understand the behaviors around your product or design. Using our meditation app as an example, we could ask:
How did you go about starting to meditate?
What's preventing you from meditating every day?
Why do you meditate?
Product opportunity questions
Since you're likely going to be conducting your UX interview before a full design, you won't have a prototype ready. But you could either explain the product to your interviewee and gather feedback or show a wireframe or landing page for the product to gather feedback
What are your general impressions of this idea/product?
What type of person do you think this product is aimed at?
What about this product or website seems trustworthy, and what would make it more trustworthy?
Product reaction questions
Here's your chance to see what competitors are doing right or wrong. Show a competing product or design and show it to your participant to gather feedback. Some example questions you could ask while doing this are:
What did you find surprising about this product?
Would you keep using this product or app?
What would you improve or change about this product?
What to avoid during UX user interviews
Even though this is an interview, you want it to feel more like a conversation. Don't mention other users or what "most people" say or feel. Avoid assumptions of all types. And don't fake sincerity—users can tell when you're pretending to be empathetic to them. If you can't be genuine, you may want to have someone else ask the questions.
Properly conducted UX user interviews can provide valuable perspective and can inform the best way to go about designing your product. Follow the above advice, and you'll find you have information that contributes to a more meaningful, delightful user experience.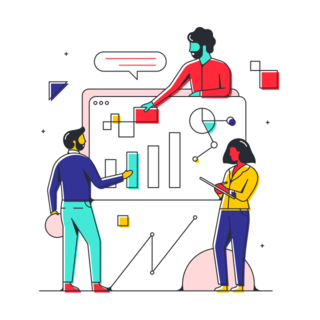 Take notes and conduct your own user interviews for UX in Lucidspark.
Get started