User persona template
Understand your customers better with this user persona template. Illustrate specific goals and pain points unique to your target users or customers. Build an optimal experience and improve retention when you visualize your customer's individual needs.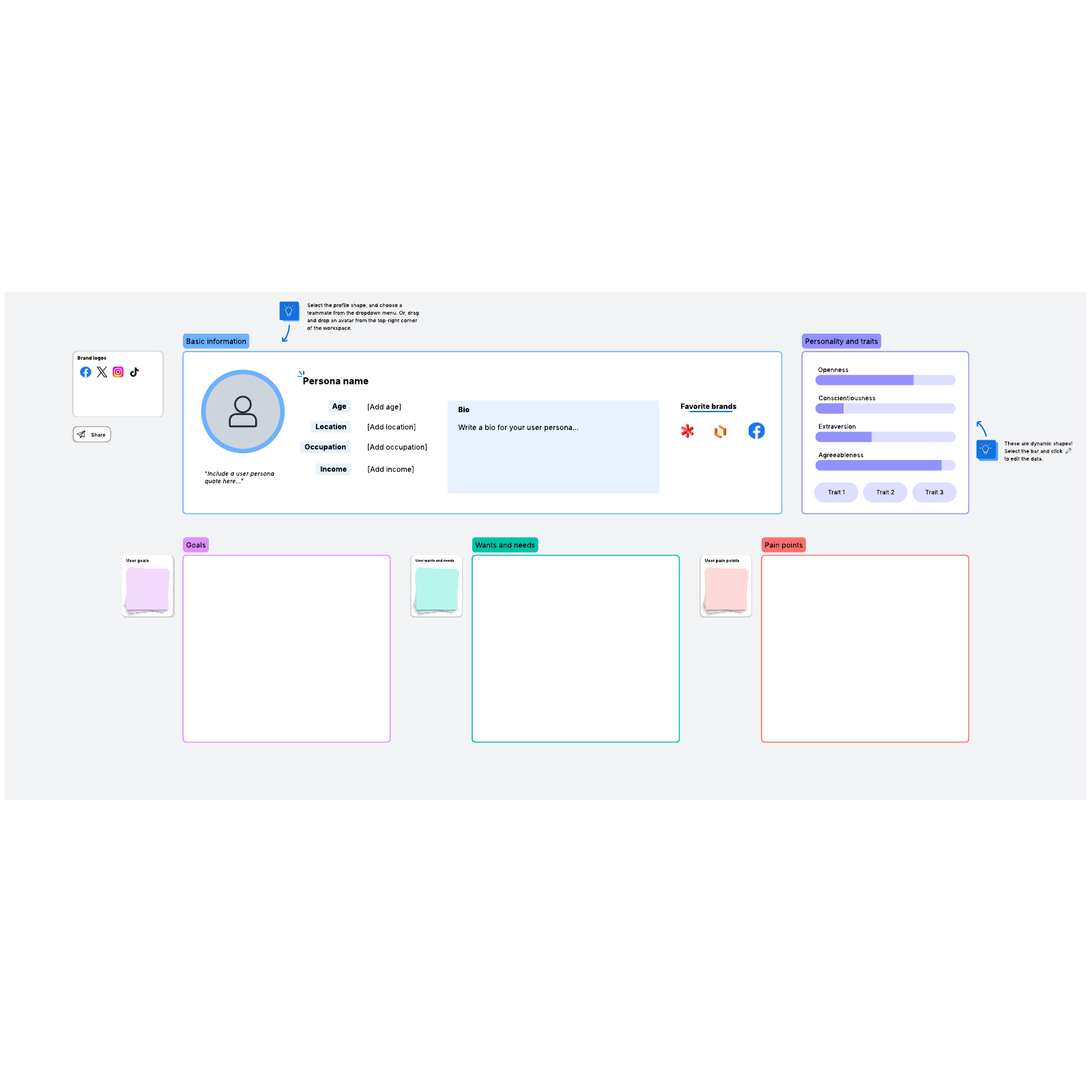 What is a user persona?
Every decision you, your team, and your organization make should have the end goal of meeting your customers' needs. Your customers define everything from how you allocate time and resources to what type of user experience you create.
A user persona is a fictional representation of your ideal customer based on market research and existing data about your real-life customers. It can be the key to creating an optimal experience for your customer. Making a user persona will be easier if you use our user persona creator.
Benefits of using a user persona creator template
A user persona builder gives you and your team a clear picture of the "who" behind each of your decisions. Based on data describing your ideal customer, a user persona provides valuable information about who your customer is, what they need, what they're interested in, and what motivates them to make the decisions they do.
Using your user persona, you can give your entire organization structure, aligning your team on key business, tech, and marketing decisions. You and your team can easily identify which value propositions will most apply to your customer, as well as what kind of messaging and user experience will appeal to them most effectively.
In the end, your user persona can help you create an efficient, purposeful, market-based strategy that attracts and engages your most valuable customer.
How to utilize the free customer persona template in Lucidspark
Here's how to complete the visually engaging Lucidspark user persona generator in three steps:
1. Research your target audience
Get to know your customers by pulling data from your existing customer base. For example, this template may be used as a UX persona template for research on specific audiences to improve user experience. You may want to consider doing some customer outreach in the form of surveys, polls, etc. for a more in-depth view of who your customer is and how they prefer to interact with your product. Market research can also provide you with a thorough breakdown of different demographics based on age, location, and other factors.
2. Fill out the Lucidspark user persona template
Use the data you've collected to fill out as much of the free user persona template as you need. Our template includes space for:
General info: Includes age, location, occupation, family, and income
Goals: Relevant goals that your customer is trying to achieve (i.e., career, financial, social)
Frustrations: Pain points that might affect how your customer interacts with your product or organization
Personality: A breakdown of your customer's personality type
Motivations: A list of what motivates your customer, rated based on level of influence
Preferred channels: A list of preferred social media channels, rated based on level of preference
Bio: A short bio of your customer
Brand logos: Logos of other technology and products that this person would use
3. Run the persona by your team/stakeholders
Complete your Lucidspark user persona template with finishing touches that will give you a complete picture of your user. Import your own images or use our image search to add relevant visual components that will create a more thorough, engaging persona.
Once you've completed your free customer persona template, you can invite team members and stakeholders to add comments and suggestions, reactions, and feedback directly to your visual.
Share your completed user persona across teams so that each branch of your organization can be fully aligned on what needs, pain points, and personality traits make up your ideal customers and how they can most effectively cater to them.