Challenges to remote PI planning
Reading time: about 6 min
By now, most of us are adept at working remotely. The siren calls of virtual meetings are everyday refrains: "You're on mute" and "Can everybody see my screen?" and "To piggyback off that…" We should all be congratulated for learning how to gracefully transition to a new way of working. 
Perhaps because of this success, it may seem like PI planning should be an easy transition as well. But there's a problem: the very premise of PI planning is in-person interaction. The Agile Manifesto itself says, "The most efficient and effective method of conveying information to and within a development team is a face-to-face conversation." But when face-to-face conversation isn't possible, how can you conduct effective PI planning? It's totally possible and not as hopeless as it may first appear. 
Read on to discover how to conduct intelligent remote PI planning and how to avoid common mistakes when transitioning to decentralized and remote planning meetings.
What is PI planning?
Program Increment Planning is a part of SAFe (Scaled Agile Framework). It consists of a specific, pre-defined agenda and scheduled events at which teams in the Agile Release Train can align, collaborate, discuss objectives, roadblocks, releases, and more. PI planning is useful for inter-team communication. This is especially critical in enterprise organizations whose size means that teams might never talk to each other without this specific event. Those teams are left working in silos without a full view of the business objectives.
After two days of PI planning, your Agile Release Train knows exactly what the plan is for the upcoming PI. Dependencies have been identified so everyone knows the order of completion and there's a greater understanding of how features in development will increase business value. Now it's time for participants to build a program board with delivery dates and important milestones. Each team will also set their own SMART objectives with accompanying business values.
Challenges for remote PI planning
The main challenge for remote PI planning is transforming a strategic event that was designed to be in-person into a remote event. Here are some challenges with that conversion:
Technology
In person, teams can easily contribute to whiteboards and brainstorming sessions. They can deliver a physical program board. But remote technology can make this more difficult. Without the right solutions, you won't be able to host a large video call (often with lots of participants), break into smaller groups, collaborate, and foster creativity and problem solving. 
Engagement
Since we're accustomed to video calls, we're all adept at finding ways around them. Muting the microphone to watch Teen Mom, turning off the video camera and doing laundry, acting attentive while secretly penning a manifesto on Instagram, etc. With PI planning, an inattentive team can lead to an unproductive PI. Generally speaking, the more collaborative the PI planning, the greater its success.
Social interaction
A valuable benefit of in-person PI planning is social interaction. Without meeting in person, PI planning can feel cold and distant. 
Switch tasking
This is similar to the engagement listed above. Essentially, when your team members are in front of their computers, they'll be tempted to multitask. In other words, they'll try to get work done at the same time instead of contributing to the PI planning. 
Scheduling
When you're planning an in-person meeting, only the timezone of the event matters. This doesn't hold true for a remote and distributed workforce. Now you need to find a time that works for your team in Dresden and your team in Delhi. And with a click of a button, it's easy for teams to decline the invitation. 
How to overcome remote PI planning challenges
Technology
Decide on the solutions you'll be using ahead of time. You may wish to develop a landing page where you can link to needed downloads, define which communication channels you'll be using (Google Hangouts, Slack, etc), display the PI planning schedule, and provide pictures of attendees along with their roles so that, during the PI planning meeting, you can have a better understanding of who will be participating. 
One simple way to accomplish all of this? Use Lucidspark for real-time whiteboarding, group chats, note keeping, and collaborative brainstorming. You can even build your PI planning board right on your Lucidspark canvas. 
Engagement
Instead of punishing those who aren't paying attention or engaging with the meeting, offer incentives. In fact, you might want to try out a reward system for especially useful insights and contributions. When using a tool like Lucidspark in breakout groups, it's easy to see who isn't actively participating and to gently encourage participation by calling individuals by name. The great thing about collaboration tools is that they actively encourage teamwork and engagement.
Social interaction
Hoping to strengthen relationships between team members and get the ideas flowing? Consider icebreakers, formal introductions, and even scheduling a meeting that's secretly a fun game. If you're using a chat solution like Slack, create rooms based on projects or teams for more detailed conversations and set up a larger main space for everyone to communicate.
Scheduling
Though normal PI planning takes place over two days, if you're trying to facilitate teams across many time zones, one smart idea is to dramatically shorten the hours per day of planning so that PI planning takes place over three or four days. It's a simple tweak that can make a big difference in attendance and participation.
Use resources intelligently
Since you'll be relying on video calls for your remote meetings, think about recording the calls and making them available to everyone after the PI planning. That way, if anyone forgets what was said or needs clarification, they can refer to the recording. 
Want to kick it up a notch? Order transcripts of the video calls. It's cheap to do and is much easier to reference than scrolling through a video. Make sure that every solution you're using is web-based so that it can be accessed by anyone anywhere in the world. 
Also, instead of trying to reinvent the wheel, use templates. There are all sorts of PI planning templates, from business objectives to roadmap templates.
Ask for feedback
It's likely that your first remote PI planning event won't go perfectly. Even if everything was smooth sailing, it's important to conduct a survey after the event to understand how the teams felt about the efficacy of the PI planning. And, perhaps most importantly, you can ask them what they would improve. After all, the people closest to the event will be the ones with the most valuable solutions. Feedback can easily be gathered remotely by using something like Google Forms. 
A PI planning event can feel daunting in the best of times, but add in the complexity of remote planning, and it can become even more overwhelming. But it's really not that difficult. It comes down to using the available digital solutions available to allow for the best collaboration possible. Get creative, maximize your resources, and you'll find that your teams may actually look forward to PI planning.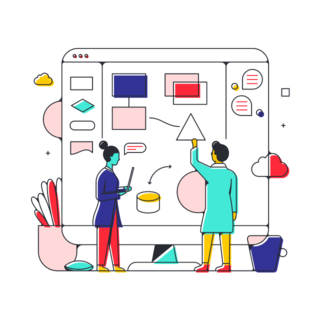 Learn how to perform UX research within the SAFe model to keep your teams aligned and agile.
Find out more