PI planning template
Use this safe PI planning template to collaborate, plan, and align with all members of your ART on your shared mission and objectives.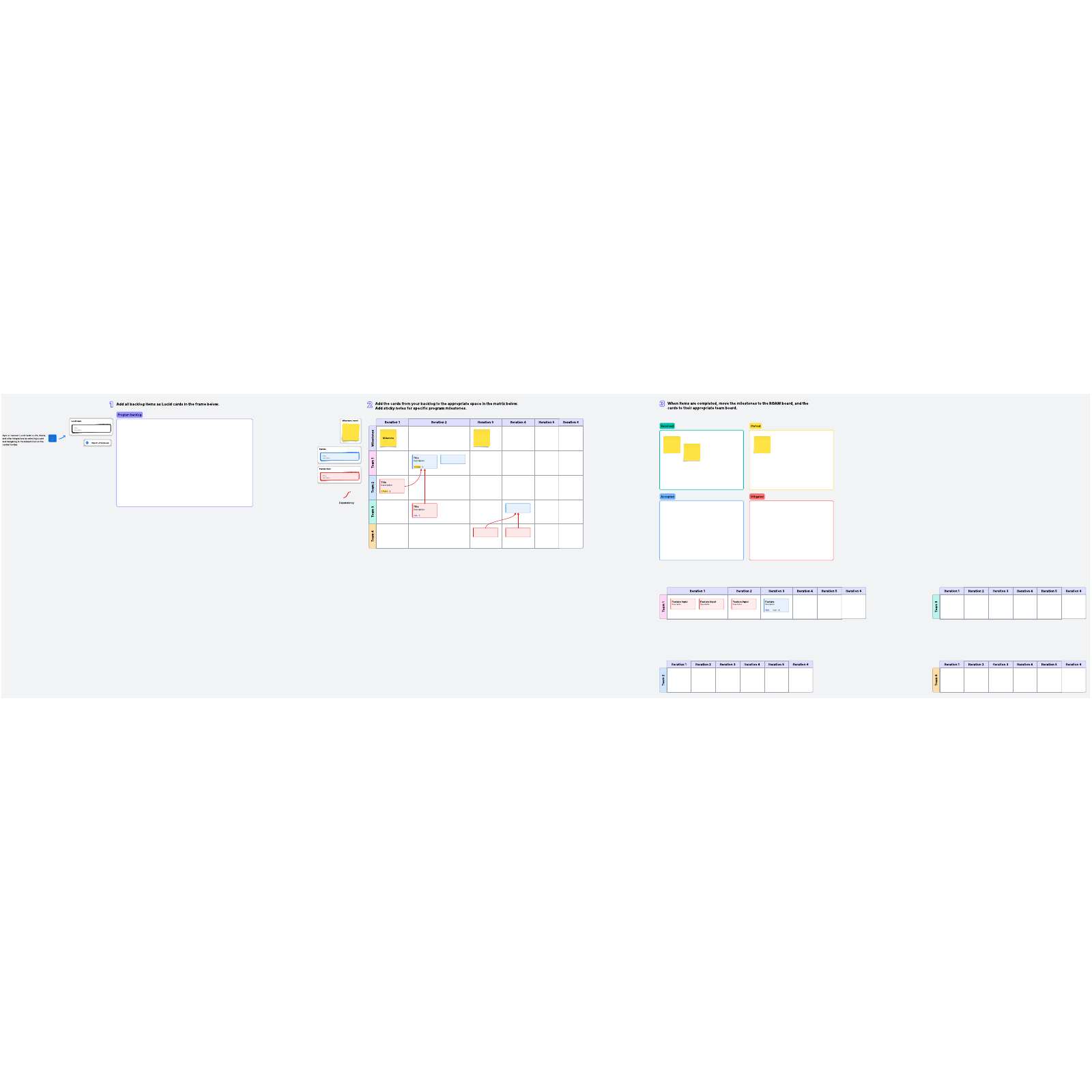 What Is PI planning? Create a PI template for your next Agile sprint
PI planning, also known as program increment planning or product increment planning, is a crucial part of the Scaled Agile Framework (SAFe) in product development. This planning determines the what, who, and when for your Agile release train during a sprint, serving as the basis for the entire project.
And, when you use the PI template offered by Lucidspark, you can easily incorporate PI planning into your group meetings and use the template as an ongoing resource for the duration of the sprint.
The benefits of PI planning in Agile
Increased collaboration and alignment. PI project management is well-suited to the Agile model because it allows every team working on the next step of your product (your Agile release train) to clearly communicate from the outset. This helps everyone involved understand the goals of the project and stay on the same page, even while they complete different tasks.
Focused, productive teams. PI planning is also a boon to everyone's productivity, as there is a clearly identified backlog and schedule of tasks. A PI template will allow different teams to be united and stay on task as they work to complete the project.
How to use our customizable PI planning template
You can start your PI planning session by gathering the appropriate stakeholders and teams to collaborate on our Lucidspark PI template.
Next, simply add sticky notes with different program/product features into the Program Backlog section—you can do this manually or by importing sticky notes from a TXT or CSV file. Then move those sticky notes to the appropriate places on the Program Board according to which iteration the feature involves and which team is responsible for providing the feature. You'll also want to include any necessary feature inputs provided by other teams.
Be sure to also duplicate the feature sticky notes and place them in the appropriate team board, so different teams can see what work they need to do at a glance.
Then, convert the sticky notes into Lucidspark Cards to create an action item from the idea. You can convert your Lucidspark Cards to Jira, Azure DevOps, or Smartsheet using Lucidspark's integrations.
Finally, the ROAM board is designed to increase visibility around risks, keeping everyone aligned on what risks have been resolved, owned, accepted, and mitigated as the project progresses.
With this detailed PI planning, Agile teams can collaborate effectively and stay flexible as they complete detailed projects.