Risk assessment is all about identifying and prioritizing the most serious hazards or potential liabilities facing your business at any given moment. If you're not regularly conducting risk analysis, your odds of encountering operational disruptions only go up.  
A risk assessment matrix is an intuitive, visual tool to highlight risks and sort them by probability and severity. The intersecting factors that comprise the risk assessment matrix include the likelihood of risk events and the possible impact they will have on your organization.  
Although it's not the only method to employ for achieving your company's risk mitigation goals, there are many reasons why you should frequently use a risk assessment matrix.
Why should you use a risk assessment matrix?
Effective risk analysis is an important priority for companies of all sizes. A risk assessment matrix not only helps accomplish your mitigation goals, it can improve your competitive edge, aid financial growth, and help you maintain a positive image.
Other reasons why using a risk assessment matrix benefits your organization include:
A risk assessment matrix reveals unforeseen danger. For many people, the task of risk mitigation doesn't seem like a top priority. But as most anyone who's led a business will tell you, if you fail to prepare, then prepare to fail. Potential risks like  financial liabilities, legal exposure, or changing market conditions can befall any business. By using a risk assessment matrix, the dangers that may otherwise remain unseen, are revealed in time and then can be planned for accordingly.
A risk assessment matrix allows you to develop a plan. Once it's helped identify the most significant risks that your business faces, a risk assessment matrix can help teams strategically respond to potential threats. Because the matrix categorizes risks by the level of priority and resources needed to overcome them, it's highly useful for developing a targeted approach to protect against future loss.
A risk assessment matrix offers a real-time outlook. If you're tasked to calculate project risk quickly, the risk assessment matrix is an effective way to maintain a real-time outlook of your current risk factors and how likely it is to change soon. It helps companies take patterns of risk into account as noted by early warning signs or trigger events. Getting into the habit of using the risk assessment matrix helps keep businesses hyper aware of changes in a dynamic, complex landscape.
A risk assessment matrix helps get your team aligned. Once you've identified the most pressing risks to your business, the matrix can provide you with the insights needed to determine which team members should monitor or manage them. For example, the human resources department would likely own a risk such as increases in employee turnover. In turn, different departments might want to complete their own risk assessment matrix to identify, assess, and prioritize the risks which fall under their areas of responsibility and get their teams aligned to overcome them.
It's easy to see the value and importance of the risk assessment matrix as a consistent source for truth in risk mitigation. But it's another thing for team members to create and maintain them on a regular basis. This is why many businesses often rely on a risk analysis template.
Using a risk analysis template
By its very nature, the risk assessment matrix isn't a complex or unwieldy tool. During a working session, it's something that can easily be drawn on a whiteboard or paper pad. Many people create a risk analysis template for themselves in Word, Excel, or a PDF. Online, you can find a risk analysis template in those same formats in varying levels of complexity and specificity. But for shareability and ease of use, consider Lucidspark.
Unlike a risk analysis template created in Word, Excel, or PDF,  a Lucidspark template is highly collaborative. It allows for ideas to be organized with tags and assisted grouping. Lucidspark can be accessed online and edited simultaneously by several team members in real time, with features including voting and comments for added efficiency. 
One Lucidspark template that helps teams conduct a risk analysis is the risk matrix. On one axis, the probability of a risk event is plotted between the highly unlikely to the highly likely. On the opposing axis is the impact of the risk event to the business, plotted between the trivial to the extreme. Users can take the risk events they've brainstormed and place them on the matrix based on their degree of probability and impact. Once risk events are added, team members or stakeholders can add labels, emojis for emphasis, or tack on additional notes.
Lucidspark's 3x3 matrix template features a more simplified approach to prioritizing the team's actions or ideas based on the two primary dimensions of impact and probability. Each axis rates those risk events for their impact or probability at low, medium, or high. For added context, post-it notes can be added within plot points. Teams can be assigned different post-it note colors for quick identification.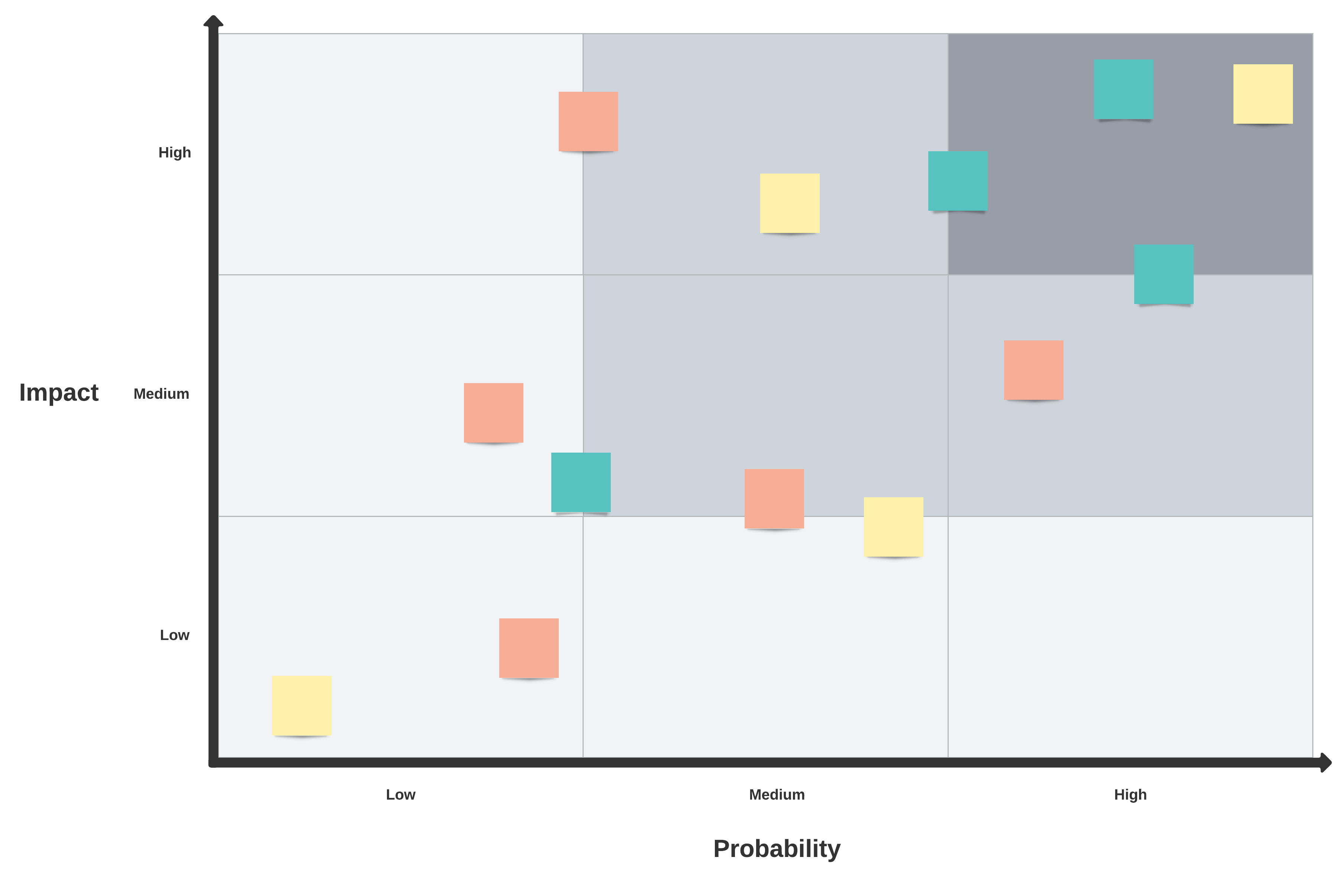 Using either Lucidspark risk analysis template helps quickly create a record of the risk analysis and mitigation process that is easy to collaborate on and share across teams. In this manner, the Lucidspark risk analysis template acts as a source of truth that everyone can reference within the company.
Closing the loop
Ultimately, a risk assessment matrix should lead to a risk mitigation plan formulated by your team. This will include the risk events or hazards you've uncovered, the people or resources they affect, how you plan to mitigate them, and who is involved in the plan. 
Depending on the risk event's severity, include precautions to be initiated immediately.
Most importantly, share your risk assessment matrix with leadership and always keep them up to date and informed about your progress and any changing priorities. 
Try the risk matrix template in Lucidspark today. 
Try now
Lucidspark
Lucidspark, a cloud-based virtual whiteboard, is a core component of Lucid Software's Visual Collaboration Suite. This cutting-edge digital canvas brings teams together to brainstorm, collaborate, and consolidate collective thinking into actionable next steps—all in real time. Lucid is proud to serve top businesses around the world, including customers such as Google, GE, and NBC Universal, and 99% of the Fortune 500. Lucid partners with industry leaders, including Google, Atlassian, and Microsoft. Since its founding, Lucid has received numerous awards for its products, business, and workplace culture. For more information, visit lucidspark.com.
Bring your bright ideas to life.