Lean canvas
Bring your Lean canvas to life and make your ideas a reality by following this step-by-step canvas.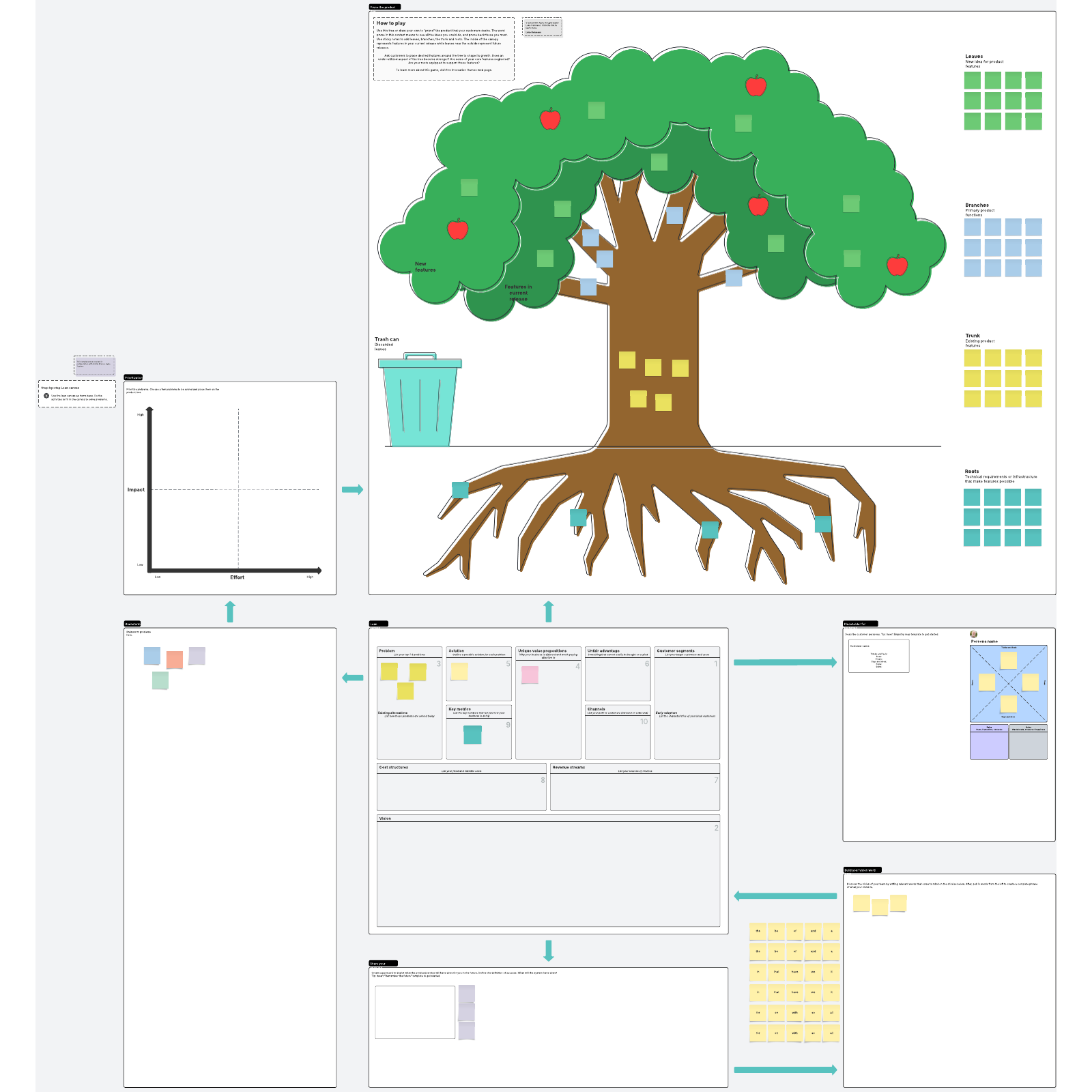 What is the lean canvas template?
The lean canvas is meant to help you develop a smarter business plan that visualizes everything from revenue strategies to customer segments. The lean canvas template includes a lean canvas in the center of the template with activities surrounding the lean canvas to help you determine your product's unique advantage.
Our lean canvas is a robust tool for discovering what your customers really want, and it includes brainstorming, prioritizing, personas, a vision word bank, and a way to visualize all your product's features.
Benefits of using the lean canvas template
The lean canvas can be overwhelming, as it includes many tasks. The template walks you through everything so there's no guesswork. It's beneficial because it:
Includes activities. Filling out the lean canvas is easy because all activities are in one place and are easy to conduct.
Is strategic and straightforward. A template is easy to fill out, understand at a glance, and share with stakeholders.
Encourages collaboration. It's easy to share the template so your team can help fill it out, and the interactive features make it easy and fun to brainstorm and come to a consensus.
How to use the lean canvas template in Lucidspark
Follow the lean canvas steps. Use the activities around the outside to fill out certain portions of the canvas. It may be beneficial to conduct multiple working sessions to complete the different activities with your team. Facilitator Tools can be great here to guide participants.
List customer segments and early adopters. Use the placeholder for user personas to help determine the personas.
Write your vision. Use the "Build your vision wordbank" activity to get started.
Depict your vision using the "Share your postcard" activity. You can also insert the Remember the Ruture template to get started.
State your problem. Use the "Brainstorming" and "Prioritization" and "Prune the Produce Tree" activities to determine which problems to prioritize and solve first. Remember to use collaborator colors, emoji reactions, tagging, and voting to encourage engagement and collaboration.
Write your unique value proposition based on the information gleaned.
Outline a possible solution for each problem you identified.
Determine your unfair advantage, list revenue streams, cost structures, and any key metrics and channels.
Share with your team!
Emilia Breton
Agile Toolbox
As a leader in all things scrum, Emilia Breton is a highly successful agile professional with extensive experience guiding global organizations in defining and implementing processes, models, and standards that align technology investments with overall business goals.