Prune the product tree
Prune the Product Tree is a game-based approach to help teams learn how to shape their product. It helps product managers discover valuable new features to release and which ones to let go.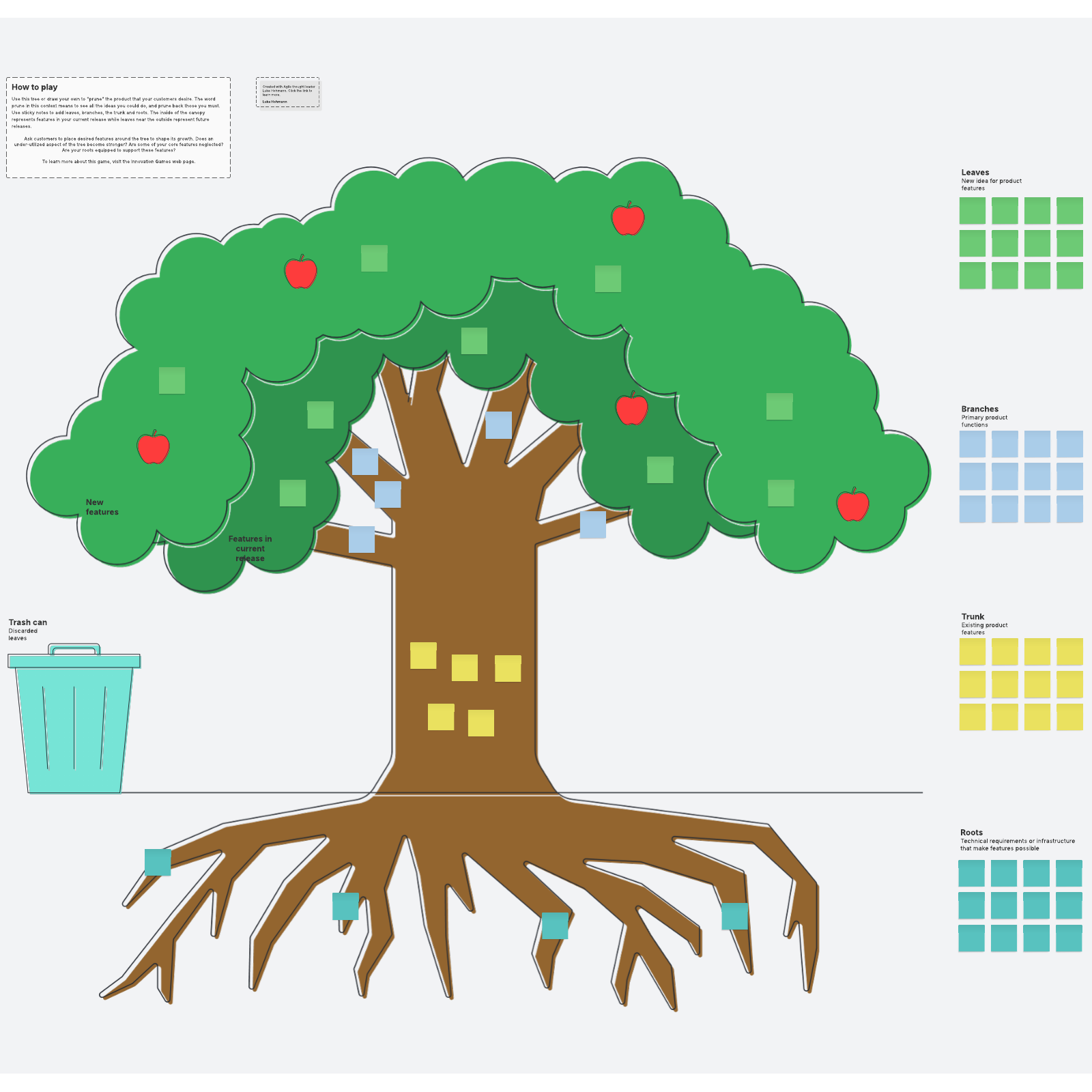 What is Prune the Product Tree?
If you're a product manager, you likely receive a wealth of ideas for improvement from customers and other stakeholders. However, you may find it difficult to determine which ideas you should actually implement, or whether those ideas will mesh well with the existing product.
If this is your dilemma, you can use a product structure tree to help you decide which new features to prioritize. Lucidspark provides a template that offers an easy way to visualize how new product features may fit into your plans, and you can use it to play a game of Prune the Product Tree to involve stakeholders and narrow down their ideas.
Key components of a product structure tree
The feature tree diagram in Lucidspark's Prune the Product Tree template is made up of four main components:
The leaves represent possible new product features as determined by stakeholders.
The branches represent the primary product functions.
The trunk contains existing product features.
The roots represent the infrastructure and requirements necessary to maintain current features and functionality.
The object of the game is to allow customers to brainstorm with product team members and add these elements to the template, then discuss the results and "prune" back the tree until you have a viable snapshot of the future of your product.
Benefits of innovation games like Prune the Product Tree
This game helps involve customers in the next iteration of your product, giving them a sense of ownership in the final result. Not only can this approach build customer rapport and loyalty, but it can also demonstrate to the product management team exactly what customers need and desire the product to look like.
When you use Lucidspark's product structure tree template, you can quickly and easily identify priority requests—and reference all features brainstormed anytime you need to.
How to use Lucidspark's Prune the Product Tree template
You can play Prune the Product Tree with ease when you share Lucidspark's template with a wide audience. Simply gather the stakeholders you'd like to be involved remotely, share the template, and encourage them to add sticky notes to the relevant parts of the tree.
Feel free to share and discuss some initial examples of the roots, trunk, and branches of your product so people know what to add to these sections, or opt to fill them out yourself and invite additions as the game begins.
The main focus of the game, however, will be on the leaves (prospective product features). As you invite ideas for the leaves section, note that the Lucidspark template is conveniently divided into features that will be included in the current release and features that might be included in future releases.
As everyone shares their ideas, you might use the timer feature to help maintain focus and ensure that this portion of the game doesn't take too long. Then, as you evaluate the tree you have created, you can use tags to identify related feature ideas and vote on features you'd like to include. Any that don't make the cut, or that are not supported by the branches, trunk, or roots, can be discarded in the trash can portion of the template.
As the game progresses, you'll get a better idea of what your customers are looking for in your product, and they will see how their ideas will (or will not) work with your product as a whole. When you're ready, you can add prioritized features to a product roadmap template to bring the vision to life.

Luke Hohmann
Author, Innovation Games
As the author of the book Innovation Games, Luke Hohmann dives into predicting what customers want through a gameified approach. Luke believes that once you know what customers want, innovation can thrive.