Remember the future
Use this game template to identify your consumers' definition of success for your product.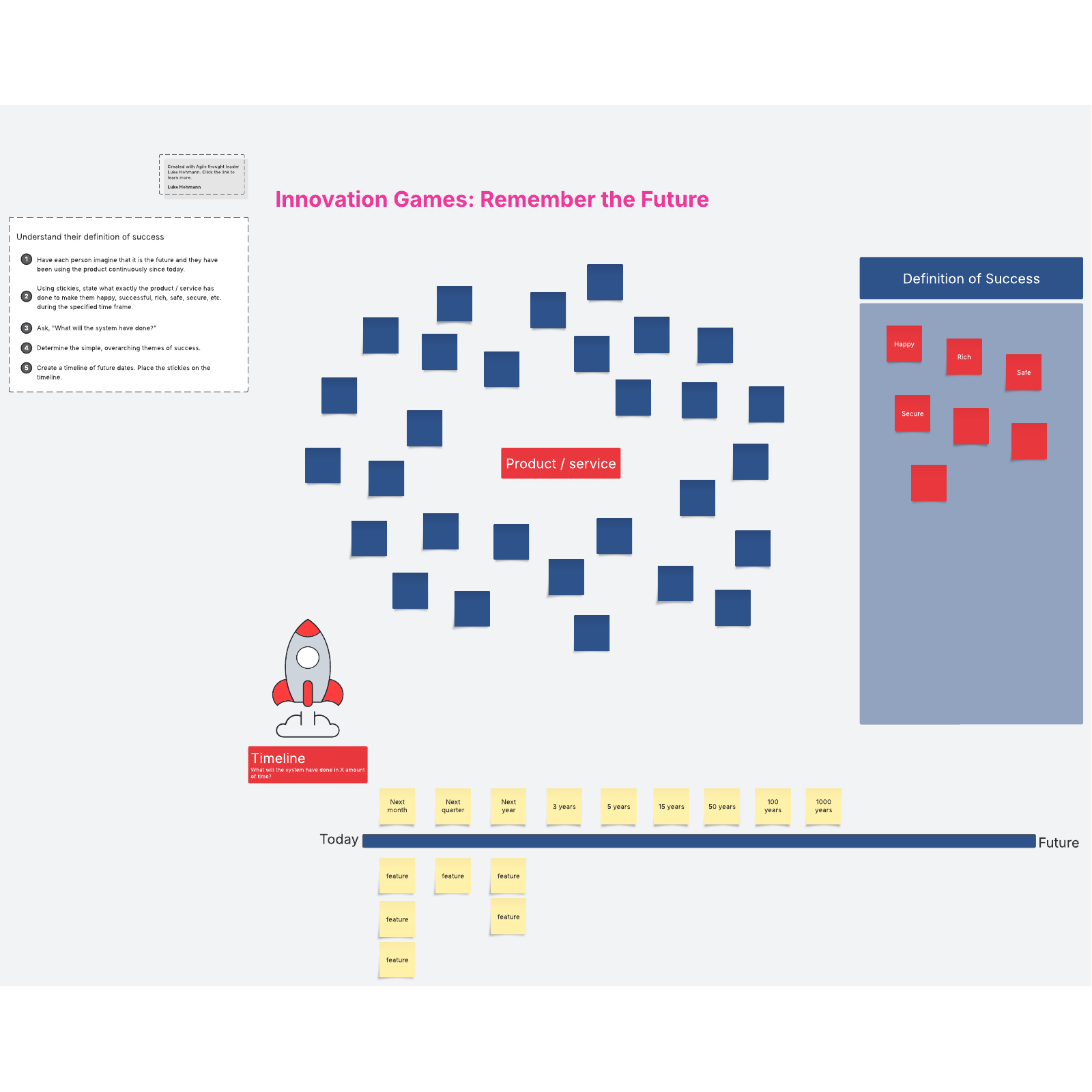 What is the Remember the Future Innovation Game?
Sometimes designing the right product comes down to asking the right questions.
Enter Innovation Games, a set of games designed by Luke Hohmann to help product strategy teams uncover what their customers want, how their product should work, and which product features are most sellable.
Remember the Future asks product strategy teams to go beyond asking "What should our product do?" and imagine what their product should accomplish for their customers at specific intervals in the future. By imagining results after one week, three months, or a year of use, teams are encouraged to define success for their customer and ask themselves how it can be achieved.
Why use the Remember the Future template?
Lucidspark's Remember the Future template can guide your team visually as you get to the root of your customer's needs. We recommend using it as part of a collaborative exercise involving your customers and employees in which you can ask questions and gain insights directly from the people who will be using your product.
Not only is the template fun and easy to use, it's highly effective in breaking down barriers and collecting customer feedback in a creative way. Teams should finish the game feeling aligned on their customer's needs, how they define success, and how their product can facilitate it now and in the future.
How to use the Remember the Future template in Lucidspark
Here's a breakdown of how to use our Remember the Future template:
Step 1: Set a timeline of future points: Determine how far into the future your product strategy and product management teams should look. For a functional and organized timeline, use our Timeline feature.
Step 2: Ask your team and stakeholders, "What will our product or service have done for you at this point?" Specify that you're asking your customers to define what a successful outcome would look like. Brainstorm together with your team and record your ideas on sticky notes, using emoji reactions and our chat feature to make your session as interactive as possible.
Guide the session using our Facilitator Tools, and consider incorporating your Lucidspark board into a Zoom meeting or setting a timer to keep things productive.
Step 3: Tag sticky notes with common themes, then list these themes in your "Definition of Success" section. Remember to keep these high-level, so you can expand on them later.
Step 4: Together, brainstorm how your product achieved each successful outcome. List each point on a sticky note below the appropriate point on your timeline, then move on to the next point. By the end of your exercise, you should have a roadmap of a successful customer experience with your product.

Luke Hohmann
Author, Innovation Games
As the author of the book Innovation Games, Luke Hohmann dives into predicting what customers want through a gameified approach. Luke believes that once you know what customers want, innovation can thrive.