Empathy map online
Lucidspark is a virtual whiteboard that helps you and your team collaborate to bring the best ideas to light. Sign up for a free trial today.
Deliver a flawless customer experience with an online empathy map
Explore every pain point, thought, and feeling

Make sure that your customers have a positive experience with your business, product, or service. Empathy mapping starts with four quadrants outlining what your customer says, thinks, does, and feels. By documenting customer behaviors, you and your team can identify user pain points, build consensus on customer needs, and work towards solutions. Use Lucidspark to help your team visualize where your customer is coming from and stay aligned on what you need to do to improve.


Start empathy mapping instantly

Begin your empathy map online from scratch or by dragging out an empathy map template onto your Lucidspark board. With infinite space to fill with your insights and findings, your board can house all the information your team needs and more. Add freehand drawings, images, sticky notes, and even additional customer insight templates—such as a customer journey map—to continue building out the best experience possible for your user.


Collaborate easily with empathy mapping software

Make sure your entire team is aligned on your customer's experience by sharing insights and feedback in real time. Use comments, @mentions, live voting, and in-product chat to communicate with your team and identify what improvements you want to tackle as you move forward. Set each collaborator's updates apart with Collaborator Colors, or follow individual collaborators to stay updated on their edits. Our empathy map tool updates all of your contributions instantly, so you're never behind, no matter where you're working from.


Streamline your workflow with powerful integrations

Stay connected to the apps your team loves by integrating your empathy map with today's most powerful platforms. Export your online empathy map to Google Drive to make it even easier to access, edit, and share your findings. Your work stays synced automatically, so you'll never lose it. Insert your diagram into your team Slack channel, where you can jump-start your next brainstorming session. Export your work to and from Lucidchart to use Lucid's entire suite of creative and collaborative solutions.

How to create an empathy map in Lucidspark in 5 steps
Compile your research

Get together all the relevant research data you have on your customers. This could include interviews, survey data, or customer journey maps.

Start empathy mapping

Begin your visual with an empathy map template---or add four containers to your board and label them "Says," "Thinks," "Does," and "Feels."

Address customer pains and gains

Add two sections for customer pain points (a.k.a. problems they want solved) and customer gains, or possible solutions to these problems.

List questions and brainstorm answers

Make a list of specific questions for each section of your empathy map. Brainstorm ideas for each section of your map together with your team.

Finalize and share your empathy map

Review the final version of your map and have your participants add their two cents on the experience. Ask them if it changed their view of your business, product, or service.
Frequently asked questions about our empathy map creator
See Lucidspark in action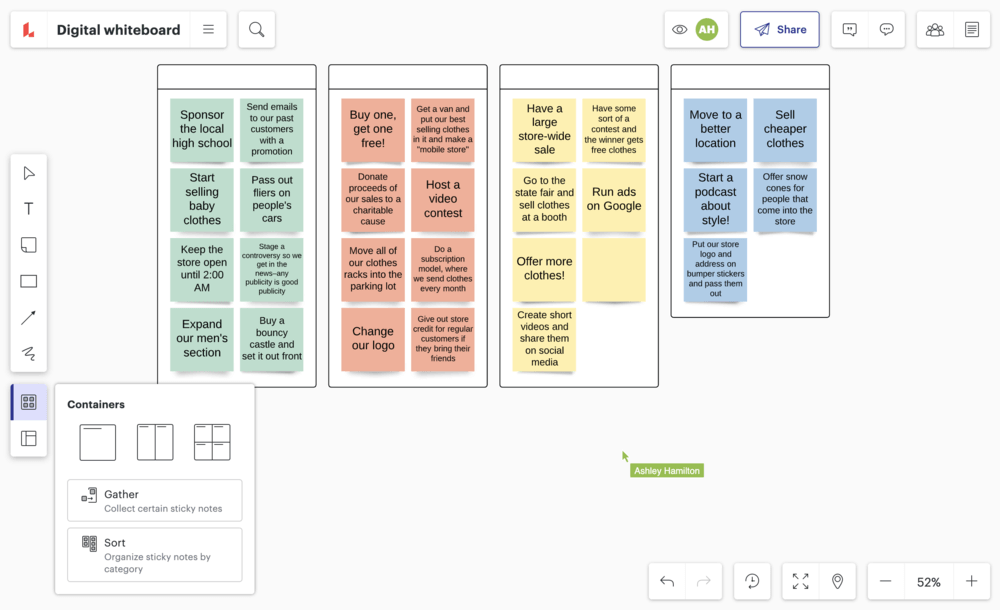 A demo of a sample Lucidspark brainstorming board is shown, with lots of active participation from the four participants across the entire board. Next, a rapid series of close ups demonstrating some Lucidspark features: Writing on a sticky note, drawing a circle around an idea, starting a 30-second timer, crossing an item off an agenda, adding emoji reactions to a sticky note, and sharing a board with collaborators in the share settings. The video then continues to demo features in line with the narrator's audio for the remainder of the video. The video ends with the Lucidspark logo and tagline Where ideas ignite.