Make your voting sessions more effective in Lucidspark
Reading time: about 3 min
A brainstorm or working session is only helpful if everyone leaves knowing how to move forward. But with so many voices clamoring for attention, it can be hard to align the team around where to go next. 
Luckily, Lucidspark isn't just great for freeform ideation—it also provides the tools necessary to build consensus around ideas and put you on the quickest path to meaningful action. Voting in Lucidspark ensures that every voice is heard, and with the new features we've added, you can customize your voting session according to your team's culture and needs.
How Lucidspark improves your voting sessions
Drive participation and prevent groupthink
We've all been in those meetings where one person is dominating the discussion. A brainstorming session is meant to bring together different perspectives and have team members build on one another's ideas—but sometimes it can be taken over by the loudest voices in the room.
Private voting in Lucidspark puts everyone's ideas on an equal footing. The person initiating the voting session can choose whether they would like voting to be anonymous for all participants, so team members can feel more comfortable contributing their true opinions. Don't miss any important viewpoints or opinions from less assertive members of the group again.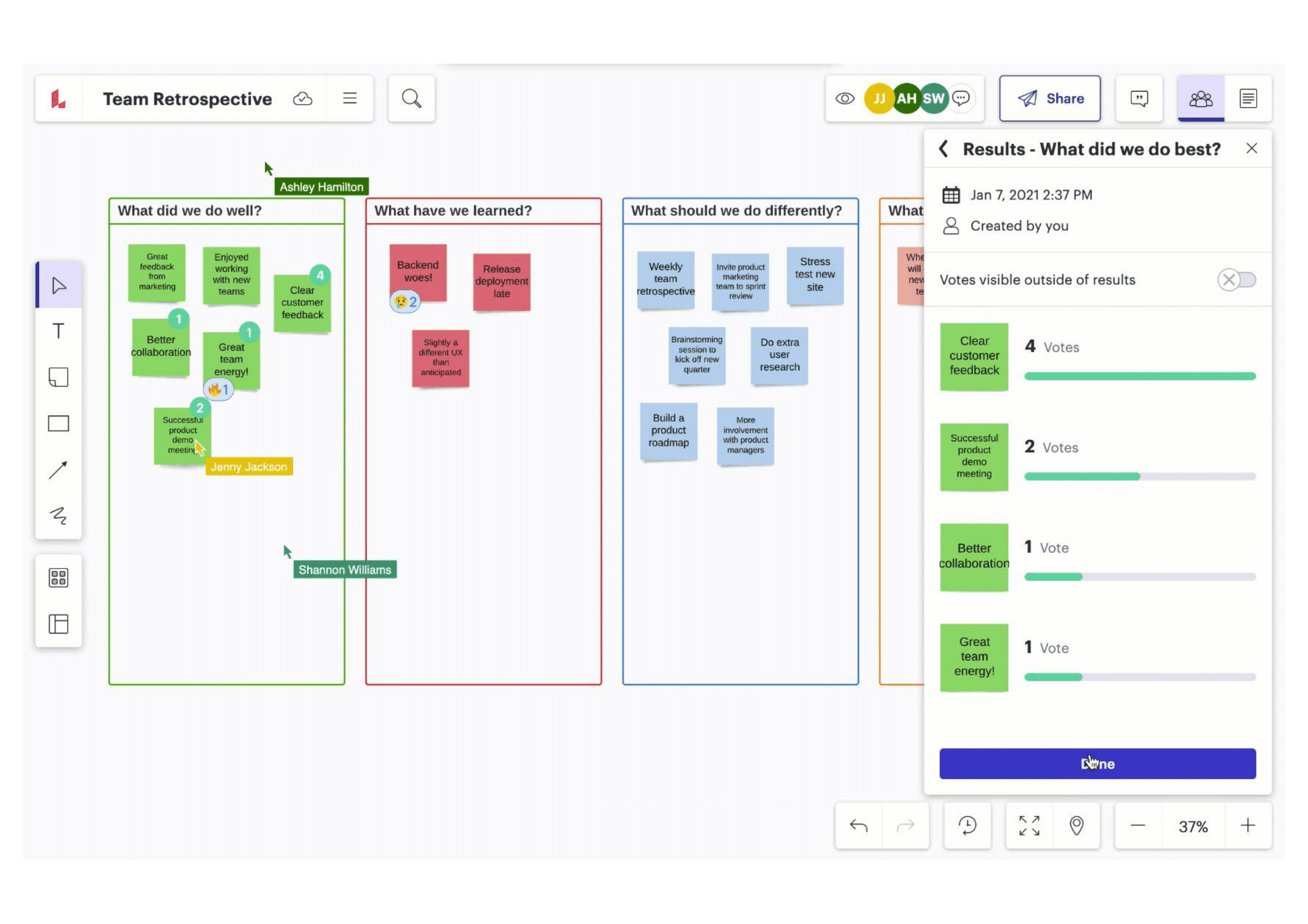 Narrow your focus
One of the benefits of Lucidspark is that you can include all of the brainstorms and visuals related to a project on a single board. For example, UX designers can add an empathy map to understand what customers are thinking and feeling, brainstorm potential features to solve pain points, and then start mocking up those features—all in one spot.
But when it comes time to vote on ideas, team members could be confused by the number of visuals or thoughts on the board. 
With selection voting, facilitators can select which part of the board users should vote on. This feature keeps users focused on a specific topic or category for voting—but you can still maintain your board as a single source of truth.
Keep voting results top of mind
Have you discovered that your number-one idea isn't actually feasible? Have you completed one project and are now ready to take on another? With Lucidspark, you can refer back to voting results and continue iterating on the most promising ideas (we can't say the same if you ask co-workers to raise their hands during an in-person meeting). 
Choose persistent voting to keep voting results displayed on your Lucidspark board even after your voting session has ended. Participants who enter the board at different times will still be able to see the work that's been done, and your team can continue iterating on the most promising ideas.
To get started, go to "Team Tools" in the top-right corner of any Lucidspark board, review all of these options, and set up your voting session the way that works best for your team.
Bring your teams together in Lucidspark to vote on ideas, build a consensus, and take action quickly!
Sign up today
Lucidspark
Lucidspark, a cloud-based virtual whiteboard, is a core component of Lucid Software's Visual Collaboration Suite. This cutting-edge digital canvas brings teams together to brainstorm, collaborate, and consolidate collective thinking into actionable next steps—all in real time. Lucid is proud to serve top businesses around the world, including customers such as Google, GE, and NBC Universal, and 99% of the Fortune 500. Lucid partners with industry leaders, including Google, Atlassian, and Microsoft. Since its founding, Lucid has received numerous awards for its products, business, and workplace culture. For more information, visit lucidspark.com.
Bring your bright ideas to life.