How to write a team charter
Reading time: about 7 min
Imagine you're starting a nonprofit company dedicated to improving the world. You gather your friends together to enlist their help, but you haven't thought about what your nonprofit does or how it will improve the world. It's likely you'll never get your nonprofit off the ground, and it's even more likely that the friends who were passionate about helping you in the first place will soon abandon your company. 
If you don't know where you're going, you'll go nowhere.
There will be times when a new team, or even a temporary tiger team, must be created in your business in order to achieve a specific goal. Like when you're creating a new product or resolving a certain pressing issue. Every successful revolution, company, and government has clearly defined goals, ideologies, and boundaries. 
That's why it's vital for your team to develop a team charter, a North Star to guide it to its final destination. Without this written manifesto, your team has no idea where to go or what to do. 
Often, a team charter gets skipped in the interest of time, but you might be costing your team time and resources down the road. Here's why this team charter matters so much and how you can get started creating your own.
What is a team charter
A team charter is a document defining your team's goals, roles, time frame, and boundaries. It clearly defines the mission of the team and also provides clear direction to others throughout the enterprise regarding your team's purpose. A team charter normally only lasts for the duration of a certain project, so it has a clear beginning and likely a clear end date.
Why do you need a team charter?
A team without a charter is a lot like a boat without a rudder. Here are some benefits to developing a team charter.
Provides transparency
It's much easier to gain trust if everyone understands exactly what your team is doing. If, for instance, you're on a marketing team and your team charter clearly states that one of your primary objectives is growing your brand's reputation, your customer support team won't bat an eye when you ask them what customer feedback has been like lately. 
If you're on a social media team that has clearly defined in your team charter that your primary objective is to grow revenue through ads, it will be easier to get an ad budget approved. People throughout the organization will trust your team more if they know what you're doing, and that transparency begins with a team charter.
Makes it easier to obtain team buy-in
If your mom asked you to clean the whole house without giving a reason for doing it, you'd be less motivated than if she asked you to clean the whole house because the governor was going to be stopping by for dinner. Your team will be similarly much more invested in and much more committed to their work if they understand the purpose behind it. 
Think of it this way: Even the coolest companies to ever exist still likely involved a whole lot of late nights working on spreadsheets. The people working on those spreadsheets would have been a lot happier about their work if they knew their work played into accomplishing a very specific goal. 
Establishes individual roles and responsibilities
A lot of workplace friction involves fuzzy understandings of roles and responsibilities. By outlining what everyone's roles and responsibilities are from the outset, there will be less confusion as the team advances towards their goals. 
Establishing roles and responsibilities also ensures that work is distributed fairly. When your team knows what their roles and responsibilities are, they also understand what their success will look like. That gives them the freedom to come up with creative ways to solve problems that will move everyone toward the ultimate goal. 
Provides purpose
Similarly to gaining buy-in from the team, your team charter will also provide a sense of purpose to the team. That purpose is a driving force and also protects your team from threats (such as accusations that your team has no reason for existing, etc.). When your team has a clear purpose, it's easy to feel motivated.
How to create a team charter
Creating a team charter might feel overwhelming, but it's not: In fact, you and your team can build it out together online using an online whiteboard like Lucidspark. Simply get started with a team charter template (or create your own sections), and ask everyone on the team to add their thoughts. This way, everyone feels like they've contributed to the team's mission.
Once everyone has contributed their ideas, sync as a team to finalize every aspect of the team charter and commit to following it.
Here are some guidelines for how to create a team charter:
1. Come up with a name
If your team is already a department, then you may not need to come up with a new name. But if this team has been gathered for a specific time to complete a specific goal, it will need a name like the "App Management Team" or the "Social Media Overhaul Team." Make sure it's simple and aligns with the team's purpose.
2. Determine your team's purpose and values
You can't figure out how to achieve a goal if you don't know what the goal is in the first place. Provide context as to why your team exists. 
Consider what problem you're solving, what the current environment is like, and what the ultimate goal is. In the example above, the purpose of the team is to "decrease the amount of incorrect customer orders fulfilled." 
You and your team members should also determine what values you want to follow as you work toward your end goal. Looking back again at the team charter example, the team has listed "quality over quantity" as a core value. They determined that it's acceptable to spend more time to ensure that the order is completed as requested and increase customer satisfaction.
3. Determine a time frame
How long is this charter good for? For instance, if your team is responsible for building a new app in six months' time, the charter will likely only last for the next six months. 
4. Define roles and responsibilities
Clearly define who your leaders are and who reports to whom. This is also the time to budget in hours for the project. If you work in an agency setting, each role should have a maximum number of hours allotted to it. You'll also know if you need to incorporate outside resources such as freelancers or help from other departments.
5. Set up communication norms and ground rules
You'll also want to set some rules to create a pleasant and productive work environment for everyone on the team (and avoid potential conflict), like giving everyone a chance to speak or preparing for meetings ahead of time. 
Part of this exercise should also be establishing the group's preferred method of communication. If some team members are working remotely or from a different office location, take that into consideration how that changes team interactions.
6. Define success
Articulate exactly what success for this project will look like. This success should be measurable and concrete and should be easily understandable by everyone on the team and throughout the organization.
7. Discuss the budget
Be sure your entire team understands budget constraints and be sure to outline them clearly in the beginning. That way, money can be managed intelligently. This is also a smart time to outline what kind of resources your team will need (access to certain documents, additional hours, etc).
How do you use a team charter?
Once you have your team charter clearly filled out with your mission statement in place, it can act as the yardstick against which you measure your team's decisions. If there's confusion about roles or responsibilities, the team charter should be consulted. If, as time progresses, there's a misunderstanding about the team's purpose, the charter should provide needed clarity. 
Use a team charter whenever your team needs to be motivated, is encountering an issue, or is encountering resistance (either internal or external). A team charter will guide your team to success—and, thanks to the team charter, it's easy to know exactly what that success is.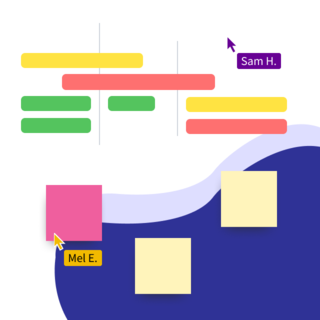 Give your team the clarity and alignment to succeed when you start building your own team charter in Lucidspark.
Get started today
Lucidspark
Lucidspark, a cloud-based virtual whiteboard, is a core component of Lucid Software's Visual Collaboration Suite. This cutting-edge digital canvas brings teams together to brainstorm, collaborate, and consolidate collective thinking into actionable next steps—all in real time. Lucid is proud to serve top businesses around the world, including customers such as Google, GE, and NBC Universal, and 99% of the Fortune 500. Lucid partners with industry leaders, including Google, Atlassian, and Microsoft. Since its founding, Lucid has received numerous awards for its products, business, and workplace culture. For more information, visit lucidspark.com.
Bring your bright ideas to life.