Throughout life, we find ourselves on many different teams: sports, group projects, work teams, and more. Think about the best teams you have been on—what made them great? Chances are, the team was productive, reliable, and had high morale. Productivity is highly correlated with team morale. When morale is high, teams are often more efficient. When morale is low, teams are less productive and collaborative. 
Team morale is the overall attitude of team members towards their team or organization. 
Building strong team morale and company culture is extremely important for the business's long-term success. Employees who are happy and engaged are less likely to look for a new job. Engaged employees are more likely to speak positively about the company to their networks. 
In this article, we will share team-building activities to boost morale and tips for how you can facilitate a team culture that keeps team members happy and engaged.
What causes low team morale?
A Gallup report shows that the most successful organizations make employee engagement central to their business strategy. They give employees clear expectations and provide them with the tools and support to do their best work. Understanding why your team morale may be low can help you take appropriate steps to raise engagement, participation, and satisfaction from team members. 
Here are some factors that may lead to low morale:
Disconnection: Team members may feel siloed from their colleagues and their manager, leading to disconnection. Building camaraderie and forming relationships can be hard when team members don't meet regularly. Combat this by meeting regularly with each team member or holding daily standups.
Micromanagement: If you have a trustworthy team but aren't giving them autonomy, you may actually be inhibiting creativity and performance. Workplace autonomy allows team members to work in a way that best suits them to achieve optimal results. 
Absence of collaboration: Teams that collaborate together stay together. Using visual collaboration software like Lucidspark is a fun and engaging way to brainstorm ideas, plan projects, and get buy-in from everyone on the team.
Exclusivity: Team morale can be low when team members don't see initiatives in place to give everyone a voice or don't feel their ideas will be respected. Even if you may not be able to roll out a new initiative across the organization, as a manager, you can think of ways to be more inclusive on the team, like giving everyone a chance to speak in meetings, host meetings reserved for sharing experiences, etc. 
Lack of feedback: Morale could be low if managers fail to ask for feedback on the team. Asking questions allows team members' voices to be heard and shows them that their opinions matter. However, if managers ask for feedback but do not take action, this will not raise morale. It is important to identify actionable feedback and implement it.
How to boost team morale
For remote and hybrid teams, fostering connection can be more of a challenge than when everyone meets in the office on a daily basis. Tools like Slack or Microsoft Teams may help us stay connected, but feedback loops and team-building activities are also important, especially when a team is physically distant.
Make the point to check in
Understanding your team's current state can be a great starting point. Consider your team's work environment and work style. Does your team meet in-person, hybrid, or remote? Does your team primarily work synchronously or asynchronously? Consider doing a "wellness check" either as a 1:1 or as a group to see how they're feeling and what they think could be improved.
Give everyone a chance to participate
Using an application like Lucidspark can help you facilitate team activities that are fun, engaging, and collaborative. Lucidspark was designed with every team member in mind. Ensure everyone has a voice through features like comments, emojis, Collaborator colors, authors, and more. Host synchronous and asynchronous brainstorming sessions to gather the group's ideas as a whole rather than only hearing from the loudest in the meeting. There are many template options that are optimized for hybrid and remote teams.
Leverage Lucidspark templates to build team morale
Here are five of our favorite ways to check on the team and boost morale using Lucidspark.
How is your day going?
Use this template for a quick and fun way to check in on your team to see how their day is going. Respond with sticky notes, GIFs, and images. Other team members can react and discuss.
Show-and-tell
This icebreaker allows your team to make personal connections with each other. Choose a topic to share, and your team can upload photos and discuss them. It can be hard for teams to connect when working remotely or hybrid, and this activity provides a quick way to increase connectedness. Start your meeting off right by building camaraderie with this show-and-tell icebreaker.
Starbursting brainstorm
Think big using the starbursting template. Share big ideas and ask who, what, where, when, why, and how. Validate new ideas with your team in a productive ideation session.
Team charter 
No matter how your team works, this team charter is a great way to establish team norms, purpose, and working preferences for each team member. It also serves as a great reference for later.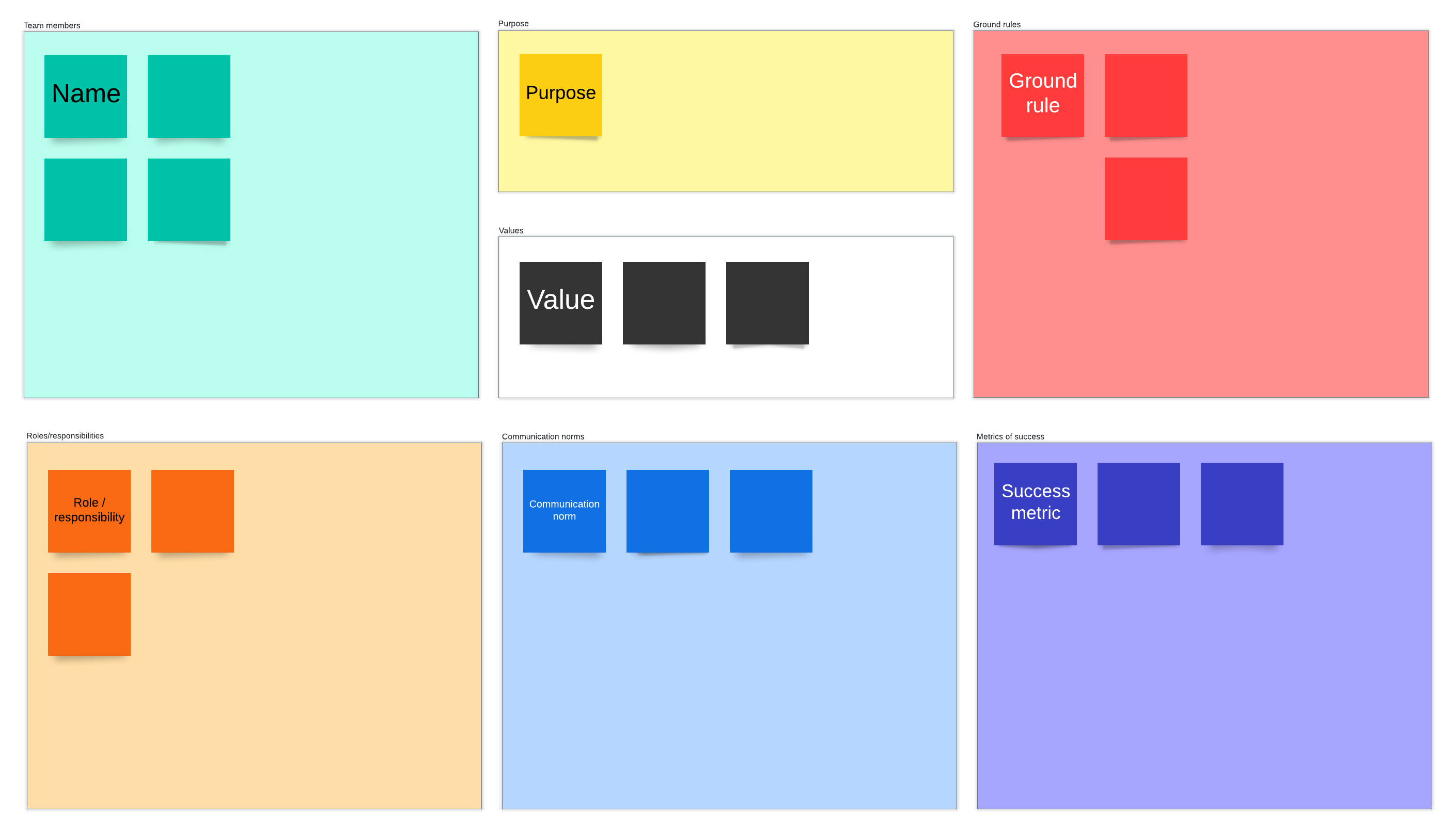 1:1 meeting template
This 1:1 meeting template is designed to make your 1:1 meetings more meaningful and productive. This is a time to bring up wins, constructive feedback, blockers, and anything else. Use this customizable template to keep track of progress and stay productive. 
In-person, hybrid, and remote teams alike can foster positive team morale no matter how they work. Lucidspark has you covered when it comes to seamless collaboration, engagement, and alignment. Host 1:1 meetings, facilitate group discussions, brainstorm your next big idea, and so much more.
Visit the Lucidspark Launchpad, as we are continually adding new team-building templates that make connecting and collaborating even more accessible and efficient.
Check it out
Lucidspark
Lucidspark, a cloud-based virtual whiteboard, is a core component of Lucid Software's Visual Collaboration Suite. This cutting-edge digital canvas brings teams together to brainstorm, collaborate, and consolidate collective thinking into actionable next steps—all in real time. Lucid is proud to serve top businesses around the world, including customers such as Google, GE, and NBC Universal, and 99% of the Fortune 500. Lucid partners with industry leaders, including Google, Atlassian, and Microsoft. Since its founding, Lucid has received numerous awards for its products, business, and workplace culture. For more information, visit lucidspark.com.
Bring your bright ideas to life.