Best practices for the Ideate stage of Design Thinking
Reading time: about 7 min
Design Thinking is human-centered. The goal of Design Thinking is to creatively solve problems through an iterative process that focuses on the user experience, which leads to the development of better, more user-centric products, services, and processes. 
By its nature, the Design Thinking process is not linear. Teams can toggle between each of the five steps—Empathize, Define, Ideate, Prototype, and Test—to pressure-test possible solutions, redefine problems, and learn more about their users. 
The Ideation stage is arguably the most important—and least structured—phase of the process. Why? Well, if the goal of the Design Thinking process is to collaboratively solve both every day and organizational problems, then the process is virtually ineffective without ideas to test and prototype. 
Let's take a closer look at the Ideation stage and some best practices for completing this stage of the Design Thinking process. 
What is the goal of the Ideate stage? 
The hardest part of any new project or task is getting started. That's why the Ideate stage of the Design Thinking process is so important. The goal is just as it sounds: to propose as many ideas as possible to solve the problem at hand. The goal is not to evaluate or judge the viability of these ideas but, rather, to get the creative and problem-solving juices flowing. 
Often, the first ideas shared during the Ideation stage are among the most obvious. Brainstorming ideation sessions can help design teams move beyond easy answers, challenge assumptions, and think outside of the box to find not just the easy answer, but the best answer. 
Best practices for the Ideate stage
No matter your role, Design Thinking can help you deliver viable, user-centric solutions that delight your customers. Think of the Ideation phase as your "safe zone" to have bad ideas. No ideas are bad ideas and no-holds-barred streams of consciousness that can help you uncover innovative solutions are encouraged. The only hard and fast rule is to always keep the user top of mind. 
Let's dive into a few additional best practices to help facilitate a successful Ideation stage. 
Establish an open and safe collaborative environment
Brainstorming with a group of colleagues can be intimidating. No one wants to present a "bad" idea or be judged for their contributions. A truly collaborative Design Thinking process is a judgment-free zone and that rule should be clear to everyone before any brainstorming session begins. The Ideate stage helps you bring together the perspectives and strengths of all your team members so you can uncover the best idea without attention to hierarchy, seniority, or ego. 
Learn from other stages of the Design Thinking process
Yes, the Design Thinking process is rarely entirely linear, but you can still learn from other stages during the Ideation phase. By spending time thinking about the problem from a user-centric perspective and empathizing with users, you can ideate with a solid foundation of understanding that will help you ask the right questions about each idea presented. In the end, you'll come up with even more inventive and innovative ideas. 
Establish brainstorming rules
To reiterate, the primary rule of the Ideation stage is quantity over quality. Eventually, this stage will help you land on the best solution to the problem you're trying to solve (we'll discuss how to identify those good ideas a bit later), but don't limit any sharing of ideas early in the brainstorming process. 
That being said, it's important to lay some ground rules—not to limit ideas but to ensure you're focused on the problem. Any idea presented should address and be relevant to the problem. Aside from that, no idea is a bad idea (in fact, the weirder and wackier the better!). 
While specific brainstorming techniques and strategies can help you keep ideation on track, it's important not to instill too much structure at this stage. Simple frameworks are all you need to facilitate effective brainstorming and collaboration. 
Try various brainstorming strategies 
Just as you shouldn't limit the volume of ideas presented during the Ideation stage, you shouldn't limit yourself to one brainstorming format. Different strategies can inspire new ideas, so try a few other techniques to get the best ideas out of your team. 
Aside from traditional brainstorming, here are a few methods to try: 
Brainwriting: Brainwriting is a great way to open up new pathways of thought. Set a timer and ask your team to jot down a minimum number of ideas or thoughts. Once the allotted time is up, shuffle the papers (to keep responses anonymous and feedback authentic) and distribute them randomly. Ask each team member to add or expand on the ideas they're now reading about, and continue this process for a few rounds. Once complete, you can whiteboard all of the ideas and discuss them. 
Of course, you can also replicate this process in a remote environment with digital sticky 
notes and a virtual whiteboard. 
Mind maps: Mind mapping is perfect for the Ideation stage, as it follows a similar non-linear approach to brainstorming. Start by writing the topic or problem at hand on a physical whiteboard or a collaborative digital whiteboard tool like Lucidspark. You can then map out your team's ideas by drawing branches off the central idea and additional branches off those secondary and tertiary ideas. Soon, you'll have a complete mind map to review and discuss. This iterative approach can help teams hone in on ideas and discover gaps in the user experience. 
6 thinking hats: This brainstorming approach identifies six different ways of thinking, each represented by 6 "thinking hats" which help you think about the problem from a new angle: facts, positivity, judgment, feelings, creativity, and analysis. 
Identify the best idea
Once you've got all of your ideas down on paper or on a physical or digital whiteboard, it's time to whittle them down into concepts to prototype and test. It's not possible to test every idea, so how do you choose which ideas to pursue? Here are a few methods: 
Dot voting: This voting process gives every participant a certain number of votes to assign to their favorite ideas. Those votes are cast by placing stickers, post-it-notes, or any other type of marker under the idea or ideas they like best. This process creates a bar graph of sorts that helps the team quickly identify a list of shortlisted ideas to prototype and test.
Affinity maps: Maybe you had a particularly fruitful brainstorming session. How do you start to sort through a long list of great ideas in the most diplomatic way possible? Give everyone the ability to group their ideas next to related ideas. Do this in silence to ensure you don't influence natural thought processes. After an allotted period, affinities and relationships between ideas will become clear.
How, Now, Wow matrix: A How, Now, Wow matrix helps groups to brainstorm, plan ideas, and organize their thoughts collaboratively. Similar to other product solving or product/market fit matrices, the How, Now, Wow matrix categorizes concepts based on their originality and ease of implementation. 
Important note: Don't implement this matrix until you've allowed ample time for ideation so as not to pigeonhole the brainstorming process.
Prepare for the prototype stage 
Again, while the Design Thinking process is not necessarily linear, the Ideate stage is always a crucial precursor to prototyping and testing out solutions to the problem at hand. Once you've identified a solution to test, you can focus on building out an experience to test the idea, gathering feedback, and potentially iterating with another round of the Design Thinking process. 
Follow these best practices, and you'll be on your way to a successful Ideate stage of the Design Thinking process.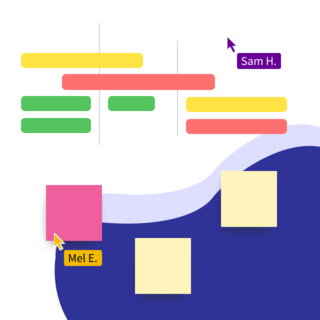 Use Lucidspark to facilitate the ideate stage of Design Thinking.
Try it now