A PERT chart vs. Gantt chart: What's the difference?
Reading time: about 6 min
Getting projects over the finish line on time and within budget requires clear organization and communication. But when you're juggling all those tasks and responsibilities—especially across projects that take weeks or months—sometimes things get lost in the shuffle. 
That's why project managers rely on tools like PERT charts and Gantt charts. These organizational diagrams help managers keep track of tasks, roles, responsibilities, and project timelines. 
But which one should you use, a PERT chart or a Gantt chart?  
In this article, we'll compare the Gantt chart vs. PERT chart and highlight the differences between them so you can choose the right tool for the job. 
What is a PERT chart? 
A PERT chart (which stands for Program Evaluation and Review Technique) represents a project as a network diagram, mapping a project's tasks, terms, and dependencies. 
Created in the 1950s by the U.S. Navy, PERT charts are designed to help project managers get a bird's eye view of their project and accurately estimate a project's timeline. It essentially works as a roadmap for a project, helping managers identify key dependencies, prioritize tasks effectively, assess risk, and plan their time accordingly.
Within the diagram, each box or node represents an individual task. These nodes are then connected by arrows that illustrate the dependencies between those tasks. 
The chart also includes three options for mapping activity duration: most likely, optimistic, and pessimistic. These describe three estimates for each task's duration to help project managers plan the timeline based on their best guess (i.e., "most likely") and more optimistic and pessimistic forecasts.  
When to use a PERT chart
PERT charts are most useful for effectively scoping the project before you start. You can use a PERT chart to: 
Gauge the minimum time necessary to complete the project. Knowing how long a project will take is fundamental to successful project planning and execution. If you underestimate the time required to complete tasks, bottlenecks will quickly develop and throw a wrench in your progress. 
Project delays can significantly impact budgets and client (or user) relationships. By plotting tasks onto the PERT chart, you can easily see how related tasks connect and impact each other and how long each task will take to complete. This creates a clear workflow for everyone to follow. 
Coordinate and prioritize multiple simultaneous tasks. By mapping out task dependencies in an easy-to-digest visual, project managers can quickly see how different elements relate and understand what needs to get done and when. 
This is especially useful for larger, complex projects with many moving parts. PERT charts help managers plan tasks based on what needs to be done first and see what tasks can be done at the same time to maximize efficiency and workflow. 
PERT charts make it easier to prioritize tasks and coordinate when they need to get done—while appropriately planning the resources needed to support them.
How to set up a PERT chart
List your project's main phases, milestones, and tasks in nodes.
Identify the sequence of activities, tasks, and milestones.
Connect any task dependencies using directional arrows to identify the project flow.
Determine the completion time for each activity, including the earliest start date, earliest finish date, and planned time to complete. 
Map the PERT chart, using a digital whiteboard like Lucidspark. 
Once you have your criteria drawn up, you can use the PERT chart to determine the critical path of the project. The critical path method analyzes the longest sequence of tasks required to complete a project. When you understand your critical path, you can effectively estimate how long the project will take.
What is a Gantt chart? 
A Gantt chart is a horizontal bar chart representing your project tasks scheduled over time. The vertical axis outlines the project tasks and the horizontal axis represents time. 
Similar to a PERT chart, Gantt charts are useful tools for planning your project schedule and visualizing the project tasks and schedule constraints. Gantt charts break down the project into its constituent parts, helping managers and team members quickly see who is responsible for what task and when it is expected to be completed. 
When to use a Gantt chart
Gantt charts are best used throughout a project to track progress and make sure every task is completed on time. Teams can use a Gantt chart to: 
Manage tasks and milestones. Gantt charts break down the project into individual tasks set along clear timelines. Each bar represents one task, and the bar extends from the start date to the end date of that activity. This helps managers and their teams see what tasks are being worked on, identify any potential delays or roadblocks, and prepare for upcoming tasks so everyone stays on track.
 
Control the workload and properly leverage resources. By mapping tasks and their assigned owners, managers can more easily see how work is distributed among their team and ensure team members have the support and resources they need to do the job. 
For example, if one person has multiple tasks assigned at once, and another team member has a light load, the manager can reallocate assignments if needed or solicit additional help on those tasks to ensure all the work gets done without causing burnout or production delays.
Increase transparency in the project workflow. Similarly, Gantt charts plot the entire project workflow by task and assignment, giving the entire team a clear picture of the project timeline, roles, and expectations. Increased transparency improves team communication, minimizes confusion, and helps keep everyone on the same page throughout the duration of the project. 
How to set up a Gantt chart
List your tasks and subtasks on a vertical axis.
Identify any task connections.
Create a timeline along the horizontal axis.
Order your tasks and plot them on the timeline. Each task should be represented as a bar that extends from the start date to the end date of that task's duration.
Assign tasks to team members. 
Track progress.
You can set up a basic Gantt chart in Excel or use a template. Lucidspark makes it easy to plot and share project progress in its virtual whiteboard with plug-and-play diagrams from its template library.
Main differences between a PERT chart and Gantt chart 
Both PERT charts and Gantt charts help project managers plan and track project tasks on a clear timeline. However, there are key differences in the way the charts are visually displayed and how and when teams can best apply them.
A brief summary of those differences is outlined in the table below:  
PERT charts and Gantt charts are both essential tools in the project manager's toolkit. By understanding the differences between each diagram and when to use them, you can improve project planning sessions and increase efficiency, transparency, and productivity throughout the project lifecycle.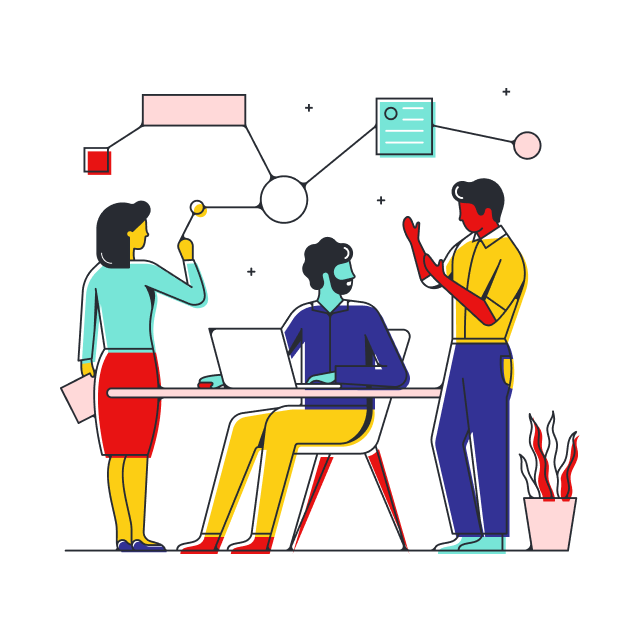 Try out this ready-to-use Gantt chart template in Lucidspark.  
Try now