Voice of the customer matrix
This voice of the customer matrix will keep an organized chart of what your customers need and expect from your product or service.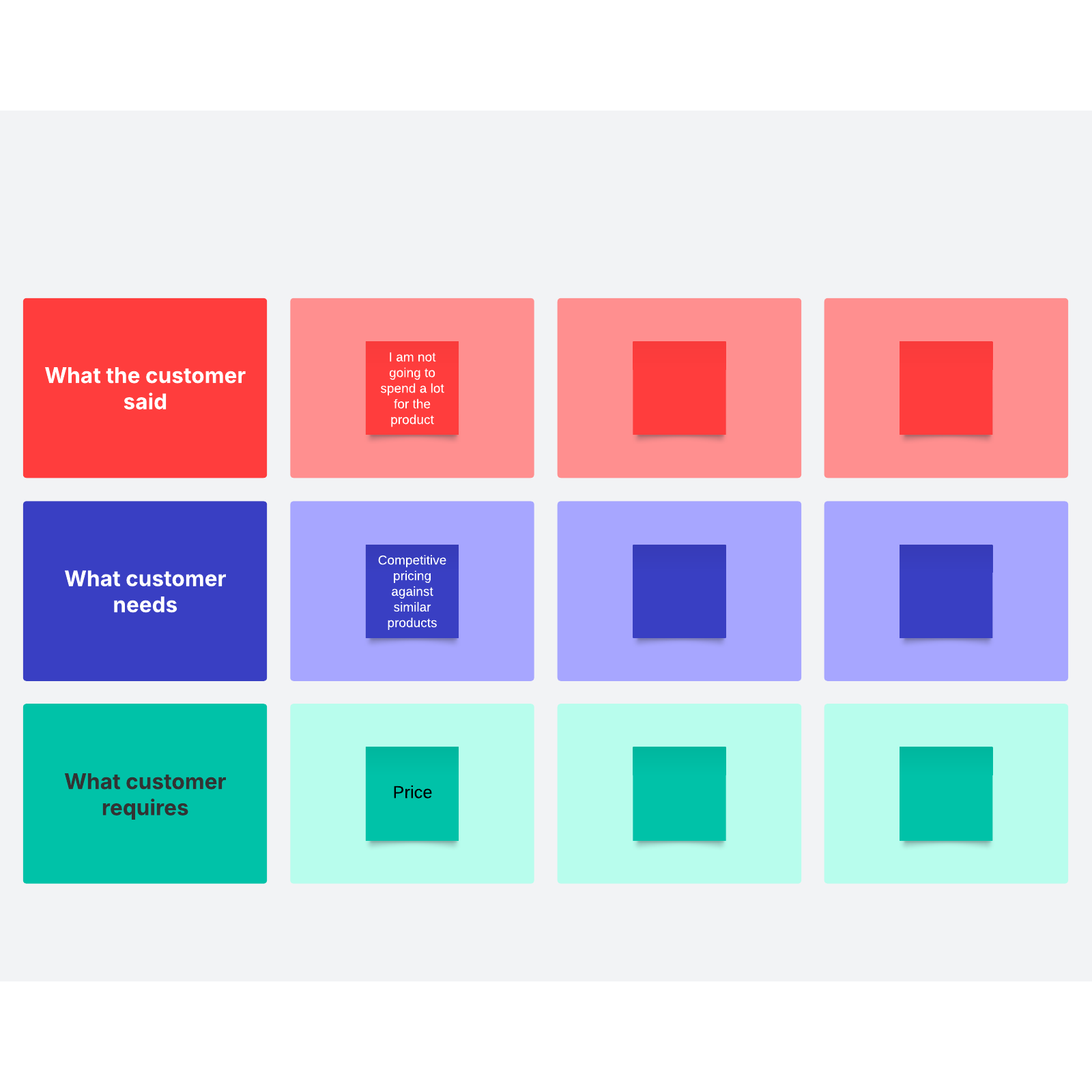 What is the voice of the customer matrix?
Even if we're all speaking the same language, it's still difficult to understand what people really mean. For instance, your sister might say she doesn't want to take a vacation with you when she really means she doesn't have enough disposable income at the moment for a trip. Similarly, your customers can say one thing but mean something different—they could say they think your product is poor quality when they really mean it's too expensive.
A voice of the customer matrix helps you cut through the ambiguity to decipher what your customers really mean. When you know that, you're better able to respond to customers' needs.
Why use the voice of the customer framework?
It takes some work to understand what customers are saying below the surface. Here are the benefits of putting in the effort:
Make customer feedback actionable. It's easy to dismiss complaints. Using the voice of the customer framework helps you transform complaints into actions you can take to uplevel your product.
Garner new ideas. Sometimes customer suggestions are more than one-off ideas and are instead indicative of a larger need.
Make customers feel heard. By meeting customer needs, you can improve your brand, develop a stronger connection with your customers, and even increase customer retention.
Stay current and competitive. When you only enlist feedback from inside your company, you often miss the opportunity to respond and adapt to changing market needs. Opening up your team to outside input allows you to stay on top of trends and market shifts.
How to use the voice of the customer template in Lucidspark
Gather customer feedback. Look at your NPS comments, customer service feedback, and your social media interactions to find what your customers are saying.
Extrapolate. Use the sound bytes you've identified to guide you through the sections of the template and decipher the meaning behind the message.
Share. The template is easy to share with your team for collaboration and feedback. If your team is remote or distributed, you can collaborate in a workshop with Lucidspark's Zoom integration. Use emoji reactions and Tagging to identify patterns or themes.
Apply. This customer template can be used to inform user personas and customer journey maps.