Look mock analyze
The Look, Mock, Analyze template helps teams see what's already been created, then, mock up new designs and get feedback. Sign up for Lucidspark for free!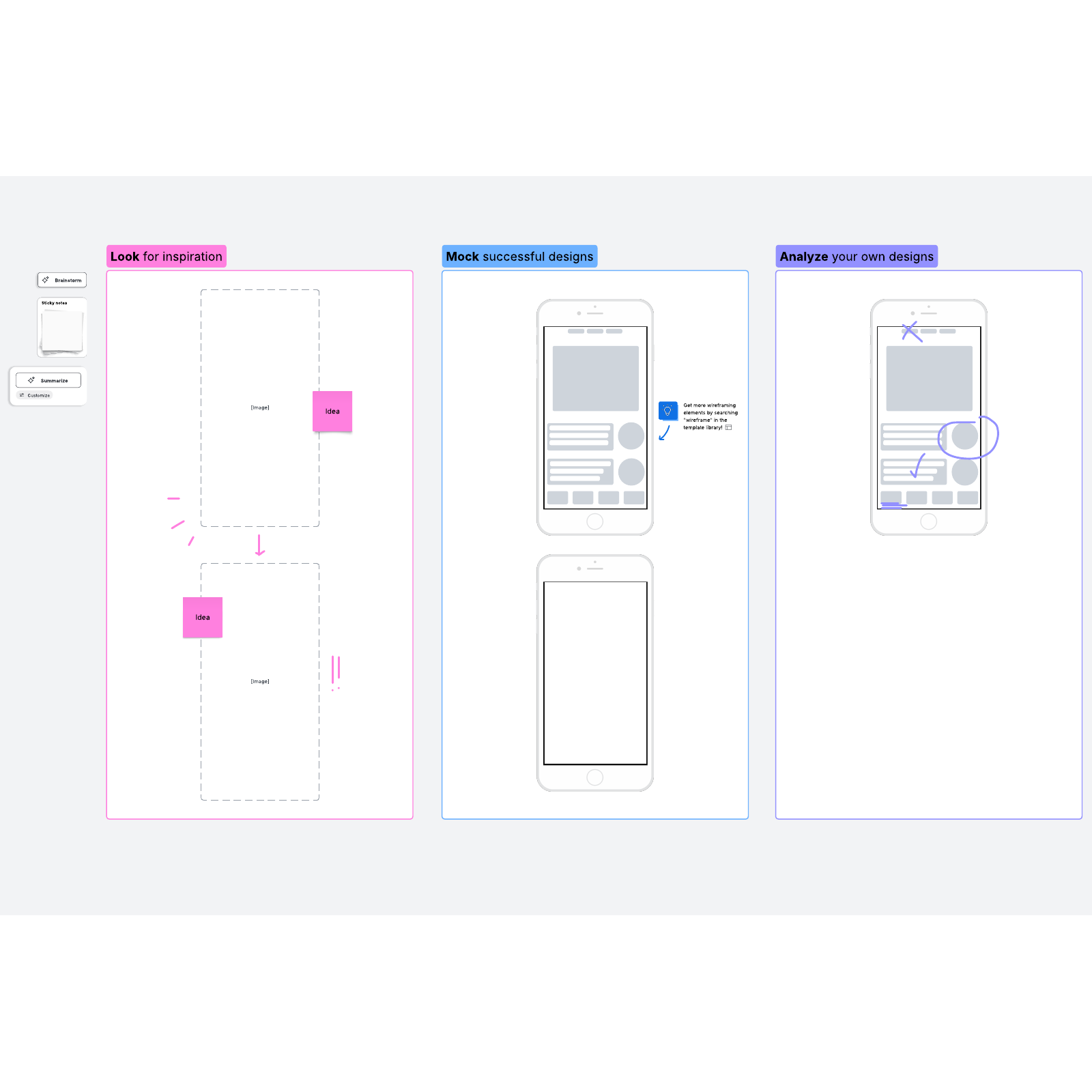 Streamline your design process with the Look, Mock, Analyze template
Whether you're coming up with a new design solution for a product or website or improving on an existing layout, you need to get inspired and be creative as you analyze and design. One tool that can help you do this is the Look, Mock, Analyze template.
This template provides a flexible outline for design research with a space where everyone can literally be on the same page. You'll gather ideas, create mock-ups, and gather feedback all in the same place, which will simplify the design process and enable everyone on the design team to share their work and collaborate on new ideas.
Use Lucidspark's shareable mock template for collaborative design research
Lucidspark provides a mock look and analyze template that you can easily use for collaboration with a remote or in-person team. To use it, simply share the template to your virtual whiteboard, and then:
Post screenshots and images of successful designs that you would like to use as reference material in the "Look" section. You can use Lucidspark's link preview and image upload features to add content as well.
Share images of any mock-ups created by your team in the "Mock" section. You can use emoji reactions to increase engagement for your mock analysis.
Use the "Analyze" section to share feedback on inspiration and mock-ups. You can invite everyone to share their analysis and vote on specific ideas.
You can continue to use the mock look and analyze template as an ongoing resource as you refine your design, and you can use features like Lucidspark's Frames to highlight specific content you'd like for team members and stakeholders to review.
As you utilize the Look, Mock, Analyze template, you and your design team will be able to communicate more effectively, feed off one another's ideas, and bring your product to the next level.