User story mapping template
Modify this user story map template to visualize user stories, show how they can be accomplished within a sprint, and understand what the stakeholder wants from the product.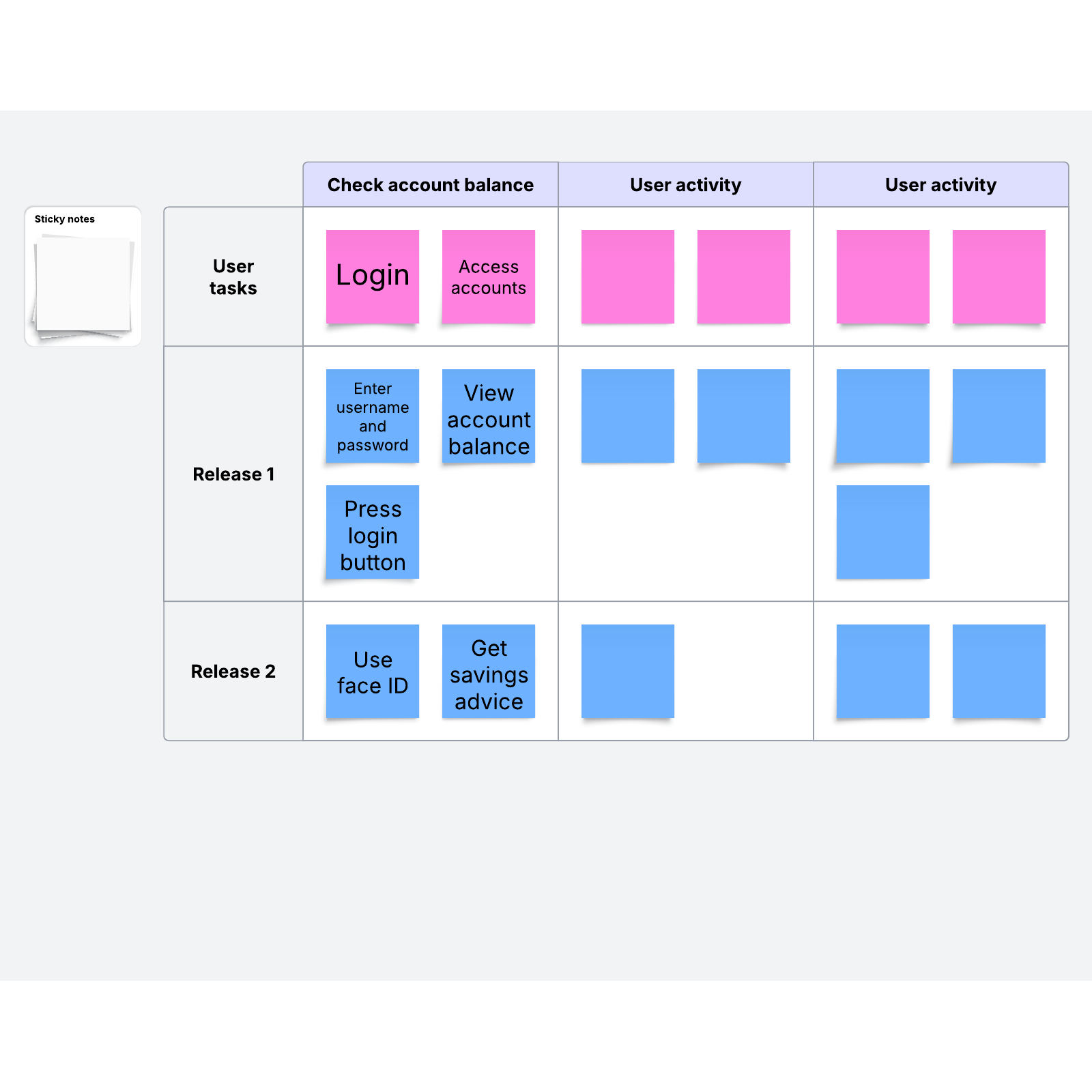 Unlock your users' experience through story mapping
Since the dawn of time, human beings have used stories to understand the world around them. Narratives help us discern important patterns and place data in context. With Agile story mapping, you can harness the power of stories to manage your product backlog as part of your sprint plan.
What is story mapping?
As you and your team work to improve your product, you may have a lengthy list of features that you could or should include in upcoming releases. If you don't keep the user experience in mind, however, these features could end up detracting from your product rather than adding to its value.
Story mapping activities help place the ideal experience of different users at the forefront of your planning. In Agile methodology, a user story takes the form of a short description of a new product feature from the user's perspective. The story will identify the type of user, the specific feature, and the user's goal for the feature as follows:
"As a [type of user], I want [a specific feature] so that [goal]."
For instance, a user story mapping example might include statements such as "As a website browser, I want a clear navigation menu so that I can quickly find the pages I want," or "As a potential customer, I want an online contact form so that I can conveniently inquire about the product."
A story mapping template is used to create a user story diagram that can then be used to help a product team understand users better, identify any issues with the product, and prioritize certain features.
How to use our story mapping template in Lucidspark
You can get started on your product backlog with a story mapping template that integrates right into your Lucidspark board. Upload the template and then collaborate with your team to:
Identify a type of user (place in the sticky note at the top of the template).
Determine the user's activities (goals) when they use your product.
Determine the tasks (steps) that make up each activity based on what a user would experience as they used the product.
Create a detailed user story for each task.
You can use sticky notes to easily expand the template and include more information and user stories. Once you've grouped user stories by tasks and activity, you can also easily divide them up by product iteration to see any differences in the user experience.
When you've determined some patterns, your team can prioritize different features based on how they will contribute to the user experience. You can even export certain stories into Jira for further collaboration. (Learn more about Lucidspark Cards for Jira.)
As you step into your user's shoes, our story mapping template will help you and your team turn your brainstorming session into viable plans for your next product launch.