Team vision alignment
Creatively align the vision of your team through the help of each team member and this team vision alignment template in Lucidspark.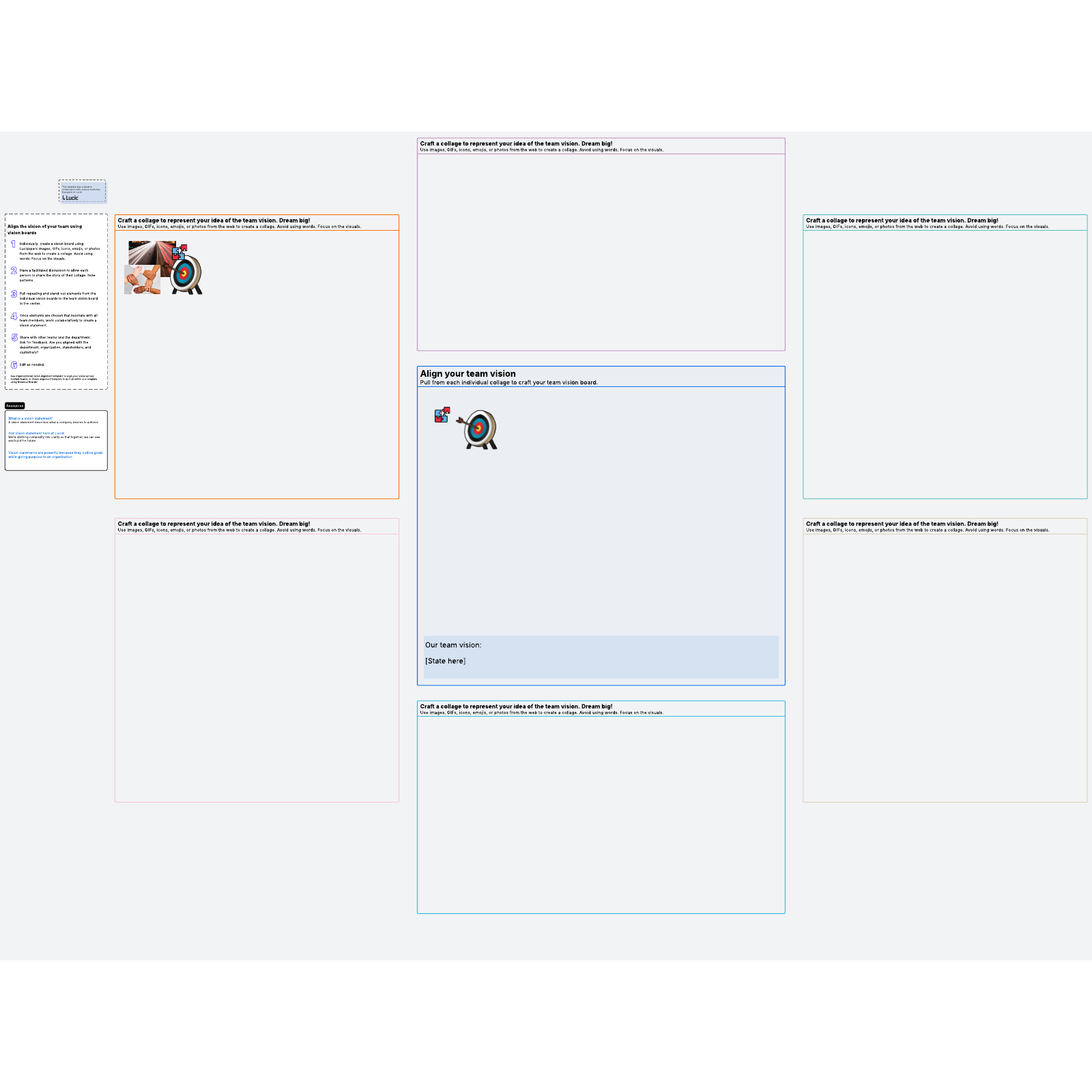 What is the team vision alignment template?
You need a vision statement to keep your business moving the right direction. Without clear goals for the future, you're more likely to make decisions based on short-term thinking instead of long-term benefits.
However, writing an effective vision statement can be tricky. This template helps you work with your team to visualize everyone's ideas. Next, you'll bring your ideas together and translate them into a vision statement.
Benefits of using the team vision alignment template
This template serves two main purposes: it helps you get aligned on a vision with the entire team, and it helps you put your goals into both visuals and words.
To make an effective vision statement, you need everyone's input and buy-in. The template helps you get there. And using images to start brainstorming helps the group get creative before crafting ideas into a concise statement.
How to use the team vision alignment template in Lucidspark
Each member of the group claims one of the outer containers, and they'll spend time individually filling it with images of their vision for the team.
When the groups are done filling their containers, it's time to share. Have each group walk through what's in their vision board and why. As you go, notice any repeating ideas, and pull those and other ideas the team thinks stand out to the central container. You can react to each other's contributions with emojis as you discuss, and you can use the voting feature to choose the most important ideas.
Discuss the ideas in the central container. Is everyone aligned? When you're happy with what's in the container, start crafting a vision statement in words that sum up the vision board.
When you've finished your work, save it in your preferred team communication platform so everyone can keep your vision statement in mind. Slack and Microsoft Teams integrations make saving your vision board easy.
To take your vision alignment to the next level, try the organizational vision alignment template for company-wide vision statements. You can also use the vision alignment template with Breakout Boards to keep everything together.
Jessica Guistolise
Evangelist, Lucid
As Evangelist at Lucid, Jessica Guistolise is a Certified Scrum Trainer who has coached thousands of individuals and teams in Agile and Scrum techniques.