Organizational vision alignment
Align the vision of your organization across each team with this organizational vision alignment template in Lucidspark.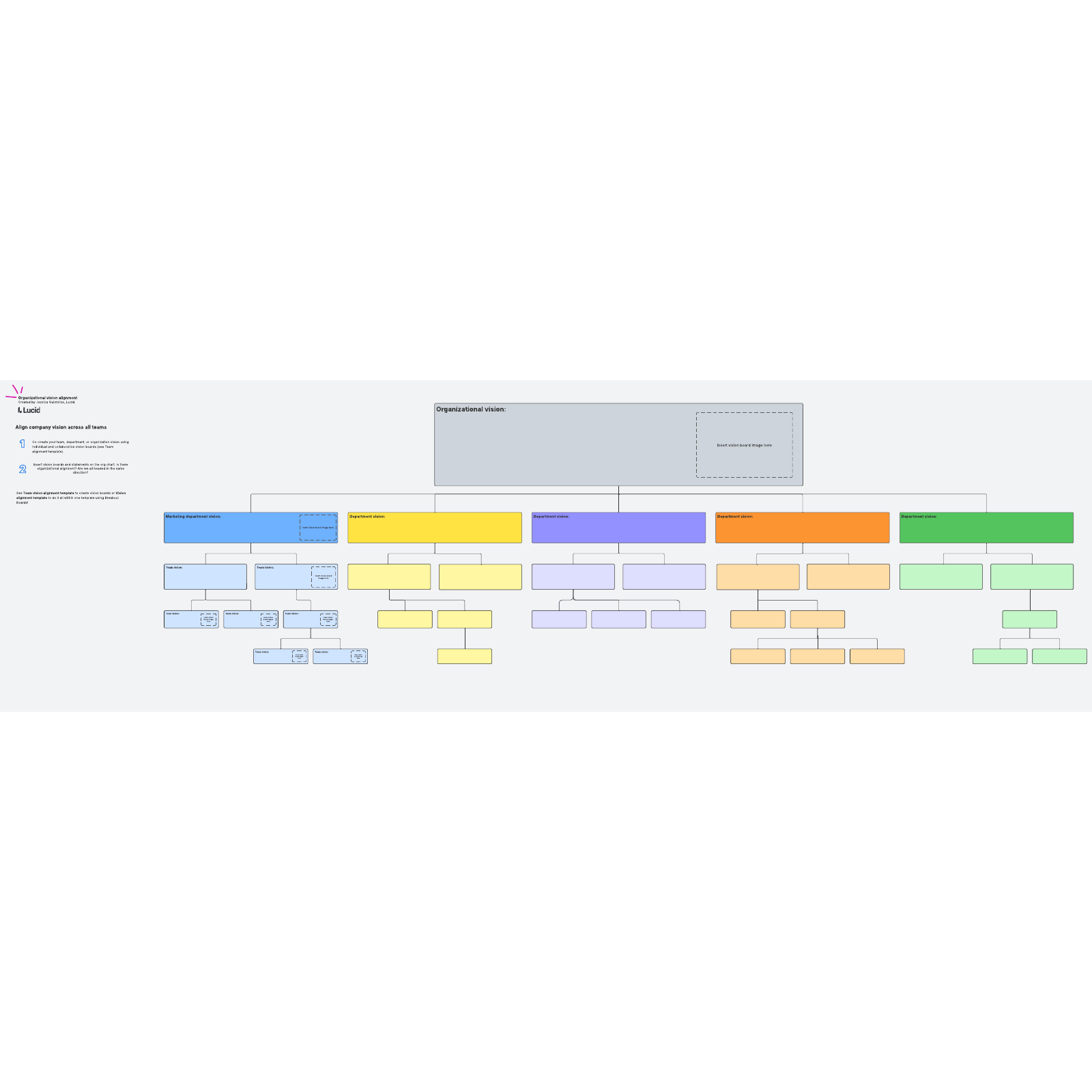 What is the organizational vision alignment template?
Your business likely already has a mission statement and a pretty solid idea of where it would like to be 10 years from now. But there's a difference between having a vision and having a cohesive vision, and that's where the organizational vision alignment template comes in. This chart incorporates visuals to provide a vision for each department and team that ladders up to a larger vision for the business as a whole.
This is important for teams and departments to understand the role they play in achieving the organizational vision, and it's a critical starting place for translating a vision into daily, actionable tasks and OKRs.
Benefits of using the organizational vision alignment template
Outlining each department's vision only serves to create a stronger, more unified business. This template can be used to:
Create alignment - By spelling out the vision in black and white, businesses can clarify goals and give everyone a clear understanding of what the team is working toward.
Create ownership - The organizational vision alignment template gives departments and teams a sense of purpose and allows the vision to spread company-wide instead of remaining siloed in leadership.
Translate complex ideas - Sometimes visions are more than just words: sometimes they rely on visuals. A template can include illustrations, graphics, and other visual components that bring the vision to life.
Foster meaning - It's easy to get lost in the daily grind. When individuals, teams, and departments understand the end goal, they're more invested in their roles and are more likely to contribute to achieving the vision.
How to use the organizational vision alignment template in Lucidspark
First, develop your organizational vision and insert a vision board image into the template.
Then, referring to the team vision alignment template, begin to break down the organizational vision into departments and then to teams. Use brainstorming, the vision alignment template, chat, emojis, voting, and even Breakout Boards to further develop each team's vision.
Have each team present their vision through Slack and Microsoft Teams integrations to share out their visions with the rest of the org.
Jessica Guistolise
Evangelist, Lucid
As Evangelist at Lucid, Jessica Guistolise is a Certified Scrum Trainer who has coached thousands of individuals and teams in Agile and Scrum techniques.