Vision alignment
Use breakout/vison boards to align your organization's vision across all individuals with this vision alignment template in Lucidspark.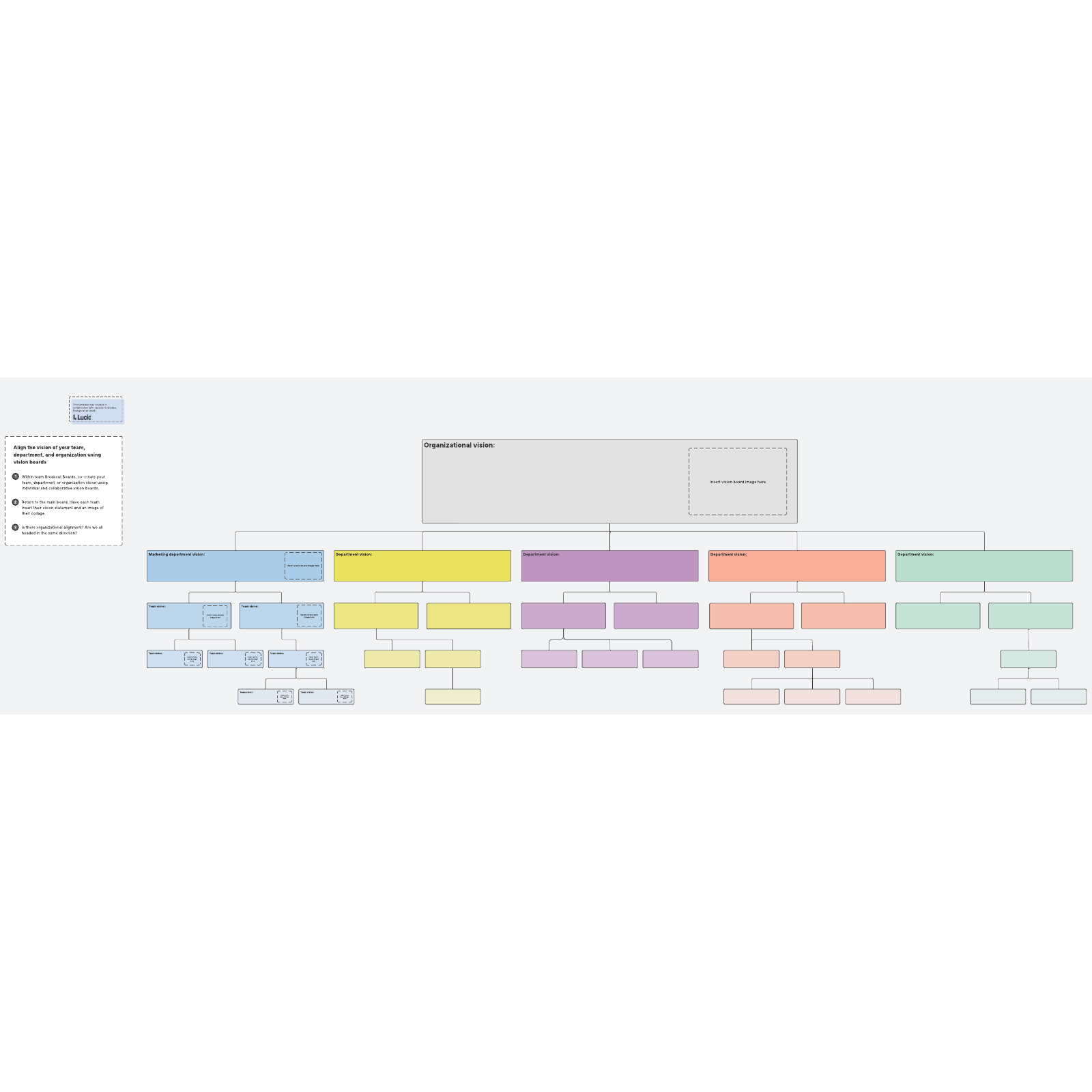 What is a vision alignment template?
The vision alignment template helps you outline the vision of each team in an organization. Use the team vision alignment section in Breakout Boards to create vision boards, which you can then use to get aligned as an organization.
Benefits of using the vision alignment template
Your organization will work best if everyone understands the organization's goals. Each individual contributor and team needs to know how their work fits into the larger purpose. This template helps everyone get on the same page.
Additionally, the template encourages creativity by asking participants to include their vision statements in both words and visuals, which helps everyone get engaged with the activity. The template is flexible—you can customize it as needed and collaborate on it with people in and out of the office. You can share the template with stakeholders as well.
How to use the vision alignment template in Lucidspark
Start by creating Breakout Boards for each team. Each individual will spend time creating a vision board for a product, team, or organization in one of the outer containers.
When they're ready, each group will discuss each team member's vision board, pull favorite and recurring ideas from the individual containers into the central container, and create a vision board for their group. Then, the group uses the ideas in the central container to get aligned and craft a vision statement with words instead of images.
Next, the groups will come back together as a larger team on the main board. Each group will put their vision statement and an image from their collage into one of the boxes in the organization chart. You can use this to build vision statements for departments and for the organization as a whole, or you can start with the organization and work the other way—whichever works best for you. When you're finished, each group and individual will have a better understanding of the organization's goals and how their work furthers those goals.
Jessica Guistolise
Evangelist, Lucid
As Evangelist at Lucid, Jessica Guistolise is a Certified Scrum Trainer who has coached thousands of individuals and teams in Agile and Scrum techniques.