Sprint planning meeting template and team room
Sprint planning is now easier than ever with all of your resources in one place.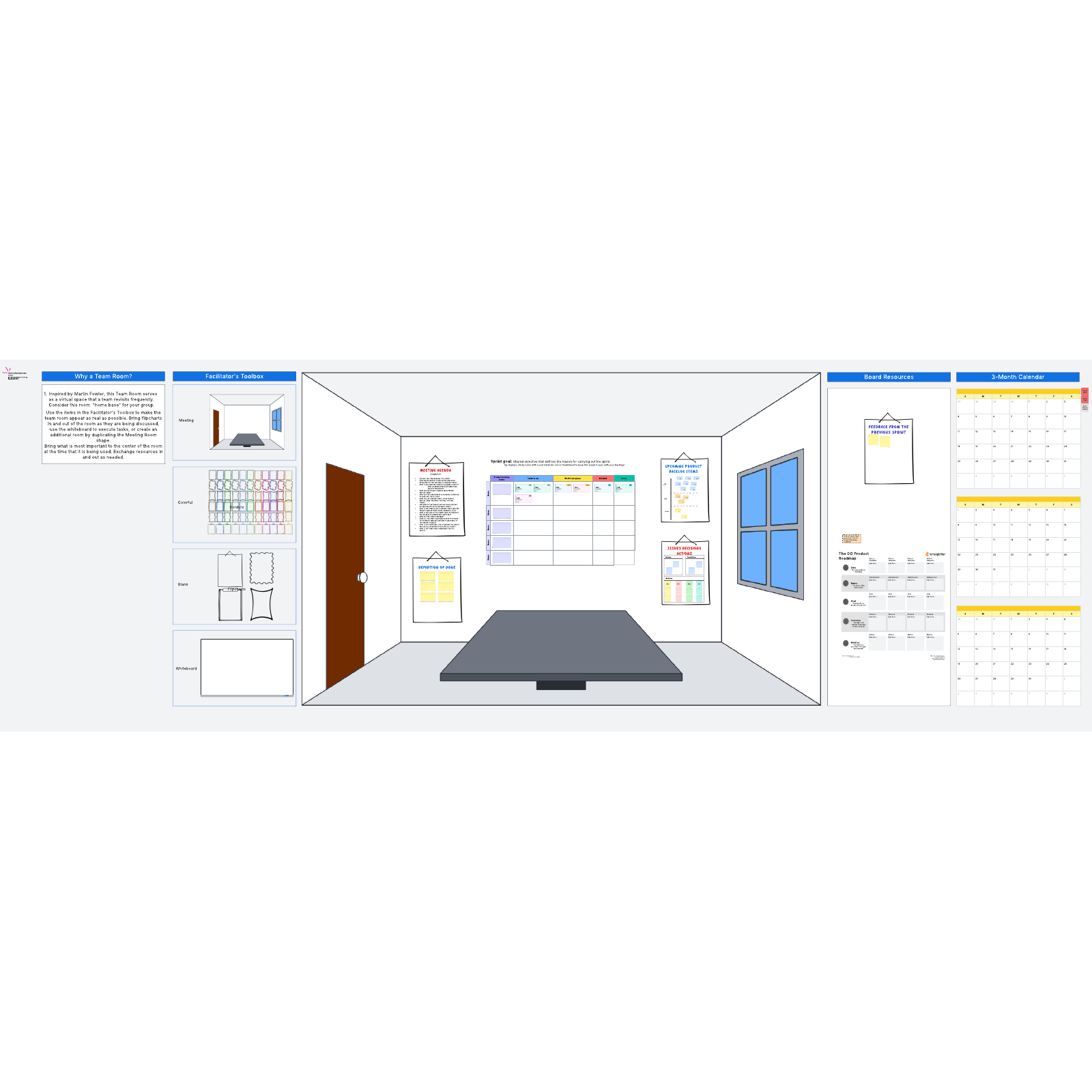 What is the sprint planning team room template?
The sprint planning team room template mimics the utility of a real-world team room. This space is ideal for hosting virtual sprint planning sessions for remote or hybrid teams by fostering collaboration between in-person and remote employees.
Sprint planning is important for prioritizing the work your team will need to complete during the next sprint cycle. During a sprint planning session, your team will select items from the product backlog to complete, assign items to team members, and define clear outcomes.
Benefits of using this template for sprint planning meetings
In the real world, your team would meet in an office for sprint planning meetings. While the template isn't located in an actual office, it does have many benefits:
It helps provide structure for sprint planning meetings, so nothing is forgotten or ignored.
It's easy to customize to your meetings and facilitate whiteboard needs.
It can be used with the sprint review and sprint retrospective team room templates to unify your different Scrum meetings.
It builds stronger team connections, which is often difficult in a hybrid or remote world.
How to use the sprint planning team room template in Lucidspark
Utilize items in the facilitator's toolbox to customize your meeting to the specific needs of your team.
Use the board resources to host a productive sprint planning meeting. You might consider using feedback from the previous sprint, the GO product roadmap, and/or a 3-month calendar for planning.
Take advantage of the board's included templates and frameworks, including the meeting agenda, sprint backlog, sprint goal, and definition of done.
Use Lucidspark Cards for Jira, Smartsheet, and AzureDevOps to ensure action items are incorporated into workflows from the sprint planning team room.
Leverage the included Lucidspark timer to ensure your planning session stays on track.
Bryan Stallings
Chief Evangelist, Lucid
As Chief Evangelist at Lucid Software and Certified Scrum Trainer, Bryan Stallings has coached thousands of individuals and teams in Agile and Scrum techniques.