The GO Product Roadmap
The GO Product Roadmap, created by Roman Pichler, helps describe the goals your product should achieve and aligns stakeholders. Sign up for Lucidspark!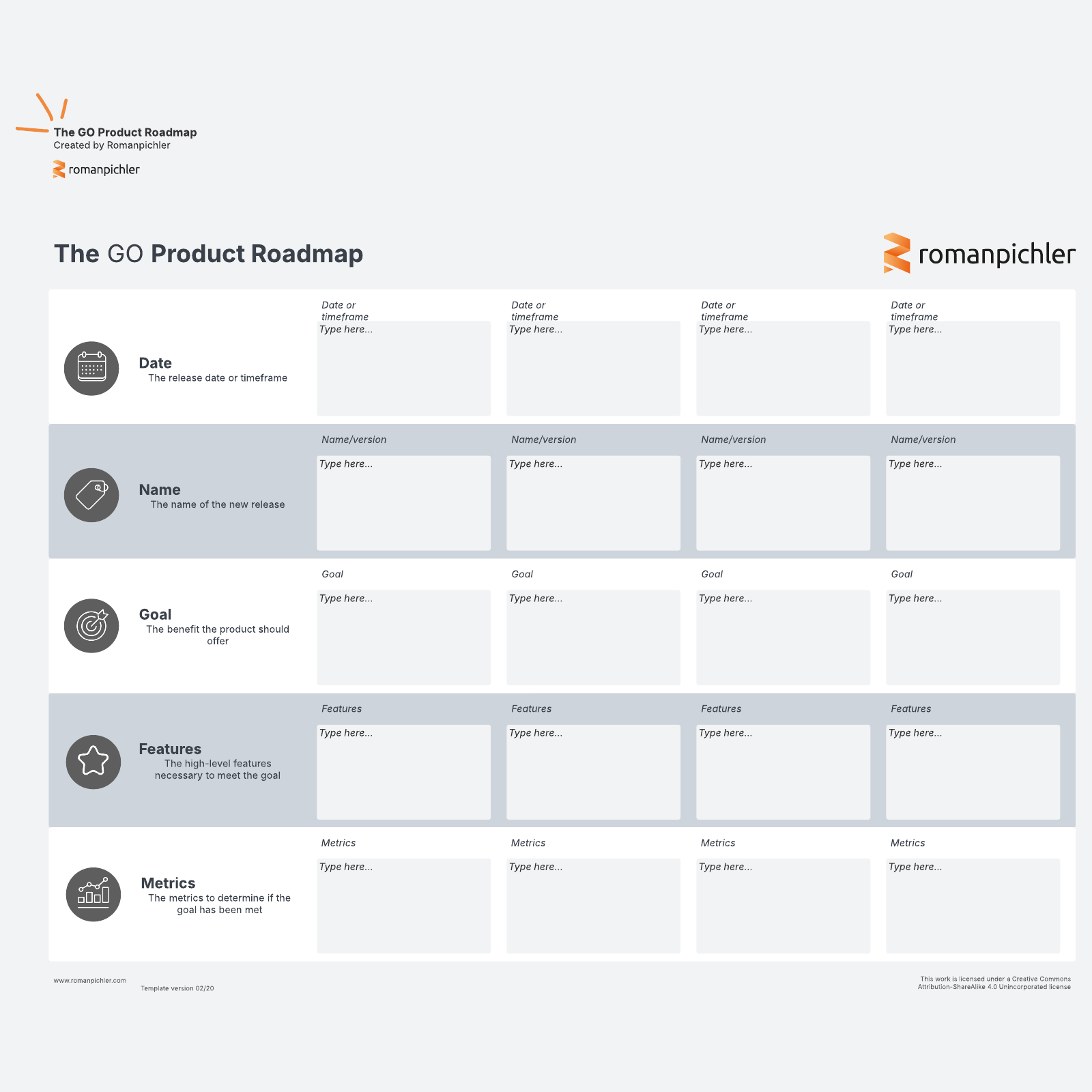 Help your product go the distance with the GO product roadmap
You can revolutionize your product management process with the introduction of product ownership, a key component of Scrum Agile planning. To bolster the roles of your team as product owners, use the GO (goal oriented) product roadmap to improve your product and increase its value for your customers.
What is the GO product roadmap?
Created by product management expert Roman Pichler, the GO product roadmap integrates seamlessly into the Scrum planning process. This tool helps product management teams move product improvements from the realm of theory into action, all while maintaining focus on teamwork and collaboration.
The GO product roadmap is versatile, allowing your team to work on multiple products during one planning session. You can discuss and define the goals of new products, their new features, and the metrics you wish them to achieve, along with the timeframe of their release.
Rather than get bogged down in the pursuit of production efficiency, take on the role of a product owner and prioritize the viability of your product and the satisfaction of your customers.
How to use this tool to collaborate with your product team
Lucidspark provides a simple, intuitive, and convenient platform to host a collaborative brainstorming session. Simply upload our GO product roadmap template into your Lucidspark board and allow your team to add sticky notes with their suggestions for different categories on the template.
Discuss the basics of each project in the chat, including the names of the products and the dates of their launch or timeframes for completion. Then, add specifics on:
Product goals: Benefits you want the product to offer your customers
Product features: Components and capabilities the product needs to achieve the aforementioned goals
Product metrics: Standards or milestones that your product can meet to indicate it has achieved your product goals
Lucidspark offers a convenient virtual whiteboarding space where everyone can share their ideas and see the larger picture come together. With the help of our GO product roadmap template, you and your product management team can plan and create products that will make your clients happy.

Roman Pichler
Roman Pichler is a leading product management expert specialized in digital products and agile practices. He teaches product managers and product owners, advises product leaders, and helps companies create successful product management organizations.
Roman is the author of three books on product management and one on Scrum. He writes a popular blog, hosts his own product management podcast, and offers a range of free product management tools. Check out Roman's site to learn more about his work.