RASCI chart
Coordinate team responsibilities and build accountability for projects using a RASCI template to define responsibilities within your team. Try Lucidspark!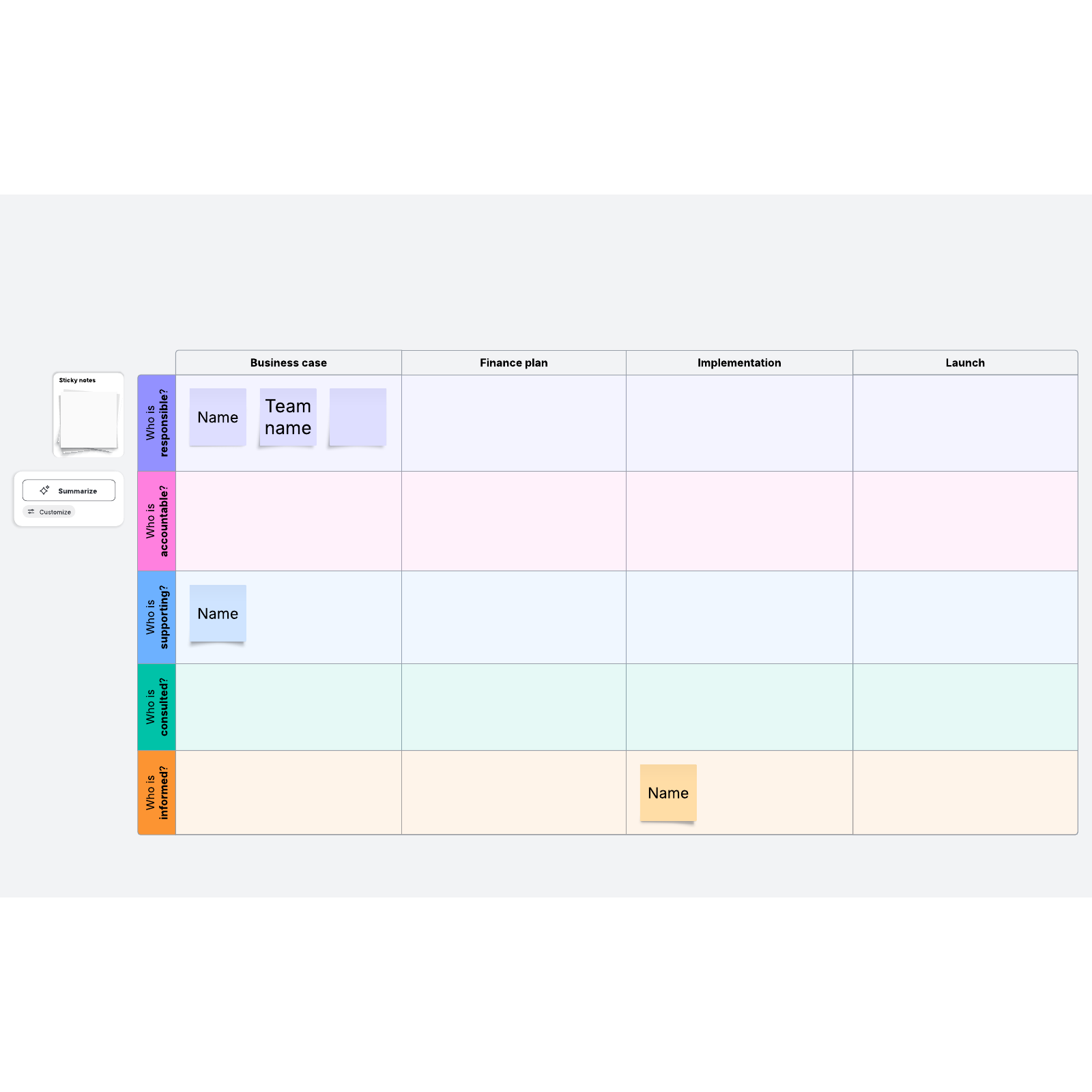 Unify your team with a RASCI chart
When your remote team has a project with multiple moving parts, you may find it difficult to keep everyone on the same page. Keep track of everyone's responsibilities and expected contributions with the help of our RASCI chart template.
What is a RASCI chart?
RASCI is an acronym that stands for responsible, accountable, supportive, consulted, and informed. Each of these terms refers to the ways that different team members may contribute to different parts of your project, and each has its own row of squares in the RASCI template. Our RASCI chart template also includes columns for different stages of your project, such as implementation and launch, or tangible products and tasks involved, such as a written proposal.
A well-thought-out RASCI chart not only shows who will be involved in each part of the project, but it also defines the nature of their involvement and the level at which they must work with others. It will also clearly identify the decision-makers on each part of the project.
When used in the planning process, a RASCI chart might also help your team delegate work more effectively. If you find that one person is popping up on too many squares, you may need to spread out the work more evenly.
How to use our RASCI chart template
Our RASCI chart template in Lucidspark allows your team to come together to visualize and discuss how responsibilities in your project will be divided up.
Our RASCI chart example includes processes such as "business case," "finance plan," "implementation," and "launch," but the template can be customized to meet the particular needs of your project. Break it down into the appropriate tasks and processes, and then meet with your team to fill out the RASCI squares.
Use sticky notes to put the appropriate names and teams in the right squares. Whose names go in which square will be determined according to the following guidelines for each row:
Who is responsible? These are the individuals and teams primarily responsible for producing the work on each task.
Who is accountable? These individuals have authority over that certain task and are those to whom the responsible individuals are accountable to.
Who is supporting? These teams and individuals play an auxiliary role for those who are responsible. They may include teams like IT support or other resources that help get the job done.
Who is being consulted? These individuals and teams are those that offer valuable feedback or direction for different tasks and are involved in the decision-making process.
Who is being informed? These teams and individuals need to be kept apprised of the progress and status of different tasks, but they ultimately are not involved in the decision-making process.
As you fill out the chart with your team, you'll ensure that each member understands their own roles and responsibilities, as well as the roles of other teams and individuals. Everyone will have a much clearer idea of the big picture and will be able to tailor their work accordingly. In the end, our RASCI chart template will help you minimize confusion, maximize communication, and have an excellent roadmap for how your team will work together.