Product roadmap template for teams
Use this product roadmap template to clarify the product vision and align your team members on the necessary work to ensure successful feature releases.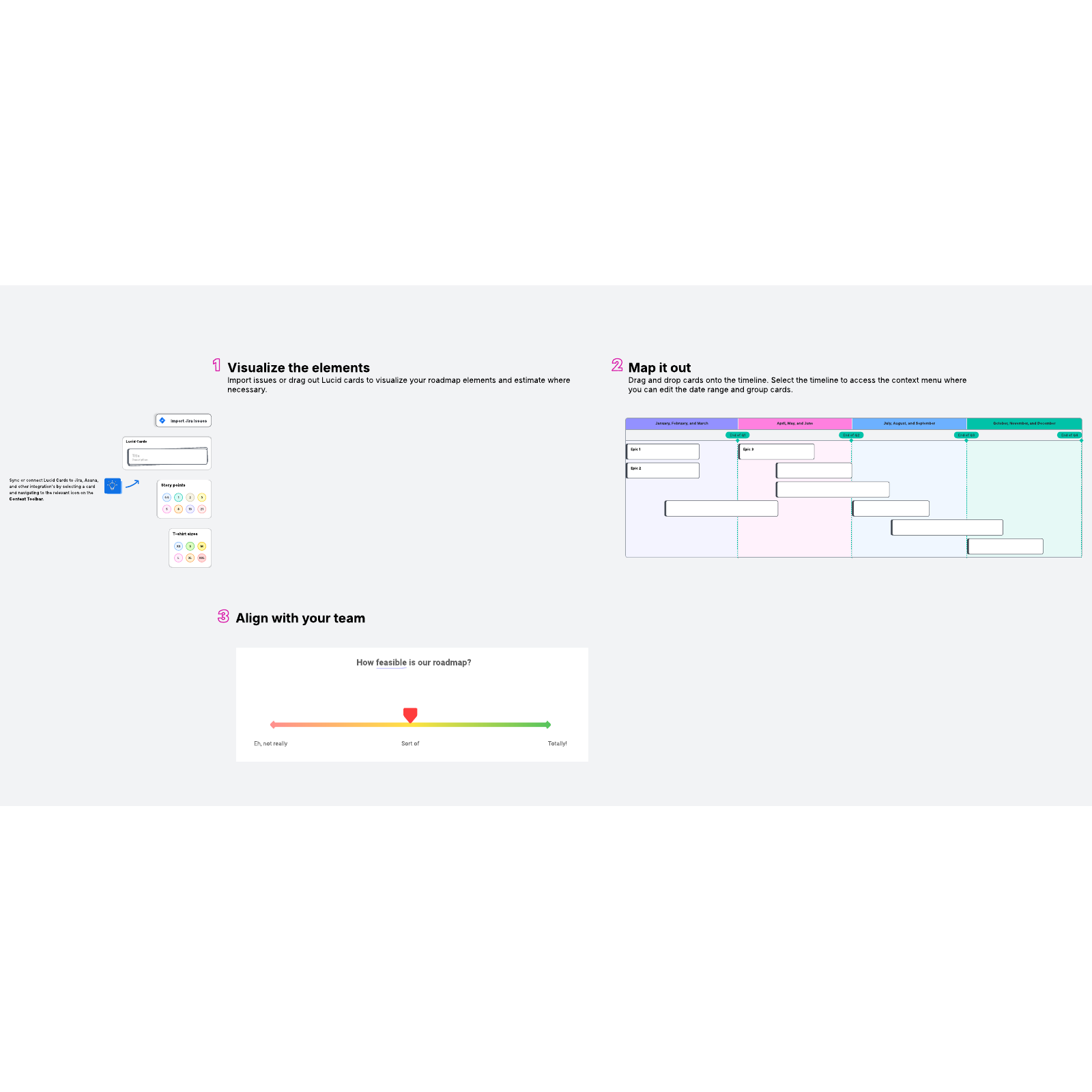 Share the vision of your product with a product roadmap
Product management involves a lot of moving parts, with different teams working on different aspects of the same project. These team members need a sense of the bigger picture: how their work contributes to the long-term vision of the product. In order to keep everyone on the same track, you may want to create a product roadmap that everyone can have access to.
Key benefits of using product roadmap templates
Product roadmap templates provide an easy way for everyone on your product team (and throughout your company) to keep track of what products and features you're working on, when you're working on them, and which team members are involved in each part of the process.
Lucidspark offers a product plan template that can easily turn into a roadmap for your product's expected lifecycle or goals for new features. The template is already broken up into quarters and has places for teams to indicate the status of their tasks.
As your project progresses, team members can easily return to the template and update it with what work has been completed, what work they are waiting on, and what work is late. This versatility makes your product roadmap a valuable resource that will keep your team up to date on everyone's progress and let them know what needs to be done next, improving communication and increasing accountability.
How to use our product roadmap template for teams
To get started with your product roadmap, simply add the template onto your Lucidspark board. The columns represent time: This template is already labeled by quarter, but you can adjust as necessary. The rows represent teams working on the project. Update the template with team names, or you can change the rows entirely to represent certain user stories or initiatives.
Copy, paste, and modify the color-coded bars to include various epics your teams will be working on. Use Lucidspark Cards to turn items from your product roadmap into tasks for Smartsheet, Jira, and Azure DevOps. Lucidspark makes it easy to start taking action on your product plan within your favorite project management tools.
You may wish to host a collaboration meeting with key members of your team to discuss your product goals as you come up with the first draft of your product roadmap. When you have a workable plan, you can share it with anyone relevant and ask for feedback via sticky notes.
After you come to a consensus on the initial details of your roadmap, you can begin to use it as a tool to direct your teams' progress. At the outset of your project, you may wish to color all the task bars as yellow for "waiting" as you wait for teams to begin their work in earnest. As your project progresses, go back to the roadmap frequently to change the relevant tasks to green for "complete" or red for "late" as the specified deadlines pass.
As your roadmap evolves, it will become a valuable ongoing resource for your team as they collaborate on your product. They'll be able to check back at any time and receive the insight they need to understand the big picture and how they contribute to the project's success.