Lean coffee retrospective
Create effective meetings without a rigid agenda. The lean coffee template utilizes every team member's skills and gives them a voice. Use this simple retrospective template in Lucidspark.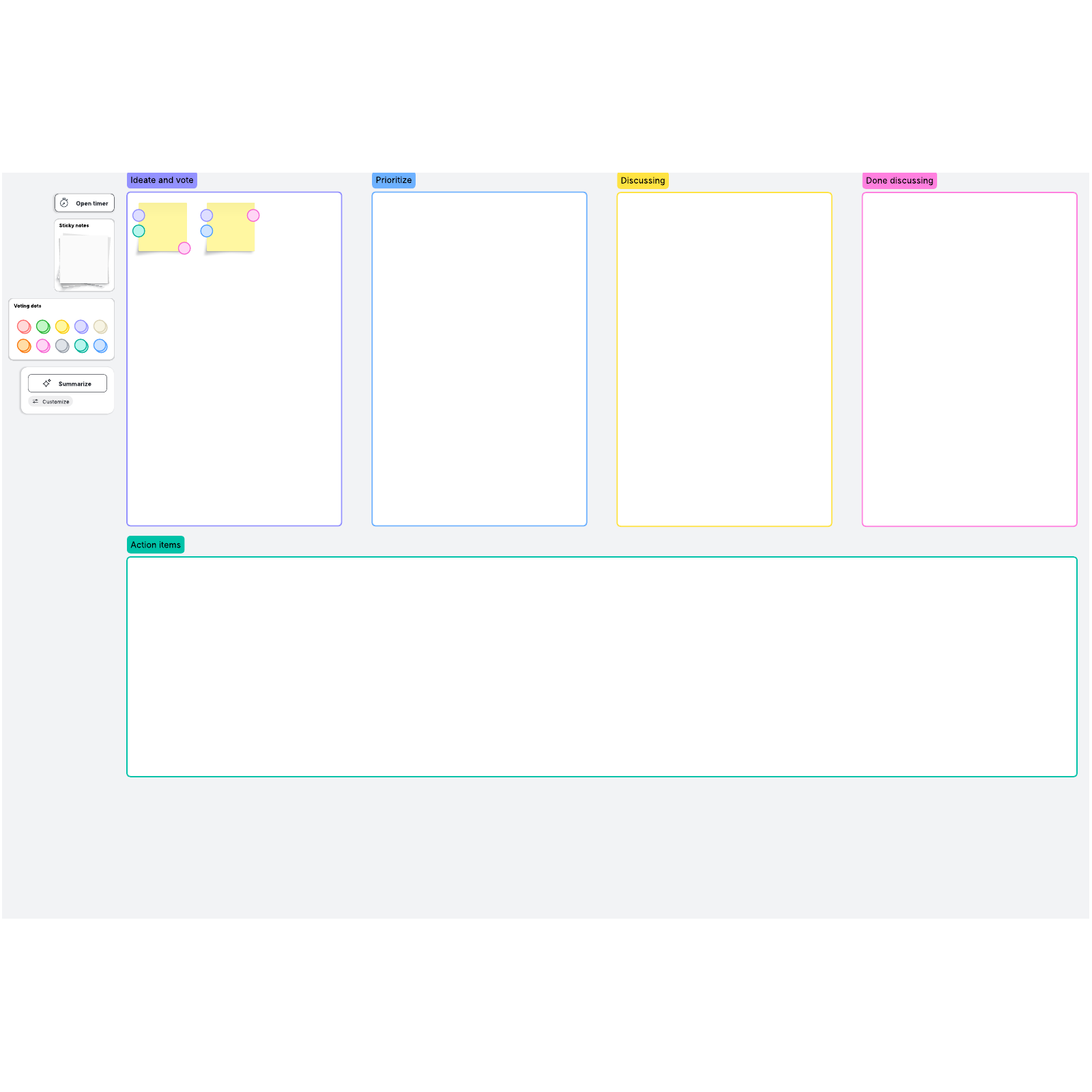 What is a lean coffee retrospective?
If you're using the lean coffee approach to conduct your meetings, you know how useful it is at keeping your meetings productive and organized. Essentially, the lean coffee approach means structured, yet agenda-less meetings. Every team member has a say in what is discussed in the meeting, with a pre-established theme. In this use case, we'll be focusing on how the lean coffee approach can be used to improve sprint retrospectives.
A lean coffee retrospective takes all the best parts of the lean coffee approach and applies them to a sprint retrospective. This is a great way to look at the past sprint and determine what went right, what could be improved, and what your team would like to work on next.
The lean coffee retrospective template allows you to look at your past sprint by topic, formulate discussion points, then come up with action items. It doesn't require that topics be addressed in any particular order, so the conversation can be fluid.
Why the lean coffee format is useful
You've likely experienced retrospective meetings in which one team member dominated the meeting, too much time was spent on only one topic, or some members weren't given the chance to contribute their viewpoints. A lean coffee format solves those pain points. It's easy to use, gives every team member the chance to add their voice to the conversation, and saves time on retrospectives.
How to use the lean coffee retrospective template in Lucidspark
Meet up. Start your meeting in the Zoom or Microsoft Teams Meeting Stage and begin a Lucidspark session.
Ideate with sticky notes. Set a timer in Lucidspark for a brainstorm session, and have your team add sticky notes to the "Topics" container.
Vote on topics. At the end of the brainstorm session, use the voting feature to vote on the topics that should be discussed during the retrospective. Move those stickies to the "To Discuss" container.
Get moving. As you discuss each sticky note, move it into the "Discussing" container, and then into the "Done Discussing" container when the discussion has ended. Your team can add emoji reactions to any sticky note within the template.
Assign next steps. Add sticky notes both throughout the retrospective and after it to determine what next steps should be taken based on the outcome of the discussion.