Hold dynamic working sessions with your team when you use the Lucidspark app for Zoom. Create and share boards, work in Zoom's breakout rooms, and organize your brainstorm to take actionable next steps.
Learn more
Share ideas, collaborate in real time, and move from insights to action with Lucidspark's Slack integration.
Learn more
Merge Agile planning with visual collaboration using Lucidspark Cards for Azure DevOps Cloud. Convert brainstorming sessions into Azure DevOps work items and visualize your roadmap in a flexible visual workspace that makes it easy to keep teams aligned.
Learn more
Brainstorm and collaborate on our virtual whiteboard right in Microsoft Teams. Add a Lucidspark board as a tab in your team channel—with the embedded editor, anyone in the channel can edit or comment on your board without ever leaving Microsoft Teams.
Learn more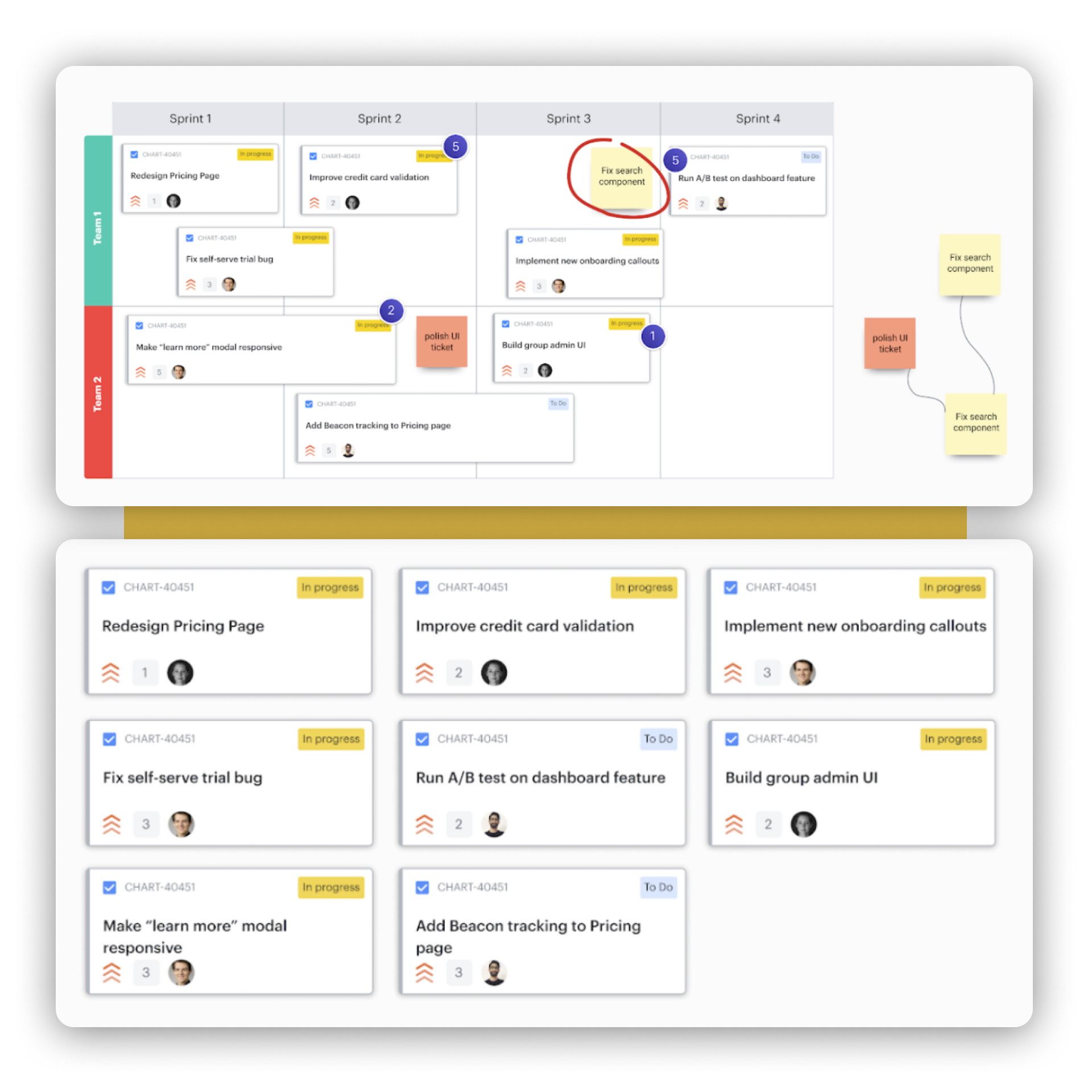 Plan your work visually, identify potential roadblocks, and see the big picture using Lucidspark Cards for Jira. Import issues from Jira, or brainstorm ideas with sticky notes in Lucidspark, then transform them into Jira issues.
Learn more
Collaborate, brainstorm and bring your best ideas to life on Lucidspark's infinite virtual canvas, all within your Webex video call. Supercharge the way your hybrid team gets work done by allowing them to nimbly plan, ideate, document and decide next steps without ever having to leave Webex.
Learn more
Record, insert, and play videos in your Lucidspark boards. Provide context and direction to your team during asynchronous collaboration.
Learn more

Easily record your screen or camera. Then embed the recording directly into your Lucidspark boards to give asynchronous collaborators additional context.
Learn more
Collaborate on our virtual whiteboard and turn ideas into tasks and deliverables for upcoming projects. Easily convert Lucidspark shapes into rows on existing Smartsheets or import tasks from Smartsheet to Lucidspark. Keep fields in both Lucidspark and Smartsheet updated with a bidirectional sync.
Learn more
Make information accessible where teams work by adding Lucidspark boards to Google Docs, Slides, and Sheets. With convenient access to key Lucidspark boards, it's easy to keep team members aligned and collaborating.
Learn more
Create, share, and manage all of your Lucidspark boards from Google Drive. Boards are automatically synced with Google Drive so you never lose your hard work.
Ideate, brainstorm, and plan visually in Confluence through embedded Lucidspark boards. This integration brings the benefits and features of visual collaboration right to your Confluence page.
Learn more
Combine the power of brainstorming and diagramming to turn your ideas into actionable workflows. Export your Lucidspark boards directly into Lucidchart to get started.
Share information and ideas in context by embedding Lucidspark boards into Notion. Promote continuous collaboration and alignment by making it easy for teams to find the documents they need.
Learn more
Incorporate Lucidspark into your Google workflow by adding a board to your calendar invites so recipients can access collaboration at the click of a button.
Learn more
Build a single source truth by embedding links from Microsoft OneDrive, Google Workspace, and Figma directly into your Lucidspark boards. With important context captured in one shared space, you can keep your team aligned with up-to-date information throughout the course of a project.
Learn more
Seamlessly switch into diagramming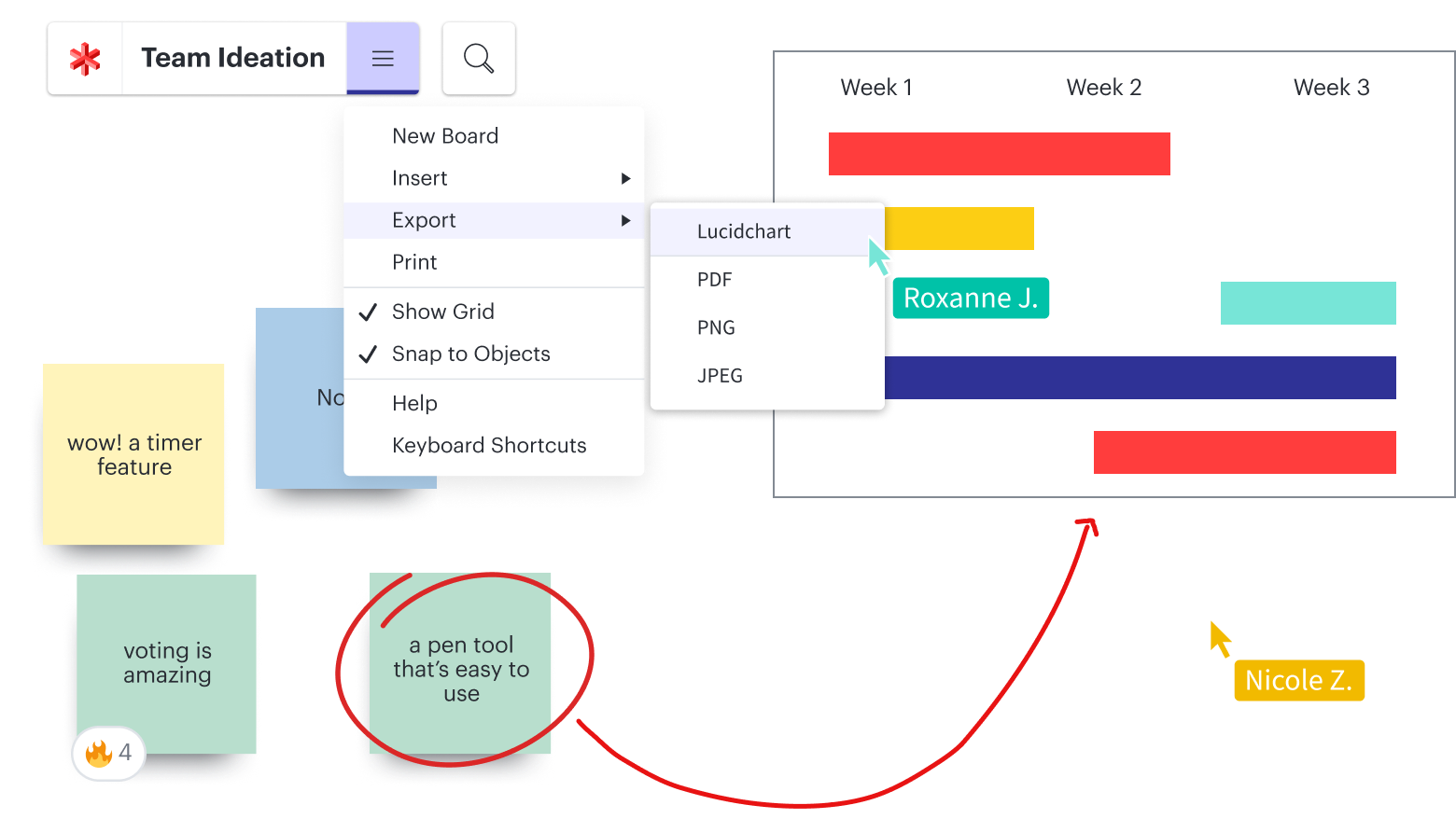 Time to formalize plans, implement, and track progress. Export your Lucidspark boards into Lucidchart to create more polished documentation that teams can reference and widely share.
Learn more