Business Case Template
Use this simple, one-page business case template to collaborate on the business cases behind a proposed initiative or project.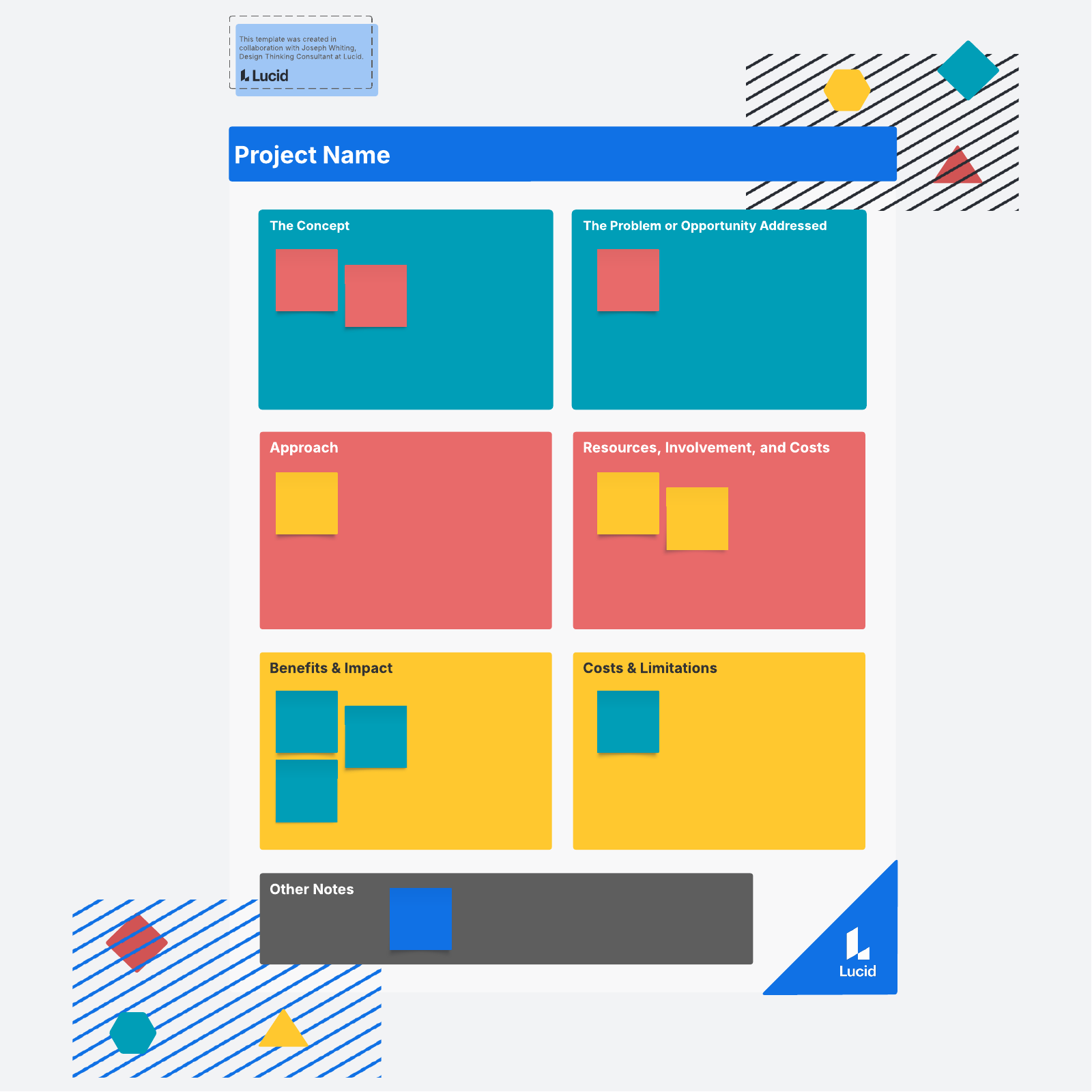 What is a business case?
Progress is a big part of a successful business, and in order to progress, you have to take risks. You also may need to convince others to take those risks with you. A business case can help you get the buy-in and approval you need on a promising idea or opportunity.
A business case provides all the information needed to justify a proposed initiative or project. You can define the concept, explain the business problem or opportunity that it addresses, and clearly lay out the costs and benefits with our business case template in Lucidspark.
Advantages of using our business case template
This business case template gathers all of the points you need to address in a simple one-pager. By filling out each section, you can clearly define your approach for stakeholders and convince the right people that your plan is worth undertaking.
Because Lucidspark was built for improved collaboration, you can share this template with other team members and ask them to comment or add their own perspective to each section to ensure that your case is rock-solid.
If your concept is approved, this template will remain beneficial—it becomes a resource to quickly explain the goals and purpose of the project to any teams pulled in to execute.
How to build a business case in Lucidspark
When you use the business case template in Lucidspark, you can instantly collaborate with other members of your team to create a compelling business case. Simply add the template to your Lucidspark board, name your project, and invite others to add the relevant information to each section as follows:
Concept: Summarize your project using easy-to-understand language.
Problem or opportunity addressed: Define the problem or opportunity your project will be designed to meet.
Approach: Give details on the scope of your project and how it will be implemented.
Resources, involvement, and costs: List what resources, personnel, and funds your project will require.
Benefits and impact: Describe how your project will benefit your organization, your customers, or your bottom line.
Costs and limitations: Explain the difficulties your project will face.
As you collaborate with your team members, use the "Other Notes" section to make sure that nothing important gets missed. Include any open questions or further justification for the project. After the template is complete, you'll have a business case that will be a valuable resource as you move forward with your project.
Joseph Whiting
Design Thinking Consultant, Lucid
As a Design Thinking Consultant at Lucid, Joseph has a passion for enabling the creative and innovative potential in others.